Everything is a go for a wonderful day at the 108th Annual Pioneer Picnic Thursday August 2, 2012. We look forward to sharing and visiting and talking Savage and Boyd family history. Click the photo to go to the article on the Pioneer Picnic and the families at Skagit Valley Herald.

January 2015

I apologize for the lack of of updates on this family website for many years now. Life in general and involvement with many other groups in Skagit County has put me a bit behind on my own family history. If anyone is a descendant of the Boyd and Savage families from this website and needs information, please don't hesitate to email me. Links below.

Dan Royal



---
Click on photo for newest stories: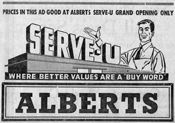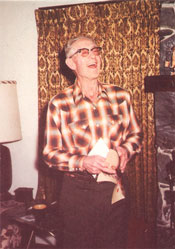 Bob Johnson of Birdsview


"In 1948, he purchased Van Horn Service, a little store and gas station in Van Horn. Two sons were born to them, Richard, and then Michael, two years later. He ran the store while Harriett had two little boys at home, just down the road from the store, where they have resided for all these years. Soon, the boys were old enough to go along, and she joined him at work in the store, "for just a while." Well, she is still working at age 91, but she doesn't go as early as she used to!! Albert and Harriett had a strict work ethic. The family rule was, and still is: If you are not in the hospital, or dead, you go to work!!"
Excerpt from Albert Franks obit, read more.
---
---
My inquiry to Cliff Johnson solved the mystery of the nickname 'Nanny Bill' pretty quickly, Cliff shared…"I can relate the history. When Billy (Bill's grandson) was a little tyke (maybe 3-4 yrs) and Dad would go to Sedro shopping, at times he would bring back bananas. He'd give one to Billy, who called them nanas, or nannys. And from that, Dad became known as 'Nanny Bill'. And since this was his Grandad, Billy also hung the moniker on his other Grandfather, Jim Wilson. He was known as 'Nanny Jim".
---
CONCRETE HIGH SCHOOL CLASS OF... UPDATED WITH NEW SCANNED IMAGES OF YEARBOOK AND INFORMATION. A GREAT PLACE FOR UPRIVER ALUMNI. January 2015
---




Publisher &amp: Editor Jason Miller
The Stump Ranch ®
The Stump Ranch On-Line Magazine ®
Dan Royal: Editor & Webmaster
38090 Kelly Ln. Concrete, Wa. 98237
360-826-6141
Mission Statement
and acknowledgments



We welcome your e-mail with suggestions, corrections and contributions. We are looking for family historians from the upper Skagit Valley (every family has a least one person who carries the family torch and stories) east of Sedro Woolley to Newhalem. Family profiles especially welcomed.
| | |
| --- | --- |
| Looking for something special on our site? Enter name, town or subject, then press "Find" | Site search Web search |
Please sign our guestbook so our readers will know where you found out about us, or share something you know about the Upper Skagit area or your memories or those of your family. Share your reactions or suggestions or comment on our website. Thank you for taking time out of your busy day to visit our site.


GUESTBOOK OUT OF SERVICE
PLEASE E-MAIL
Return to
The Stump Ranch Family & Community History
© 2015-2002 The Stump Ranch