<![if !supportEmptyParas]> <![endif]>
<![if !supportEmptyParas]> <![endif]>
Autobiography from Historian Dick Fallis 1926 - 2011
<![if !supportEmptyParas]> <![endif]>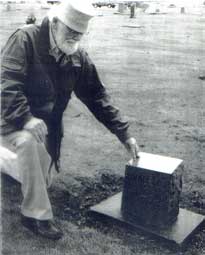 Richard (Dick) Fallis was born January 31, 1926, at Jonesboro, Grant County, Indiana, but before Dick was two years old, his father, Watt Fallis, packed the young and growing family up in a well-used touring sedan and moved them across country to Seattle, in Washington State. Watt Fallis established a home for his family and took a job with Kenworth Motor Truck Company where he worked in the parts department and eventually became Purchasing Agent, in those days when the company was still establishing its reputation of making the right custom truck to meet the special, unique needs of the customer. Watt Fallis was also a scrounger after tax-sale properties during those days of the Depression and in the early 1930's, at about the time that the Deception Pass Bridge was opened, acquired some waterfront property with back-up acreage near Dewey, on southern Fidalgo Island.
            That property became Quaker Cove, a lightly-developed conference grounds, retreat center with private recreational and vacation lots that was at the center of Dick's consciousness for as far back as he can remember as a place for water sports, clamming, camping, beach fires, and hunting for luscious berries in the fields above the beach.
            Though Dick grew up in the Seattle area, attending school, working at what jobs were available and entering the Navy there, during World War 2, he always found time to come up to Quaker Cove on Fidalgo Island and says now that if he had then known of the Samish Indian Nation and of Ko-Kwal-al-Woot, their Maiden of Deception Pass, he would have begged to become a member. As it was he did return to Seattle after his service, attended classes at the Cornish School of Art and then at the University of Washington, studied History, Literature, and Philosophy, got a degree in Education. Married his wife, Bernice, started a family and taught at Granite Falls High School, started a History Museum and collection, taught Community College classes at Bellingham and Everett, all before coming back to Skagit County, buying a house in Mount Vernon and then working at Anacortes, Oak Harbor, and LaConner.
            In 1973 Dick bought the Puget Sound Mail in LaConner, from long-time publisher Pat O'Leary, and immediately began promoting the restoration of the burned-out Gaches Building. These efforts led to the creation of a National Historic District for LaConner and its placement on the National Register of Historic Places.  Dick also served at this time as an officer of the Skagit County Historical Society, and worked very closely with John Flood Conrad, Historian of the Skagit County Pioneer Association, who urged Dick to take over his role in preparing suitable annual memorials and remembrances of the role of Pioneering in Skagit County.
            Dick sold the Puget Sound Mail in 1978, and the venerable and vulnerable newspaper soon ceased publication. Dick went back to teaching at Skagit Valley College, then under the leadership of President Jim Ford, and served as advisor to the Cardinal, Campus newspaper. He also worked in behalf of the Alumni Association, and with a group that was trying to set up programs at the closed Northern State Hospital Grounds at Sedro Woolley. Dick's visit there, to meet with Senator Henry Jackson, was the first time that Dick had ever been on the grounds of the tragically closed facility and ended in his editing and publishing a book Among Fields Of Alyssum: A Year at Northern State, a book that was enthusiastically received by too few people and soon went out of print as being too costly to produce for a limited market.
            In the meantime, back at Skagit Valley Campus, Dick began looking in on the food service program that was being developed by Chef Reed Bennett. Dick had long had a desire to bake bread and had started home baking on a limited scale, but was intrigued by the mixing machines that would allow for a thorough mixing of the dough, and by the larger capacity commercial ovens. After some conference with Reed Bennett, Dick was hooked and soon switched from being a faculty member of the college to being a student. He specialized in crusty Italian loaves, developed and experimented with traditional and historic breads and by 1987 had opened the Bridgeside Bread Company at the old Carnation Condensery Building in Mount Vernon, happily serving a surprised and delighted crowd who made this one of the "destination" places in Skagit County.
            Dick, widely recognized as "The Breadman of Mount Vernon," has been baking ever since, in various venues, and still produces a number of loaves each week for Summer Saturday Market in Mount Vernon, where they are eagerly bought up, supporting Dick's far less lucrative but equally honored passion for remembering people and events of our past.
            Dick continues as the official "Historian/Memorialist" of the Skagit County Pioneer Association, a role he has held since 1973, and his main duty is to prepare a "Memorialist's Report" to be presented each year at the Annual Skagit County Pioneer Picnic, always on the first Thursday of August, and always at Pioneer Park in LaConner. Also for the past ten years or so, Dick has been organizing an annual celebration of Skagit County's Birthday, which was originally on Thanksgiving Day, 1883.
            In 1983 Dick helped co-ordinate the celebration of Skagit County's Centennial, and published the Skagit County Centennial Almanac, full of local historical information. He has also written newspaper columns of local historical information, published weekly in the Skagit Valley Herald in 1981, 1982 and 1983, and another series published in the Burlington ARGUS during 1987, 1988, and 1989. A selection of these newspaper articles of particular poignancy and insight, are currently being reviewed for re-publication in book form.
            On September 9, 2003, Dick Fallis was honored by the HERITAGE AWARD by the Directors of the Skagit County Historical Society "In recognition of his outstanding contributions to the preservation, interpretation and promotion of Skagit County history."
            He and his wife Bernice hope to continue to be active in Skagit County events and look forward to celebrating their own Fiftieth Wedding Anniversary on December 30, 2006. They have raised three children, Joshua, Sarah, and Leah, all of them graduates of Mount Vernon Schools and all of them making their own successful and distinctive ways in the Big World.
            In the meantime, gardens are made, fruits, vegetables and flowers are grown, bread is made and shared and history is observed and celebrated.
            December 2003