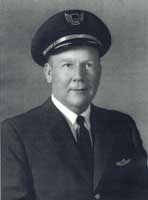 In Memorial: Norman Boyd Johnson
Norman Boyd Johnson, age 93, died in Bellingham January 3, 2003. Born August 1, 1909 in Newport, WA. He graduated from Sumner High School in 1927. Norman took flying lessons in 1926-1929 before entering the U.S. Marine Corps in 1929. He served as an airplane mechanic in Nicaragua for two years and extended his enlistment to obtain flight training at Pensacola in 1932. He graduated as a Naval Aviation Pilot in July 1933. He served at Quantico, VA and Port au Prince, Haiti, then joined the fleet where he flew off various carriers including the first aircraft carrier, the USS Langley.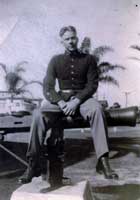 After leaving the Marine Corps in 1936 he flew for United Airlines until his retirement in 1969.
Norman was a long time Mason and served as Master of Phoenix Lodge #154 in Sumner, WA where he was a lifetime member. In recognition of his major contributions to the lodge's charity fund, it was renamed the Norman Boyd Johnson Charity Fund. He was also a life member of the Tacoma Valley of the Scottish Rite and of the Association of Naval Aviation. He belonged to the Retired United Pilots Association and the "Gooney Birds". He was a member of the Sumner Presbyterian Church.

Norman was predeceased by his first wife, Laurell Eugenia (Gene Nelson) Johnson in 1970 and a stepson, Dr. James Albers of Bellingham in 1996.
He is survived by his wife of 31 years, Myrtle (Walters) Albers Johnson; three sons, Brian Johnson of Beverly, Mass., Darryl Johnson, current U.S. Ambassador to Thailand, and Linn Johnson, of Kirkland, WA; stepson, Gerald Albers of Camano Island, WA; eight grandchildren and eight great grandchildren.
Memorial Gathering January 7, 2003-2:00 p.m. at the Willows Retirement Home.