Royal Family Reunion and potluck
Saturday September 18, 2004
Report coming soon!
Held at: CCD Center-Across from St. Catherines Catholic Mission 45603 Limestone St. Concrete, WA
Doors Open at 11:00 am (beverage & snacks available all day) 12:30 Potluck starts...Itinerary includes...Noel Bourasaw Skagit River Journal "Why we can be Proud of our Skagit county Heritage....Phil Royal shares memories on our guests of honors (will invite others to do so)...Dan Royal shares new findings on the Royal Ancestry to Ireland...Music Jamboree with Country Standards. Starts by 4:00 pm...George Mclain; guitar, Janice McLain Roderick; fiddle, Phil Royal; vocals (anyone with instruments or want to sing are welcome)...doors close by 8:00 pm.
HONORED GUESTS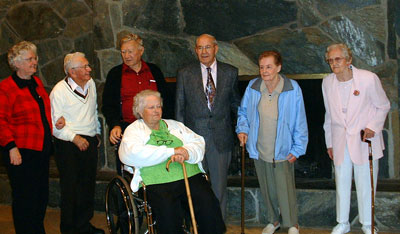 HOWARD & JACKIE ROYAL, GEORGE & SHIRLEY (ROYAL) MCLAIN, JACK & BETTY ROYAL, ORLIE (COOK) ROYAL
REUNION DEDICATED TO THE MEMORY OF: THOMAS E. ROYAL, MABEL BOYD ROYAL-STEEN, THOMAS OWEN ROYAL, MAUDIE ROYAL, OLLEN STEEN, JACKY (ROYAL) RYAN, RALPH RODERICK, MANY OTHERS.