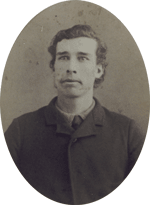 Bert Deyoe Savage, contrary to the below article from "Industrial Freedom" was not the oldest son of George and Georgetta Savage, but was next in line following Leslie George. Bert was born in Woodbury County, Iowa, 21 November 1868. I don't know where the name Bert came from, but his middle name came from his great-grandmother Loletia Deyoe Torrey's maiden name [of Saratoga Springs, Saratoga Co. NY]- he was often called Berty when younger.
He would have been around five years old when the family first came to Skagit, then part of Whatcom county, he would have had to struggle right along with his folks & siblings to build a life out of a forest wilderness and that original homestead is still owned by a Savage descendant.
Imagine then the majority of your life spent in an area that, at the beginning was a forest- a claustrophobic one at that according to his Aunt Olive Boyd- but the families in the area persevered to make the Birdsview area a thriving community.
It then becomes hard to place Bert without Kate in his life story after they married in 1898. Its also easy to place Bert and Kate Savage as one of the most significant contributors to the Birdsview area and its development -not in the way you think of an industrialist- but through the pioneer spirit of hard work, family, love, God and yes- community. And though they had heartbreak with the untimely death of their only son Jim in 1925, they had their daughters and they continued on.
Berts cousin -Mabel Boyd Royal- across the river relates in her written stories how the Royal family during the leanest of times could help with the harvest of potatoes at the Savages and take away what they needed to get them through the coming winter. The Royals were not the only folks blessed from the gardens of Bert and Kate; many other families and Native Americans both were never turned away from the fruits of their labor.
They were truly cherished by people in the area as you will see, but more importantly- when looking at their life- look at the hands of both Bert and Kate below on their 50th wedding anniversary, it tells you the whole story all by itself.
Thank you to Barb Thompson, grand-daughter of Bert & Kate, for sharing her imput and family photos -more on the way with her remembrances. Dan