---
CONCRETE HERITAGE MUSEUM
---
7380 Thompson Ave. PO Box 445 Concrete, Wa. 98237
Phone: 360-853-7042 E-Mail: concreteheritagemuseum@stumpranchonline.com
---
President: Robin Wood Vice President: Bill Sullivan Secretary: Gail Boggs Treasurer: Cheri Cook-Blodgett
---
Welcome to the website of the Concrete Heritage Musuem Association. The Association is made up of a small group of individuals dedicated to- 1) the restoration of the museum building -located in the town of Concrete- a restoration project which has been ongoing and has garnered $30,000.00 in donations and fundraising to purchase. Its collections were donated by Herb Larsen and family, (a local pioneer and logger.) The building was previously called "Camp Seven Museum", named after the numbered railroad logging camps of the English Logging Company. Members of the Museum Association welcome volunteers to help with any aspect of the Concrete Heritage Museum project. We welcome input and suggestions for both the museum and this website, donations for the Museum are warmly accepted.
---
NEWS & COMING EVENTS FROM THE MUSEUM BOARD
The museum is open for the season and all are welcomed to join us every 2nd Thursday of the month for general meetings; 7:00 PM at the Concrete Heritage Museum. Please be aware that appointments can be made to visit the museum and our library during the off season by calling 853-7042.
Become a museum member and participant.
Print out the current 2012 MEMBERSHIP FORM at this link.
---
Museum opens for the season: Sat. May 30 Open every Saturday thru Labor Day Volunteer hosts needed – call Robin.
Our monthly meetings at the Museum have been well-attended this year. There's always something new to discover about our past, and we hope that members-- and prospective members-- will continue to attend! Encourage your friends to join us, monthly on the second Thursday at 7 pm. Many interesting discussions and presentations about local history have been shared during the year. We have also coordinated with the Concrete Theatre on two local history films created by Todd Warger and David Lawrence as part of the Thursday evening community presentations. JOIN THE CREW!

---
Accomplishments this year include:
Installing water and sewer service to the building, including a utility sink and bathroom in the garage. Revamping the west side parking area after all the ditch digging. Painting the building – thanks to Bill Sullivan and Jeromy Tintle – a lot of peeling paint was removed, and rotting wood sections were replaced. Now the Museum and Garage match, with tan paint and dark green trim, and the Centennial logo sign is in place.
John Boggs continues to work with Puget Sound Energy on possible digital copying of the Concrete Herald newspapers, which we hope will be able to locate key words in the text.
We participated in the Chamber of Commerce's Ghost Walks on weekends in October, and staffed the Museum during the "new" Eagle Festival's weekend activities during January. We sold cupcakes at Mardi Gras (hope next year it's not held during a February blizzard!).
Jeroldine Hallberg (new Town planner) and Rick Archuletta updated us on the Town's hopes for renovation of the Superior Building. Rick will be leaving for a new job, but Jeroldine is welcomed as the newest member of the Museum!
We continue to augment our library and document collection. Several individuals donated photographs and stories from Concrete's historic past. A new display case was donated by Steve Johnson.
We have a $2,000 grant from Skagit County Lodging Tax Funds to reprint our walking tour brochure and create a new museum brochure this summer.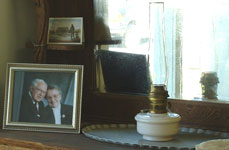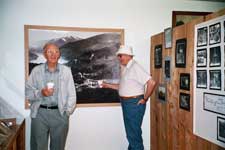 HERBERT ELMER LARSEN
1/29/24 – 2/25/05


We sincerely regret the passing of our Museum founder. Many of us attended Herb's services on March 2, and were amazed at the recounting of his productive and diverse life. His family and friends shared so many wonderful stories from their personal experiences over the years.
The Museum is a designated recipient of memorial donations, and we thank those who have sent them in Herb's name (and, last year, for Kay as well). We also thank Herb's extended family for their continuing support, and some wonderful personal memorabilia. Herb's lifetime of collecting and preserving local history has created a priceless treasure for our community.




---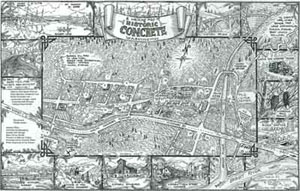 A Walking Map of Historic Concrete Washington by famed local artist Don Smith is available for you to copy free. Just double-click on the image and it will come up in Adobe Acrobat Reader. You will want to print on 8 1/2 X 14 paper and also adjust to landscape printing. You can do this by going up to FILE, then PAGE SETUP before you print.

Updated Historical Notes and Building Index for the Map available at this link.
---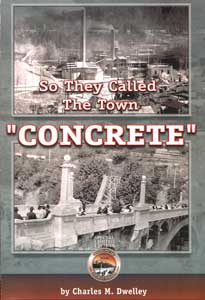 The Centennial reprint of "So They Called the Town Concrete" is now available for $25.00.
Dan Royal is printing for us in perfect bound soft cover, the new edition features enhanced photographs and a more readable type font. New cover graphics were done by Philip Johnson. Stamped also on the cover is the official Concrete Centennial Logo. The books are numbered for 200 books. Copies will be available at Alberts Red Apple, the Museum, or by mail. The first reprint of the Charles Dwelley classic, originally published in 1980, was printed in spiral bound in 2004 with a new foreword by Jim Harris. These reprints are still available for $15.00 each
Written with the wit and insight of the town's longtime newspaper editor, "So They Called the Town Concrete" documents the early days of "Baker" and "Cement City", the development of the cement and wood products industries, Concrete's incorporation in 1909, and the town's subsequent boom years.
Dwelley's newsman instinct for a good story fills the pages with human interest. Historic facts are interspersed with tragedy and triumph, community spirit and banditry, ingenuity and general high jinks. Dozens of photographs document area landmarks and residents.
To order your copy today, click this .pdf file, print and send in. ORDER FORM
If you do not have Acrobat Reader, download at this link for a free copy.
---
Excerpt from So They Called The Town "Concrete" by Charles Dwelley

Amasa Everett, circa 1880s. Click photo to story on "Peg Leg" Everett at the "Skagit River Journal"
---
"A small town with any pride at all starts off with choice of a dignified or well-sounding name that will inspire confidence in its future and hoped-for residence. But to call a town "Concrete"? Well. It didn't start out that way. How would you like "Minnehaha," as the location was first designated in 1888 by a gold-seeking settler named Richard Challenger. It was so listed on the first maps of the area. When he sold the land to Magnus Miller in 1890, Miller changed the name to "Baker" by reason of the river which lined his property on the east and flowed into the mighty Skagit at that point. Amasa Everett, who was missing a limb and known as "Peg Leg," settled on the east bank of the Baker and called his proposed townsite "Cement City" due to his discovery of limestone and clay and the sale of it to an enterprising cement company. "Cement City" prospered until another cement company built on the "Baker" side prospered even more and bought out the east-side rival. It was in this period of rivalry and the ensuing battle over the location of the railroad station and possible incorporation of the two sides of the river into a town that change the name. The civic leaders settled on the name of "Concrete" and like the product, the name set up and proved indestructible. All of this happened in 1909 with the first mayor taking office on May 10th of that year. From then on "Concrete" was on its way to becoming the largest metropolis in the upper Skagit Valley."
---
Charles M. Dwelley, Concrete publisher for 40 years, and his historic Skagit family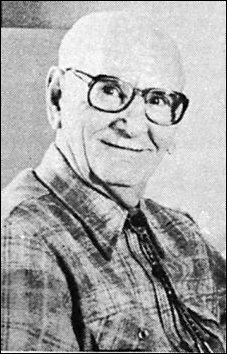 "Charles M. "Chuck" Dwelley spent 40 years as the voice of the town of Concrete, after originally being assigned there in the months just prior to the October 1929 stock market crash to edit a failing small-town weekly newspaper, the Concrete Herald, which had gone bankrupt. His early days as an editor were not auspicious at all, especially for the grandson of one of Skagit County's earliest pioneers.

---
See the extensive section on Charles M. "Chuck" Dwelley, which was created by Larry and Josef Kunzler as part of their program in August 2006 to honor Dwelley by installing a plaque on the Dalles Bridge, one of Dwelley's most important projects.
---
Along the way, he actually eclipsed the publicity and historical reputation accorded to his grandfather, Joseph Franklin Dwelley, and he grew into a significant journalist rival for his mentor, Frank Evans, publisher of the Sedro-Woolley Courier-Times. His voice became pre-eminent for all things upriver in the Skagit Valley and he pushed badly needed infrastructure and transportation projects, while he opposed others that he considered boondoggles or frivolous. His value for historical researchers was insured when he published his memories of his adopted town, So They Called the Town Concrete, in 1980. That book has recently been reprinted by the Concrete Museum." Noel V. Bourasaw Skagit River Journal
READ MORE HERE