Graduates of CHS 1958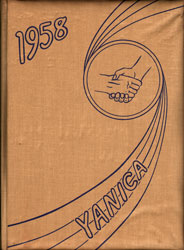 We welcome communications, corrections, remembrances, photos, news from alumni from any graduating class who wish to leave messages or e-mail addresses to their classmates- for the year of their graduation.
This is NOT a subscriber site such as Classmates.com, Reunions.com. It is a free family history resource however.
Email at this link, I will add your item to this page.

Frank Yeager, Helen Yeager, Bert Hornbeck, Bill Gerrits, Pat Thompson, Jack Eldridge, Larry Martin, Mike Kielgass, Marion Taylor, Blanche Mathis, Eunice Morgan, Darlene Dickinson, Don Parker, Margaret Unger, John Wordendyke, Calvin Hollingsworth, Robert Davie, Kenneth Stadlman, Jim Pinkey, Howard Clark, John Livie, Ron Bates, Ervin Cress, Dick Anderson, Dale Jonson, Dean Richins, Grayce Taylor, Lois Hurn, Eleanor, Jungbluth, Wesley Day, Conrad Claybo, Robert Hooper.