Graduates of CHS 1998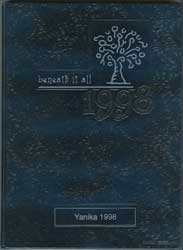 We welcome communications, corrections, remembrances, photos, news from alumni from any graduating class who wish to leave messages or e-mail addresses to their classmates- for the year of their graduation.
This is NOT a subscriber site such as Classmates.com, Reunions.com. It is a free family history resource however.
Email at this link, I will add your item to this page.

Larry Antrila, Andrea Guiseppe Auteri, Larse Berg, Kimberly Brown, Kyle Brown, Keun Burton, Shannon Claybo, Gwenny Cobban, Miesha Coggins, Amy Cook, Kerri Cook, Jason Cullup, Lacy Fichter, Adria Figaro, Justin Garland, Jesse Howell, Caleb Janda, Stephanie Jones, Jennifer Edwards, Sara Fead, Jeremy Fenton, Shawn Harris, Eric Hinds, Leroy Hosley, Vincent M. Kucera, Cherie Largent, Ashey Larsen, Eric McJurskin, Kiron Miller, Stefany Ness, Tony Rapp, Londa Riggles, Shane Robbins, Rachael Schroder, Chenica Sconce, Sarah Stafford, Isreal O'Conner, Eli Peek, Mandi Pfarr, Nicole Rumpff, Cody Schmidt, Jean-Philipp Schneider, Mike Stannert, Eric Stevens, Jamie Sylvester, Jerimiah Thomas, Anthony Toscano, Aaron Zimmermann.

---
Amy (Cook) Schimidt, along with Chentea (Sconce) Draisey will be organizing the reunions etc. or the CHS Class of 1998. "If you could keep me posted on any information that comes your way I would appreciate it. I would also like for you to post my e-mail address on the website as well."
Thank you...and the website is a wonderful idea! It looks great and much appreciation to its creator.
Amy (Cook) Schmidt amyschmidt20@hotmail.com
---
This does look great. Someone happened upon it and emailed me the link. You can add my email address: Miesha Coggins M_A_C_327@hotmail.com
**Amy, Chentea: If you need help with any planning etc...let me know. I know it's still a while away but it will fly by - look at these last few years! Miesha Coggins