Graduates of CHS 2003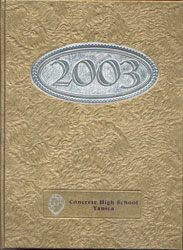 We welcome communications, corrections, remembrances, photos, news from alumni from any graduating class who wish to leave messages or e-mail addresses to their classmates- for the year of their graduation.
This is NOT a subscriber site such as Classmates.com, Reunions.com. It is also not a matchmaker site. It is a free family history resource however.
Email at this link, I will add your item to this page.

Brent Bingham, Maghen Boozer, Sonia Bradley, Daniel Camby, Amanda Canales, Juliana Carra, Jennifer Carter, Ashley Cheever, Zuzana Chmelova, Amanda Clark, Melanie Clark, Monique Dickens, Jaymie Earheart, Michael Fabel, Joseph Frank, Nocolas Goldner, Scott Green, Yu Sukie Han, Alicia Harris, Aaron Hendrickson, Angela Janda, Theresa Keller, Justin Lahr, Lucy Mattingly, Kevin McAdam, Kris Minkel, Jessica Mitchell, Rohanna Moffitt, Myla Moody, Harrell "Junior" Moore, Lili Moser, Teddie Nick, Juliene Olney, Nicholas Petosa, Mark Richmond, Ben Rogers, Jon Royal, Jose Sanchez, Christopher Saunders, Andrew Scherer, Sarah Schooland, Sheya Sheilds, Kari Swanson, Breann Sweatt, Joanna Toscano, Erika Walters, Raymond Wilson.