Welcome to our new home. Please note our new web address:
http://www.stumpranchonline.com/skagitjournal/
Celebrating 3 years on the web and passing 90,000 page views.
Our free site remains free. How to subscribe to our separate online magazine
of History & Folklore
Subscribers Edition Stories & Photos
Covers from British Columbia to Puget sound. Counties covered:
Skagit, Whatcom, Island, San Juan. An evolving history dedicated
to the principle of committing random acts of historical kindness


---

Noel V. Bourasaw, editor 810 Central Ave., Sedro-Woolley, Washington, 98284
Home of the Tarheel Stomp Mortimer Cook slept here & named the town Bug

The Glider that crashed into an outhouse
during the 4th of July parade
By Larry Spurling, whose father, Ernie Spurling, and his grandparents emigrated to Sedro-Woolley from Tennessee in 1912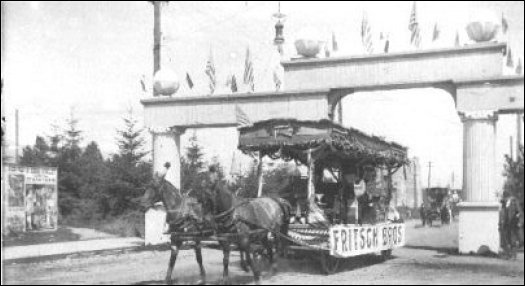 In the Teen years through the 1940s, the 4th of July parade in Sedro-Woolley started and ended at twin arches. This one is over State street in front of the fairly new Episcopal church. The float is from Fritsch Bros. hardware on Metcalf street.
---
In preparing for the following story, please remember that Art was a Cabinetmaker, Ed was a carpenter and Howard was the inventor/machinist/tool and die maker.
In Sedro Woolley, each year in the week preceding the 4th of July, they would have a celebration with all kinds of events taking place at one time near the old ballpark. [Ed. note: at the north end of Metcalf just north of the where the police office now stands.] One evening during one of these fourth of July celebrations people were standing outside a tent and they began shouting and pointing to the sky. Soon everyone was hurrying outside, gazing upward and exclaiming in astonishment. The excitement quickly spread to the street adjacent to the logging competition grounds, where people were emerging from their houses and looking up at the sky.
Some of the people were speculating that the object was an extraordinarily strange bird, but at first glance William [Spurling] saw that it was manufactured. However, it was an amazing sight, defying the law of gravity and flying like a bird, except that its wings did not flap.
"What in the world do you think it is?" [daughter] Emily exclaimed.
"I don??t know," William replied. "As far as I can recall, I??ve never heard or read of anything like that, Emily."
"Whatever it is, it??s pretty big."
William voiced his agreement. Although the object was high in the air, he could see that it was much larger than any bird. The wings looked to be at least fifteen feet from tip to tip. The slender body appeared about as long, and there was another, smaller set of wings at the rear. Most astonishingly smoke trailed from under the wings the object flew from south to north over the edge of the city. Already at an altitude of a thousand feet or more, it was gradually climbing higher.
This photo of the 1910 4th of July parade on Metcalf street shows a parade such as the one that Larry Spurling describes. We are looking northeast. The orchard at the southeast corner of Woodworth and Metcalf streets was part of P.A. Woolley's property around this mansion
Delighted and curious cries arose from the people watching. A social reporter from the newspaper was frantically sketching in his notebook. By now the object was moving away from the grounds, and some in the crowd began running after it. As William gazed upward, he thought the shape of the flying object seemed strangely familiar. And the smoke flowing back from the wings was even more familiar. It looked exactly like the smoke trails from rockets.
As he was watching, the smoke from the left wing thinned to a wisp and disappeared, and the object began turning in a wide circle and descending. "Pop, it coming down!" Emily explained excitedly. "Where do you think it will fall?"
"It??s hard to say," William replied. "It seems to be circling back??"
As he spoke, the smoke from the right wing thinned to a trickle, and the object began spiraling downward more rapidly. The people around the tent spread out, trying to anticipate where the object would fall so they could examine it more closely. William took Emily by the hand and began walking with her in the general direction the crowd was taking.
As the object descended, William saw that the smoke had indeed been coming from rocket propulsion units, which were fastened under the wings. Sparks still trailed from the smoldering cardboard tubes. The entire construction looked primitive, with cloth covering a wooden frame, but it remained the most intriguing, ingenious thing William had ever seen.
A roar of cheers rang out as the object cleared a tall tree and skimmed lower in a wide circle. It glided over the tethered horses and vehicles, causing the animals to plunge and buck in fear. Moving at a high speed now, it circled over the tent and veered toward the street.
The people on the grounds excitedly gave chase, while those in the street scattered and fled out of the object??s path as it bore down on them. William, still holding Emily??s hand, was in the forefront of those racing toward the street. They watched as the flying object zoomed between a house belonging to Horace Biddle, a storekeeper in town, and the adjacent house.
Abruptly it slammed into the top of the outhouse behind the Biddle home and crumpled to the ground. In a matter of seconds, the smoldering rocket tubes ignited the broken mass of fabric and wood, and as flames began to leap up, a collective groan of disappointment rose from the approaching crowd. The groans ceased, however, when a penetrating shriek of fright issued from inside the outhouse.
The wooden door flew open. Winifred Biddle, a heavyset woman of fifty, ran out with her skirt hiked up as she tugged at her underwear. Stopping and turning, she looked back in astonishment of the flames beginning to envelop the outhouse. Then, suddenly becoming aware of the scores of people watching, she gaped at the crowd and froze.
For a moment Winifred was motionless, gripping the waistband of her underwear, with her skirt still up around her ample thighs. Her eyes were wide, but her brain still refused to believe that a flaming object had just fallen from the sky onto her outhouse and that her backyard was filled with an audience to observe her panic-stricken exit.
The crowd was also silent and motionless, sharing Winifred??s astonishment. Then someone began laughing. The laughter immediately spread through the crowd, and Winifred, her face turning crimson with mortification, flopped down her skirt, raced to her back porch, and disappeared into the house as she shouted to one of her children to go get their father.
It was at that instant that William recalled where he had seen something similar to the object. But before he could say anything, Emily spoke.
"Pop," she said, "Art, Ed and Howard made that thing. That??s why Howard??s been sneaking around lately."
William nodded, realizing that the glider Art had shown him was simply a smaller-scale replica of what he and Howard and Ed had been building in the woods, minus the rockets. It was undeniably ingenious, but it had also resulted in someone?? property being damaged.
People were pushing past him, gathering around the burning outhouse. Leading Emily, William picked his way out of the crowd, intending to return to the house to fetch Art, Ed and Howard and make them face Horace Biddle with what they had done. But he and Emily were still walking back to the grounds when they saw Art, Ed and Howard themselves, driving quickly toward the grounds in a wagon. The Hemmings children were with them, all of them were laughing and talking excitedly.
"Say Mr. Spurling," one of the neighbors called, "did you see that glider contraption? When it flew up out of the woods and over the house, we thought the world was coming to an end?"
"Yes, I saw it, " William replied. "It landed on Horace Biddle??s outhouse. No one was hurt, luckily, but it burned down the outhouse."
The laughter faded, and Howard??s wide grin changed into an expression of guilt. Ed bowed his head contritely. "It was my fault, Pop," he said. "I thought the glider would go a different way, where it wouldn??t damage anything. I??m sorry for having to caused this trouble."
"Well," William said calmly, "We don??t know yet what trouble has been caused. Horace Biddle is the one who??ll have to decide that. If it??s only money he wants to fix the outhouse, I??ll take care of that. But we??ll have to go and talk with him." Ed nodded regretfully and apologized again. William and Emily hopped into the wagon and rode with them the short distance back to the Biddle house.
A large crowd of people were still in the Biddle??s backyard. Horace Biddle had come home from his store and was talking to the newspaper reporter, speculating along with the other bystanders as to what had crashed into the outhouse. William led Art and Howard through the crowd and greeted Biddle, then stood aside as Ed and Art explained what had happened. Biddle and the others listened in silent amazement.
"They??ve come to apologize for what happened," William interrupted as people in the crowd started to shout questions. "And, of course, Mr. Biddle, we??ll make whatever compensation you think is fair."
"Compensation?" the portly storekeeper said, clearly surprised. "William, I don??t want any compensation, or any apologies, for that matter. That 'necessary house' didn??t cost me more than fifty cents worth of crude lumber anyway." He shook his head, looking at the remains of the glider. "I still can??t believe that contraption flew all the way from your house to here." Ed assured him that it had, and the newspaper reporter, who had been writing in is notebook as he listened, interjected a question: "Was this an original experiment, or has it been done by someone else?"
"As far as I know," Ed replied proudly, "Howard, Art and I were the first to do it. I haven??t read about anything similar, and I try to keep up with the latest experiments in flight."
"So do I," the reporter said eagerly, "and I haven??t read anything like this ever being done before. That glider will be of great interest throughout the country. What do you intend to undertake next?"
Art, Ed and Howard hesitated and turned to William, who answered the question for them:
"Art, Ed and Howard will be working on a road locomotive that was being used as a chicken roost. I doubt if it will ever run again, so it certainly won??t fly.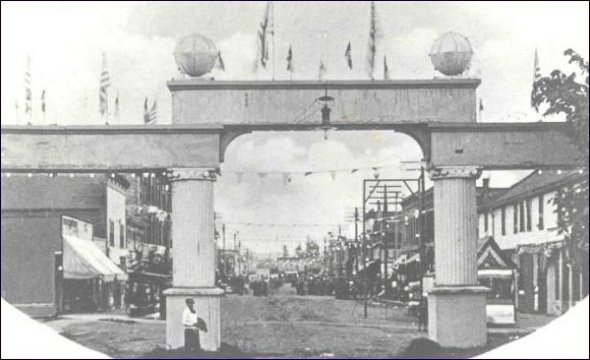 This arch across Metcalf street marked the end of the Teen years parades. We are looking south. The arch was directly south of the Great Northern tracks.
William laughed, nodding in agreement, and Biddle joined the laughter spreading through the crowd. Only Howard remained silent staring intently at the wreckage of all the hard work.
After taking a nap, William and the family went downtown on the 4th of July to take in the festivities. They went into the local caf?? and got a bit to eat and they stepped out to join in the celebration.
When they stepped out they saw the parade coming down the street. Several horsemen riding abreast, their saddles gaily decorated with red, white and blue ribbons and bunting, the middle rider holding up a large American flag on a long pole let it.
At the sight of the oncoming riders, people immediately cleared the street and lined the boardwalks on both sides of the street. Children pushed their way to the edge of the boardwalk, squeezing between columns of legs to get a better view.
Behind the riders marched a brass band made up of over twenty men, all dressed in white uniforms and tall white hats striped with red and blue. The flag waving in the breeze seemed to be keeping time to the snappy march, a big bass drum booming out the beat. The band was followed by more riders as well as wagons made up as floats, all bedecked with flags, flowers, banners, and ribbons all red, white and blue.
Along with the horses, bands and floats, there were also several loads of large virgin timber that had recently been logged. One log was so big that it took 5 wagons to carry one full tree. The long lines of riders and floats went on for 30 minutes, but the end of the parade was finally in sight. Just as the last marcher strode by and the crowd began filtering back into the street, some teenage boys lit a string of firecrackers and threw them under a wagon parked up the street.
When the fireworks exploded, they sounded like a firing Gatling gun, and the two draft horses yoked to the wagon bolted. A woman crossing the street screamed and pointed at the charging wild-eyed team with its bounding wagon behind it. Everyone immediately scattered for the boardwalks.
Click on these thumbnails for full-sized photos

Far left: This photo is from Joyce Bergman Rickman, granddaughter of Henry and Anna Lisa Bergman, who emigrated from Sweden to old Sedro. Joyce knows exactly when they arrived because Henry bought a washstand the day his family joined him on Aug. 22, 1892. She still has the drawer from the stand and he wrote a mini-diary entry on the bottom of it. This car is from 1914 4th of July parade.
. Center: This photo is also of the Bergman car in the 1914 4th of July parade. Note the fresh flowers that adorned the car when they made it into a float. The floats were idea of son Theodore Bergman, Joyce's father. His fame from old Woolley was based on his Star Grocery, located at the northeast corner of Woodworth and Metcalf where the Cascadian Farm headquarters is today. Bergman was a very progressive grocer, whose store replaced his original grocery across Metcalf, which burned in the July 23, 1911, downtown Woolley fire. He was the first grocer hereabouts who replaced the old cracker and pickle barrels with sanitary displays..
Right: Sue Parker Swetman donated this photo of the Emerson Hammer family car that was specially decorated for the 1911 4th of July parade in Sedro-Woolley. Her great-grandfather, Dave Parker, was Emerson's brother-in-law. Her father, also Dave Parker, owned the grocery in Clear Lake for many years and still lives on the east side of Clear Lake. The woman in the float is probably Mae Green, wife of pioneer George Green. They were the parents of the wives of both Parker and Hammer..

Please report any broken links or files that do not open and we will send you the correct link. Thank you.

You can read about our prime sponsors:

Read the history websites of our two newest sponsors and supporters:
Oliver Hammer Clothes Shop at 817 Metcalf street in downtown Sedro-Woolley, 82 years
Bus Jungquist Furniture at 829 Metcalf street in downtown Sedro-Woolley, 36 years

---
Peace and quiet at the Alpine RV Park, just north of Marblemount on Hwy 20
Park your RV or pitch a tent by the Skagit river, just a short driver from Winthrop or Sedro-Woolley

---
College Way Antique Mall, 1601 E. College Way, Mount Vernon, WA 98273, (360) 848-0807
Where you will find wonderful examples of Skagit county's past, seven days a week

---
North Cascade Ford, formerly Vern Sims Ford Ranch,
West Ferry street and Crossroads/Highway 20
either on the Sedro-Woolley page or directly at www.northcascadeford.com
DelNagro Masonry Brick, block, stone — See our work at the new Hammer Heritage Square
See our website www.4bricklayers.com
33 years experience — 15 years as a bonded, licensed contractor in the valley
Free estimates, reference, member of Sedro-Woolley Chamber
(360) 856-0101

| | |
| --- | --- |
| | Did you find what you were looking for? If not, please email us and tell us what you seek and we will put it on our list to research. The more details, the better. |
Please sign our guestbook so our readers will know where you found out about us, or share something you know about the Skagit River or your memories or those of your family. Share your reactions or suggestions or comment on our Journal. Thank you for taking time out of your busy day to visit our site.


Sign Our Guestbook
View Our Guestbook

Remember, we welcome correction and criticism. Please click on the email slot at the right to report any problems with these pages or to suggest ideas for future stories. This is a completely free site. We fund it by providing an online magazine for paid subscribers. If you are not already a subscriber and you would like to help support our considerable research costs, you can subscribe for just $17.50 per year. As a paid subscriber, you will receive six yearly issues plus many rare treats between times, including scans of photos and documents that illustrate local history, before they are shared with anyone else. You can go here for Subscription details and you can read the preview edition to see examples of our in-depth research. You may also order gift subscriptions for friends, family or clients who are interested in local history or students or military people who are away from home. Or you can email us for more details. Do you have scanned photos to share? Or you can mail us copies. See addresses to right.


Email us at: journal@stumpranchonline.com

Use this email for scans and large files
Mail copies/documents to street address: Skagit River Journal, 810 Central Ave., Sedro-Woolley, WA, 98284.

Skagit River Journal free resources home page
If you are not a subscriber, go to story list of the Skagit River Journal subscriber edition,
including all archives.
Skagit River Journal online subscriber edition Preview edition page