Site founded September 1, 2000, passing 450,000 page views in June 2005
These home pages remain free of any charge. We need donations or subscriptions/gifts for students, military and family. Please pass on this website link to your family, relatives, friends and clients.

of History & Folklore
Subscribers Edition Stories & Photos
The most in-depth, comprehensive site about the Skagit.
Covers from British Columbia to Puget sound. Counties covered: Skagit, Whatcom, Island, San Juan. An evolving history dedicated to the principle of committing random acts of historical kindness

Noel V. Bourasaw, editor 810 Central Ave., Sedro-Woolley, Washington, 98284
Home of the Tarheel Stomp Mortimer Cook slept here & named the town Bug

Update: graduating class of 1905
from Sedro-Woolley High School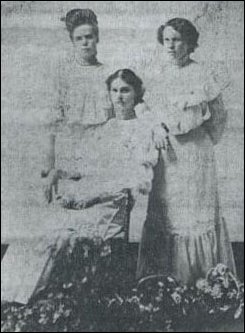 1905 Sedro-Woolley graduates, l. to r. — Carrie Munro, Jennie douglass, Katie Carr.
---
Our story below was published in 2004 at graduation time. We update the background of Sedro-Woolley High School with this photo of the tiny class of 1905. The photo was from a short feature in the May 26, 1955, Sedro-Woolley Courier-Times. The story noted that Jennie Douglass was then the wife of C.M. Paris of Bellingham. Katie Carr, who was the daughter of an early owner of the Keystone Hotel and Saloon on Northern avenue in old Woolley and sister of granary operator Ed Carr, was in 1955 the wife of Harry Mullen Sr., who once owned the old Capital Bar in the 800 block of Metcalf.
The 1914 Oursel annual of the high school noted that Jennie Douglass graduated from Washington State College (Pullman) in 1909, that she was a master of the piano and was then teaching school at Big Lake. She was the daughter of Woolley pioneer druggist F.A. Douglass. That annual also continues the confusion of names in the pioneer families of Munro, Munroe and Monroe. After 13 years of checking records, I have become convinced that the spellings were interchangeable within families. Although she graduated as Carrie Munro, the third graduate of 1905 is referred to in the 1914 annual as Carrie Monroe, who was described as a music teacher, stenographer and bookkeeper.
The 1955 story also noted that the three girls in the 1905 class gave the school the colors it still honors, blue and white. Three geenrations of the former Katie carr's family had graduated from the same high school by 1955: her son, Tom Mullen Sr., graduated in 1925 and was then a member of the school board; his son, Tom Jr., graduated in 1954 and was attending the University of Washington.
We are especially proud of a member of the 2005 graduating class. Ten years ago we helped Shannon McCue with her homework. This week she graduates with honors after editing the Statement [you old timers may remember it as the Cub newspaper and receiving a McIntyre scholarship. Her mother, Gigi Leger, is even prouder. We expect to see her name up in lights soon, or maybe a byline? Love ya, kid.

---
Centennial anniversary of the first Sedro-Woolley High School graduating class — 1904
By Noel V. Bourasaw, publisher, Skagit River Journal of History & 'Folklore, class of 1962
This is a photo of Sedro-Woolley High School from a 1909 postcard. Then known as the Irving School, it housed both elementary and high school students, where the tennis courts now stand, across Talcott from Central school. You are looking northeast. The school, always drafty and crowded, was torn down after 1926.
The 2004 graduation ceremonies at Sedro-Woolley will mark the centennial of graduating classes and the class of 2004 will be the 101st. Back then, only two students graduated, classes were conducted in just one room and there was one principal and one teacher. For the first 16 years of the community, there was no unified high school at all.
The towns of Sedro by the Skagit river and Woolley, where downtown is today, merged on Dec. 19, 1898, to become Sedro-Woolley. The Twin Cities Business League, which led the merger, was just as determined to build a separate high school as they were to consolidate the grade schools, and they began preparations for it in December 1899. Small schools had educated groups of students in all four directions around town. The earliest school session in the area was at the logging camp in Sterling in 1884, then it moved to the Van Fleet homestead in Skiyou, back and forth between those areas and then finally to a two-room schoolhouse on Township road in Sedro in 1890. As a separate town, Woolley also started a school on Northern avenue in 1890. By 1899, those two schools combined into one large, two-story building called the Sedro Graded School where Central School stands today.
One of our main records from those days comes from students who were training for preparatory high school. They formed the Criterion Club in 1901 and produced the first annual in Sedro-Woolley, a handsome book that was bound and professionally produced. The editors wrote that plans for the high school began two years before, right after the merger of towns and schools. The school districts of Clear Lake 33 on the south, Sterling 17 on the west, Ski-Ou [then the spelling of Skiyou] and Wilson 39 on the east, along with Sedro-Woolley 70, formed a new Union High School District 4. District 70 offered a room for the high school students at no charge until a new high school could be built.
Wilson covered the area roughly between Sedro-Woolley and Utopia, which was five miles east. The records are very confusing because Skiyou and Wilson are sometimes referenced to separately. The Wilson school district was named for Joseph Wilson, another of those wonderful frontier characters whose name has slipped through the cracks. He impacted both sides of the county. He was the last living member of the volunteers who cleared the Mount Vernon logjams by hand in the late 1870s, after he spent an active life at sea. When families moved upriver from Skiyou, he became active in promoting a school and his farm was in the center, so his was a natural name for the district. Just as in Sterling, the districts started with children from families homesteaders and loggers and then grew as families came to farm in the rich river-bottom soil after 250-feet-high trees were felled and stumps were pulled with the help of horses.
The first full story of Sedro-Woolley schools was written in 1937, the History of School District 70, by Ethel Van Fleet Harris. The wife of Elza Harris, owner of the Sedro-Woolley Steam Laundry, Ethel was born in 1888 on the Ski-You homestead of Emmett and Eliza Van Fleet, who settled there, east of future Sedro, in May 1880. Ethel graduated from Sedro-Woolley High School in 1907. She noted in that document that Charles N. Winger, an experienced teacher, was hired in March 1900 to be principal for the high school, part-time, and that he was paid $35 per month in addition to his grade school salary. He devoted about half his time to teaching 13 students in the eight grade and four students in the high school. Another great source for school information is the late David Rushong, a longtime local teacher and administrator, who wrote a history of the district in 1965. He also reviewed original records, just as Ethel Van Fleet did 30 years before. He noted that the consolidated High School District 4 was officially approved on Feb. 10, 1900, when directors of the four affected districts met. Rushong discovered that the district hired Winger on March 2, 1900 to teach three boys and a girl of the first class.
In 1901, a Yale college graduate, a Miss Birdie Beals, was hired as the new high school principal. There were two classes by then, which were located in a room by themselves in Sedro Graded School. The grade school students occupied the other rooms of the addition that was connected to the grade school by a covered walkway. It rained a lot back then, too. The Criterion Annual noted that the freshman class in 1901 took up the English course, while sophomores continued in "classical education." Recitation was conducted twenty minutes each morning for both classes. The annual also noted proudly that the high school library totaled 78 volumes and a set of encyclopedias was in the grammar school library.
Up until the high school was fully staffed, housed and accredited, families with means sent their children to the high schools in Bellingham, Everett, Seattle or Tacoma. For instance, we found a (Sedro-Woolley) Skagit County Times article from 1899 that announced Herbert Moss was attending high school in Seattle. Even when the local high school opened, colleges did not automatically accredit the classes. Quinby Bingham, the oldest boy of pioneer banker C.E. Bingham, attended Stadium high school in Tacoma. Coincidentally, Stadium was originally built as a first class chateau-hotel by Northern Pacific Railway just before the 1893 financial panic. One of the principals of the railroad was Nelson Bennett, who launched the Fairhaven & Southern Railway here in 1889 and moved to Tacoma after the sale of the line. The local high school was not accredited until February 1906. At first we thought that there might be a problem with the curricula of the high school but then we found that other contemporary high schools were not accredited if they had less than 16 high school pupils, regardless of the school's quality. Researcher Roger Peterson suggests that the lack of a science room may have also been a problem.
A second school was built in 1902 where the tennis courts are today, north across Talcott street. Sedro-Woolley was growing so fast that even the addition on the original school was overcrowded, so grade school classes were held in the new school and one room was devoted to the small group of high school students. When the photo of the new school was published in Al Sebring's Skagit County Illustrated magazine in December that year, the reporter noted that construction was complete and the cost for the building was $6,000. He said that 13 teachers taught in District 70 and that a small number of high school students were taught in the lower floor of the structure.
The principal of the high school was paid a salary of $100 per month and the common [graded] school principal was paid $90, with the average teacher being paid $50. The 1902 school census showed 502 students of school age in the grade school and high school district. In the 1902-03 school term, a Mr. Fowlie was hired as principal and the high school directors decided that District 70 should pay all expenses incurred above the amount paid by the state. The new school building immediately became famous for the wind that howled through cracks in the structure. In 1903-04, Fowlie continued as principal and Miss Marry Cannon was his assistant, while Miss Mary E. Robb was added to the teaching staff with part-time duties for the high school.
The spring of 1904 marked the first issuance of a diploma from the high school. The first graduates were John Douglass, son of the pioneer Woolley druggist, and Guy Flaherty, who would soon become famous. The annual Flaherty Inspirational Award was named for him. Emerson Hammer was president of the board and H.L. Devin, local real estate developer and town historian, was clerk. Rushong's notes show the slow progress of the library by 1904: 125 books, 50 texts, and one unabridged dictionary.
A May 1904 article in the Skagit County Times described the first graduation ceremony and named all the students: A large audience gathered at the Presbyterian church [then on the 300 block of Talcott street] last Friday to listen to the commencement exercises of the high school. The occasion was one of more than ordinary interest, inasmuch as it was the first graduating class from the school. Of course the interest centered around the two graduates John Douglass and Guy Flaherty, both of whom read well written essays and were the recipients of numerous bouquets.
Misses Hilda Bergman [father Ted Bergman owned Standard Grocery], Olive Splane [father Maurice Splane managed the Big Lake mill] and Ellen Anderson gave good recitations. The class prophesy, read by Bennie Schnieder [father Morris Schneider owned the general store where the bowling alley is now], created considerable amusement. Clyde Mattice [father Menzo Mattice was a Sedro doctor] played a very pretty cornet solo, with an accompaniment on the piano by Miss Dot Mattice, and the high school choir, Misses Frances Hamilton [father Frank Hamilton was the first settler at Concrete], Frances Devin [father Harry Devin owned the first real estate company in Sedro and was postmaster], Minnie Lederle [father Joseph Lederle owned the Woolley shoe store], Jennie Douglass [father was druggist F.O. Douglass] and Carrie Munro [father W.C. Munro owned the sawmill by the Skagit in old Sedro], furnished some excellent vocal selections. Years later, sometime about 1909, the two school buildings would be named by students in a special school election. Their choices were: Franklin for the original school and Irving for the second school where the tennis courts stand in 2004. Franklin was for Benjamin Franklin and Irving was for author Washington Irving. In 1911, the present high school was built at Nelson and Third street. In 1926, the old Franklin school was razed and Central was built in its place. Irving school had been torn down sometime before that.
We said that the first graduate, Guy Flaherty became famous. First he inspired the sports award at the University of Washington that is still granted every year: the Guy Flaherty Inspirational Award, and is still the highest honor that a Husky player can receive. Flaherty began his football career at the UW under legendary coach Gil Dobie and played every minute of every game during the 1906 and 1907 seasons. A severe case of boils on his arm prevented him from playing in all but the first and last game of the 1908 season. But even while too handicapped to play football, Flaherty turned out every day with the squad, and actually performed manager and assistant manager duties while unable to play. His squad unanimously suggested him for the award and it is generally recognized as the first inspirational award offered in the U.S. in intercollegiate athletics. Flaherty became famous later in life as a civil engineer and was one of the key figures in the construction of the St. Lawrence seaway between the United States and Canada.
Watch in June for our completely updated, comprehensive story of all the schools in Sedro-Woolley and the surrounding towns, which started in 1883.

---
Story posted on May 29, 2004, and last updated on June 9, 2005
Did you enjoy this story? Please consider subscribing to the optional Subscribers Edition. That is how we fund this grand project.
Please report any broken links or files that do not open and we will send you the correct link. Thank you.

Return to our home page anytime

You can read about our prime sponsors:


Allelujah Business Systems/Copies/Mailbox, 133-B State St., Sedro-Woolley, 360 855-1157
Preserve your family keepsakes . . . allcopiersystems web page


Schooner Tavern/Cocktails at 621 Metcalf street in downtown Sedro-Woolley, across from Hammer Square: www.schoonerwoolley.com web page . . . History of bar and building


Oliver Hammer Clothes Shop at 817 Metcalf street in downtown Sedro-Woolley, 82 years.


Joy's Sedro-Woolley Bakery-Cafe at 823 Metcalf street in downtown Sedro-Woolley, 82 years.


Heirloom Gardens Natural Foods at 805B Metcalf street, the original home of Oliver Hammer.


Bus Jungquist Furniture at 829 Metcalf street in downtown Sedro-Woolley, 36 years.


Check out Sedro-Woolley First for links to all stories and reasons to shop here first
or make this your destination on your visit or vacation.

---
Peace and quiet at the Alpine RV Park, just north of Marblemount on Hwy 20
Park your RV or pitch a tent by the Skagit river, just a short driver from Winthrop or Sedro-Woolley.

---
Would you like to buy a country church, pews, belfry, bell, pastor's quarters and all? Email us for details.
| | |
| --- | --- |
| | Did you find what you were looking for? If not, please email us and tell us what you seek and we will put it on our list to research. The more details, the better. |
Please sign our guestbook so our readers will know where you found out about us, or share something you know about the Skagit River or your memories or those of your family. Share your reactions or suggestions or comment on our Journal. Thank you for taking time out of your busy day to visit our site.


Sign Our Guestbook
View Our Guestbook

Remember, we welcome correction and criticism. Please click on the email slot at the right to report any problems with these pages or to suggest ideas for future stories. This is a completely free site. We fund it by providing an online magazine for paid subscribers. If you are not already a subscriber and you would like to help support our considerable research costs, you can subscribe for just $20.00 per year. As a paid subscriber, you will receive eight yearly issues plus many rare treats between times, including scans of photos and documents that illustrate local history, before they are shared with anyone else. You can go here for Subscription details and you can read the preview edition to see examples of our in-depth research. You may also order gift subscriptions for friends, family or clients who are interested in local history or students or military people who are away from home. Or you can email us for more details. Do you have scanned photos to share? Or you can mail us copies. See addresses to right.


Email us at: journal@stumpranchonline.com

Mail copies/documents to street address: Skagit River Journal, 810 Central Ave., Sedro-Woolley, WA, 98284.