Celebrating 3+ years on the web and passing 175,000 page views in July 2004
This is a page from our Subscribers Edition. Our free site remains free. How to subscribe to our separate online magazine or donate to our project
of History & Folklore
Subscribers Edition Stories & Photos
Covers from British Columbia to Puget sound. Counties covered:
Skagit, Whatcom, Island, San Juan. An evolving history dedicated
to the principle of committing random acts of historical kindness


---

Noel V. Bourasaw, editor 810 Central Ave., Sedro-Woolley, Washington, 98284
Home of the Tarheel Stomp Mortimer Cook slept here & named the town Bug

John Conrad's obituary notes for the
Aug. 13, 1949, Skagit County Pioneer Picnic.
The first year of his voluntary assignment
Including pioneers and their descendants who passed away
from August 1948 to August 1949
---
Overview:

These files are derived from notes that John Conrad compiled annually from 1949-73 and then read in condensed form at the picnic itself and published with collected photographs in the Puget Sound Mail newspaper, which is no longer published. [See Conrad's biography at: this Journal website.] The Mail published a special Pioneer Edition annually for the August picnic. Many can be viewed on microfilm at the Suzallo Library at the University of Washington, but many burned in various LaConner fires. If you have copies of any of them, please email us. We would like to read the issues and include the pioneer profiles that were included each year with the lists. This section will eventually have more than a thousand names of pioneers and descendants. We would appreciate it if you would pass it along to friends and family who are genealogists so that they can consider subscribing and eventually read Conrad's notes of all 25 years when he served as memorialist. Thank you.
These are Conrad's handwritten notes, which we have transcribed and only lightly edited for clarity and spelling before being coded into web language. The list is organized by general area of the county. The names of those who passed away from the picnic of August 1948 to that of August 1949 are in bold. Information in [ ] is for clarification, correction or research of the individuals, towns or families that has been conducted by the Skagit River Journal. Some of the latter information in brackets is from the Skagit Valley Genealogical Society Index to Funeral Home Records, a most valuable aid. [See this web link for how to obtain it]. If we post burial information, you can assume the person died in 1949 unless we specifically state 1948 inside the brackets. Blue underlined links indicate stories about the pioneers elsewhere in our webpages. One of the most valuable aspects of Conrad's research is that he includes Indian families who were here at the time of the pioneers and emphasizes their impact on the county. We would appreciate it if you would pass it along to friends and family who are genealogists so that they can consider subscribing and eventually read Conrad's notes of all 25 years when he served as memorialist. Thank you.

---
Sedro-Woolley area including Prairie and north,
Sterling and the Lakes area south of the Skagit

Grover [Cleveland] Duvall, [62, born in North Carolina], of Sedro-Woolley after a long life of service in many activities, often unsung but really appreciated.
John Nelson of Montborne [72, born Minnesota], whose father had a shingle mill in Anacortes 65 years ago. Nelson addition and school in Anacortes is named for his father. John continued to saw shingles all his life, even built a small mill right on his home farm and ran it until the day of his death.


Upper Skagit river area from Skiyou to the Cascades
and the south-river area east of Clear Lake

Garnet Thompson, [64, born Canada] of Sauk, who has been merchant at one time or another to every resident above Concrete [You can read more about Garnet Thompson in our three-part exclusive history of Sauk City and Sauk: http://www.geocities.com/skagitjournalupriver/Sauk1.html and in Will D. Jenkin's fine book, Last Frontier in the North Cascades.]


Mount Vernon and southwest Skagit county

John Tellesbo, merchant in the Fir delta country [74, born Norway]. Down Conway-Fir way, an outstanding craftsman in house building has built his last edifice. John Berkness, [68, born Norway], it is safe to say, besides planning and erecting the large local church and the community hall, has perhaps constructed over half of the fine homes and other buildings in that locality in the last 40 years and no doubt these will serve as material monuments to his memory.
Old Doc Osterman of Mount Vernon typified the old generation of doctors. Adolph J. Osterman, [80, born Baltic provinces, Germany, died in 1948], was a lieutenant in the Marine Corps in World War I.
Occasionally both life partners are taken, as for instance, Mr. and Mrs. Bert Hansen of North Fork. The latter was a daughter of the Charles Tollber family and preceded her husband [80, born Norway, died 1948] by only 41 days. A few months later, her brother Albert Tollber was summoned.
Mrs. Gus Wersen of Mount Vernon, wife of the shoe man who fitted my first pair of shoes. We believe that in the burial records she is Trina Gjertina Wersen, 71, born in Norway.] Bessie Larson, 93, oldest deceased pioneer of the year. Edward Jones came to North Fork 79 years ago, but died in Snohomish after living there several years.


LaConner, the Flats, Pleasant Ridge, Swinomish reservation

F.L. Carter, [84, born in Iowa], grand old man of the Puget Sound Mail newspaper, recorded these obituaries for many years until last year's meeting, when I took over.
Down in Long Beach, California, the great umpire above called the strikes on Louis A. Silex, former grocer of old LaConner. I can recall his clerking for Nelson and Pearson, later his own store with Eric Anderson and he and F.L. Carter really were dyed-in-the-wool baseball fans.
George Gaches, [68, born in LaConner in 1881], of LaConner, whose father and uncle owned the early merchandise store here in LaConner. [The mansion George grew up in is now the LaConner Quilt Museum.]
Charley Nelson [see his extended notes at the end of this article]. Charlie Edwards, born on the Swinomish Reservation 90 years ago, most years of Skagit county residence of the deceased pioneers this year. Fred Watkins of Dodge Valley lived in the county for 74 years.


Anacortes, Fidalgo Island, Padilla and Bay View area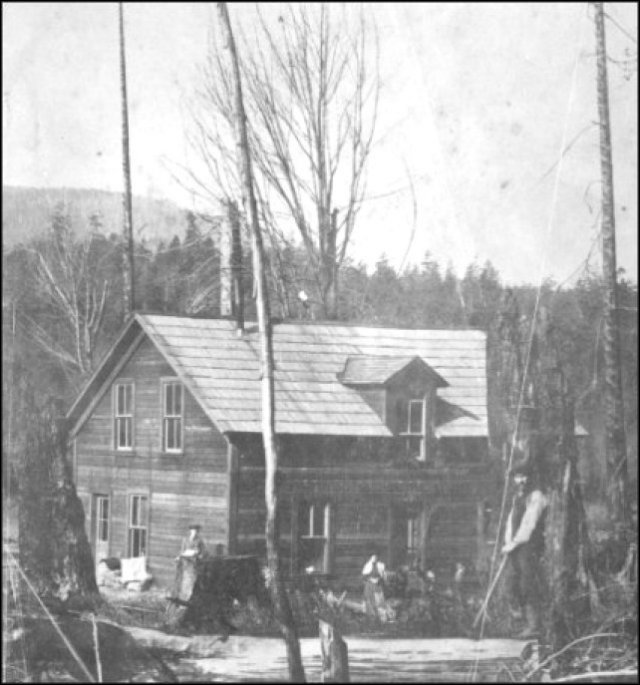 Fred Abbey's Alger homestead.


Pioneer milk hauler Frank Lipp of Bay View [78, born Denmark]. Pioneer tugboat man of 45 years ago on Swinomish Slough, Capt. Fred McGill, [78, born Iowa], of Anacortes and his tugboat Spider.
I remember our beloved old secretary Fred Abbey, [89, born Oct 15, 1859, in Pelham, Massachusetts], whose flowery recordings of our annual meetings were really classics, how he finally retired several years ago. Last year he was too poorly to come and sent his greetings, now he has answered the call. [Judge Fred Abbey was a very early pioneer who homesteaded near Alger. See our website about him and his family.]
Edgar Van Buren, old county commissioner [74, born Indiana]. One of the surviving old dentists, Dr. [no first name] Barnett, formerly of Anacortes. James Allen Murrow, 92, of Guemes, second oldest deceased pioneer.


Burlington and northwest Skagit county

Mrs. Elizabeth Kane, who taught school at Edison in 1890, paddling a dugout canoe a half mile to get to the wooden one-room schoolhouse. [Age 87 at death, she was born Elizabeth Duffy in Canada, and married pioneer saloon and hotel-owner Tom Cain, one of the first pioneers of Edison. After their divorce, very rare for Irish Catholics at the turn of the century, she changed her name and her children's names to Kane.]

---
Charles A. "Charley" Nelson, [88, born in Sweden, died in 1948], never had a college education — only a fortunate few could obtain one in those pioneer days — but he did have a very generous amount of good old fashioned practical sense in his knowledge of planning and getting things done. My folks farmed in early days on LaConner Flats in about the same period as Mr. Nelson did and they were closest of friends. Father hardly ever made an important deal or sale but what he sought the advice of this level headed and clear thinking farmer friend. Sometimes if hasty judgement on a deal turned out to be unwise he would comment, "I wish I had asked Charley Nelson about this."
This reliance on his keen judgment was universal among scores of early settlers in the Pleasant Ridge and LaConner area and his valued knowledge, born of experience, was drawn on by many more as the years went on. Laying out and grading pioneer roads, with a minimum of engineering but with a maximum of value, was taken for granted under his supervision. When the Skagit river threatened soggy dikes at flood stages, if Charley Nelson was out with the sand bag patrol, the situation could be considered under control.

---
Story posted on April 1, 2004, and updated on August 1, 2004
Please report any broken links or files that do not open and we will send you the correct link. Thank you.

---
You can read about our prime sponsors:

Read the history websites of our sponsors and supporters, who help fund research of local history:
Heirloom Gardens Natural Foods at 805B Metcalf street, the original home of Oliver Hammer
Oliver Hammer Clothes Shop at 817 Metcalf street in downtown Sedro-Woolley, 82 years
Bus Jungquist Furniture at 829 Metcalf street in downtown Sedro-Woolley, 36 years

---
Peace and quiet at the Alpine RV Park, just north of Marblemount on Hwy 20
Park your RV or pitch a tent by the Skagit river, just a short driver from Winthrop or Sedro-Woolley

---
College Way Antique Mall, 1601 E. College Way, Mount Vernon, WA 98273, (360) 848-0807
Where you will find wonderful examples of Skagit county's past, seven days a week

---
DelNagro Masonry Brick, block, stone — See our work at the new Hammer Heritage Square
See our website www.4bricklayers.com
33 years experience — 15 years as a bonded, licensed contractor in the valley
Free estimates, reference, member of Sedro-Woolley Chamber

(360) 856-0101

| | |
| --- | --- |
| | Did you find what you were looking for? If not, please email us and tell us what you seek and we will put it on our list to research. The more details, the better. |
Please sign our guestbook so our readers will know where you found out about us, or share something you know about the Skagit River or your memories or those of your family. Share your reactions or suggestions or comment on our Journal. Thank you for taking time out of your busy day to visit our site.


Sign Our Guestbook
View Our Guestbook

Remember, we welcome correction and criticism. Please click on the email slot at the right to report any problems with these pages or to suggest ideas for future stories. This is a completely free site. We fund it by providing an online magazine for paid subscribers. If you are not already a subscriber and you would like to help support our considerable research costs, you can subscribe for just $20.00 per year. As a paid subscriber, you will receive eight yearly issues plus many rare treats between times, including scans of photos and documents that illustrate local history, before they are shared with anyone else. You can go here for Subscription details and you can read the preview edition to see examples of our in-depth research. You may also order gift subscriptions for friends, family or clients who are interested in local history or students or military people who are away from home. Or you can email us for more details. Do you have scanned photos to share? Or you can mail us copies. See addresses to right.


Email us at: journal@stumpranchonline.com

Mail copies/documents to street address: Skagit River Journal, 810 Central Ave., Sedro-Woolley, WA, 98284.

Skagit River Journal free resources home page
If you are not a subscriber, go to story list of the Skagit River Journal subscriber edition,
including all archives.
Skagit River Journal online subscriber edition Preview edition page