Site founded September 1, 2000, passed a half million page views in July 2005
These home pages remain free of any charge. We need donations or subscriptions/gifts for students, military and family. Please pass on this website link to your family, relatives, friends and clients.

of History & Folklore
Subscribers Edition Stories & Photos
The most in-depth, comprehensive site about the Skagit.
Covers from British Columbia to Puget sound. Counties covered: Skagit, Whatcom, Island, San Juan. An evolving history dedicated to the principle of committing random acts of historical kindness

Noel V. Bourasaw, editor 810 Central Ave., Sedro-Woolley, Washington, 98284
Home of the Tarheel Stomp Mortimer Cook slept here & named the town Bug

Katy Savage Pulsipher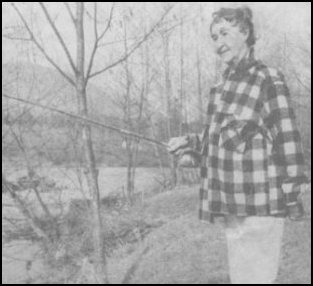 Catherine fishing 1970.
From the original Herald article.

---
When we transcribed this original story below, we only lightly edited in some cases for correction of spelling or to provide continuity. We have been looking for the story behind Catherine Pulsipher for 12 years. We finally found major parts of it in 2002, courtesy of Barb Thompson, a descendant of George Savage of Birdsview, and her cousin Dan Royal. Barb now lives on part of the original Savage homestead, south of the Skagit river near Mill Creek. She has carefully maintained many of the original family documents and photos, especially those of Catherine, who was one of Skagit county's finest writers and a veritable salt of the earth. This is the first of a series of stories we plan to share about the wonderful Savage family, who moved to the Birdsview area in 1878.
---
Catherine "Toots" Savage Pulsipher:
How does one catch a blithe spirit
with a zest for life?


By Doris Norris, Skagit Valley Herald Special Edition 1970

How does one catch a blithe spirit on paper? How does one capture in black and white a young woman of 78 who thinks nothing of hiking several miles every day, of shooting her own deer each fall and fishing for her own breakfast?
And how does one include in this written picture a poet and historian?
Catherine Pulsipher, born in LaConner in 1892, has a zest for life many younger people might well envy. She hikes because she loves to commune with nature, and to test her ability — just to prove she can.
Although she admitted that she didn't have any luck last deer season, in her day she has not only shot deer, but mountain goat and bear. And few are the seasons that she hasn't bagged her game.
Mrs. Pulsipher's parents, [George and Georgetta] Savage, are among the area's earliest pioneers, and her older sister, Olive, was the first white child born at Utsalady, an early lumber camp on Camano Island.
Her father owned and operated several different lumber mills in the area, and she and her husband, Henry, live on the family homestead near Mill Creek, [which is east] of Day Creek on the south bank of the Skagit river. [This is near where] her father had a sawmill.
As a child, she lived in the Socialist [Equality] Colony on Bow Hill, where her father had a contract to log, run the mill, put out lumber and build cabins. She is now helping Ford Smith of Everett write a book on the history of the rather famous colony.
Up until 1952, when the Dalles Bridge was constructed, the only way the Pulsiphers could get to their home was by rowboat, and then by ferry, which carried some 400 loggers across the river each day. The ferry now resides, dry-docked, at the county park at Rockport.
After her father's death, Catherine helped her sisters and mother run a boarding house for loggers, and in 1913 she met and married one of the boarders, Henry [Happy] Pulsipher, a brakeman on a logging train.
The couple moved from one logging camp to another until their daughter, Zola, started school. The family put down roots in Bellingham until she graduated from high school.
Most of the time since then, Catherine has made her headquarters at Mill Creek, where she can wander up and down old lumber roads, fish out the front door (practically) and hunt out the back door — more or less!
She also cares for her many flower beds, while her husband raises vegetables and chickens. And during her free time she writes poetry, sometimes contributing to the Sonnets and Satire column in the Skagit Valley Herald.
She admits that she hasn't taken too many overnight hikes lately. Last summer she and her daughter hiked up Cascade Pass and back, and several summers ago they backpacked into Holden, a trip that took about five days. It isn't that she no longer thinks she can — she just hasn't had the time!
Perhaps the best way to write a visual picture of Catherine Pulsipher is to share a bit of her poetry:

God of the Mountains teach me to be
Pure in thought, in spirit free;
Big in soul and broad in mind,
Thyself through outdoors let me find.

God of the Pinewood, make me know
The joy of watching thy forests grow;
Grant me the deep and lasting peace
That Thy trees can to me release

God of the Sunset, let me be strong.
With thy love, help my way along;
Help me to watch, to pray, to do,
To keep ever the stars in view.

Toots and her mess of fish


Toots the Woodsman's moll


Toots the trapperette


Those who knew and loved Catherine called her "Toots." Click on these thumbnails for the full-sized photos. All these photos courtesy of Barbara Thompson, a granddaughter of Bert and Kate (Halladay) Savage; Bert was one of George Savage's sons and a brother to Catherine. The photos are from a scrapbook maintained by Catherine's daughter, Zola, and the scans are by Dan Royal. His great-great-grandfather, Capt. L.A. Boyd, was Savage's brother-in-law. Boyd and his family joined Savage at the ranch in 1883. Dan's great-grandmother, Mabel Boyd Royal Steen, along with Catherine, is to be congratulated for leaving such an extensive taped and written record of the combined families. Dan Royal has a great newsletter for the Boyds, Royals and Savages, plus their related families. You can email him at dmoroyal@earthlink.net for copies or to contribute material for the site. We plan to share more of Catherine's magnificent writing and historical anecdotes in the near future. If you have any photos, scans, documents or memories to share for this section, please check the contact information below.

---
Links and further reading
A 1971 letter from Birdsview pioneer Catherine Savage Pulsipher that reveals her identity as Mountain Katy in June Burn's book, Living High.

Catherine Savage Pulsipher recalls the mill her father owned at the Equality Colony near Edison in 1898, life at the Colony and her brother's wedding there. Issue 7

---
Story posted on Jan. 24, 2002, and last updated on Dec. 7, 2003
Did you enjoy this story? Please consider subscribing to the optional Subscribers Edition. That is how we fund this grand project.
Please report any broken links or files that do not open and we will send you the correct link. Thank you.

Return to our home page anytime

You can read the history websites about our prime sponsors:


Allelujah Business Systems/Copies/Mailbox, 133-B State St., Sedro-Woolley, 360 855-1157
Preserve your family keepsakes . . . allcopiersystems web page


Schooner Tavern/Cocktails at 621 Metcalf street in downtown Sedro-Woolley, across from Hammer Square: www.schoonerwoolley.com web page . . . History of bar and building


Oliver Hammer Clothes Shop at 817 Metcalf street in downtown Sedro-Woolley, 82 years.


Joy's Sedro-Woolley Bakery-Cafe at 823 Metcalf street in downtown Sedro-Woolley, 82 years.


Heirloom Gardens Natural Foods at 805B Metcalf street, the original home of Oliver Hammer.


Check out Sedro-Woolley First for links to all stories and reasons to shop here first
or make this your destination on your visit or vacation.

---

Would you like to buy a country church, pews, belfry, pastor's quarters and all? Email us for details.

DelNagro Masonry Brick, block, stone — See our work at the new Hammer Heritage Square
See our website www.4bricklayers.com

| | |
| --- | --- |
| | Did you find what you were looking for? If not, please email us and tell us what you seek and we will put it on our list to research. The more details, the better. |
Please sign our guestbook so our readers will know where you found out about us, or share something you know about the Skagit River or your memories or those of your family. Share your reactions or suggestions or comment on our Journal. Thank you for taking time out of your busy day to visit our site.


Sign Our Guestbook
View Our Guestbook

Remember, we welcome correction and criticism. Please click on the email slot at the right to report any problems with these pages or to suggest ideas for future stories. This is a completely free site. We fund it by providing an online magazine for paid subscribers. If you are not already a subscriber and you would like to help support our considerable research costs, you can subscribe for just $20.00 per year. As a paid subscriber, you will receive eight yearly issues plus many rare treats between times, including scans of photos and documents that illustrate local history, before they are shared with anyone else. You can go here for Subscription details and you can read the preview edition to see examples of our in-depth research. You may also order gift subscriptions for friends, family or clients who are interested in local history or students or military people who are away from home. Or you can email us for more details. Do you have scanned photos to share? Or you can mail us copies. See addresses to right.


Email us at: journal@stumpranchonline.com

Mail copies/documents to street address: Skagit River Journal, 810 Central Ave., Sedro-Woolley, WA, 98284.