Site founded Sept. 1, 2000, we will pass one million page views near Memorial Day, May 2006
These home pages remain free of any charge. We need donations or subscriptions/gifts for students, military and family. Please pass on this website link to your family, relatives, friends and clients.

of History & Folklore
Subscribers Edition Stories & Photos
The most in-depth, comprehensive site about the Skagit.
Covers from British Columbia to Puget Sound. Counties covered: Skagit, Whatcom, Island, San Juan, Snohomish & BC. An evolving history dedicated to committing random acts of historical kindness

Noel V. Bourasaw, editor 810 Central Ave., Sedro-Woolley, Washington, 98284
Home of the Tarheel Stomp Mortimer Cook slept here & named the town Bug

Introduction to the Monte Cristo Mines
of Snohomish county and the
Sauk and Stillaguamish river areas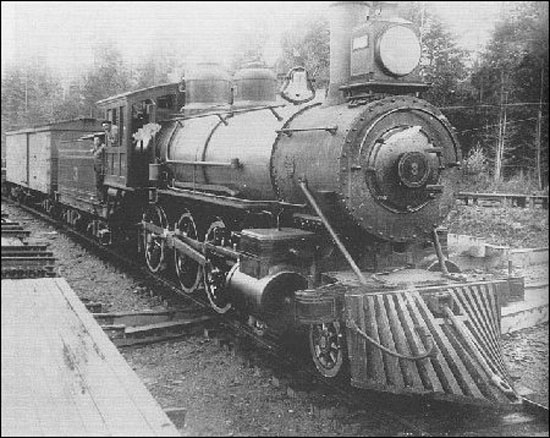 This stunning photo is from page 24 of Everett and Monte Cristo Railway, captioned "The Everett and Monte Cristo's Locomotive 3, probably in 1893. Notice the link-and-pin coupler on the pilot beam, which had not yet been changed to a Gould couplers that was a matter of pride for the railway, which claimed to be the first mainline railway to be completely equipped with the new devices. The material being hauled is probably rails, ties, and fish-plates for construction of the line." Photo courtesy of Railroad Museum of Philadelphia.
One of our favorite fields of Northwest research — Monte Cristo mines, has led to an expanding chain of websites and has inspired one of the largest total of clicks from the Journal's readers. This area in the North Cascades mountain range in Snohomish county, Washington, is noted for the brief gold rush to the mines that attracted attention from the Rockefellers interests as far away as New York City. That feverish activity in the late 1880s and 1890s also fostered exploration of the Sauk and Stillaguamish river systems that led to the birth of many small towns from Sauk City near the Skagit river to Monte Cristo itself; Darrington has survived the longest as a self-sustaining town. The rapid influx of miners, prospectors and homesteads also had an immediate impact on the bands of Indians that lived along the above rivers and the Suiattle river. Our interest and focus has led us to organize all the links on one page for the connected stories. Towards the lower half of this page you will find links to all our related stories plus links to other websites and suggestions for books for further reading on the subject. But we start the page with photographs from one of our all-time favorite railroading books, Everett and Monte Cristo Railway, by Phil Woodhouse, Daryl Jacobson and Bill Petersen, with spectacular detailed drawings by Phil Schnell and James D. Kramer. Here is a brief introduction from the liner notes:

That little trout stream . . .

The locals, including the earliest settlers, had warned them: the south fork of the Stillaguamish river can turn from a picturesque waterway into a raging torrent in short order. "Nonsense," said the engineer, pointing out to the locals that they'd been building railroads along eastern waterways for decades. This "little trout stream" was no different, and the railroad was going in.
The railroad did go in, and every subsequent year brought a Chinook [warm wind] in the fall or a heavy snow runoff in the spring, turning the "Stilly" into a furious torrent and damaging or destroying pieces of the railroad, especially in the notorious Robe Canyon. The crews barely had enough time to complete repairs before Mother Nature would strike again.
The Everett and Monte Cristo line came about as the major railroads were looking for a terminus in the Puget Sound area. It was meant to provide access to the newly discovered mineral resources in the remote area known as Monte Cristo, the site of Washington state's gold rush. The gold frenzy went bust in just a few short years, but the line found a new purpose in hauling timber for the logging companies that had worked their way into the mountains. It also enjoyed a brisk passenger business, and in its final years as the Hartford Eastern Railway even sported its own resort destination, the Inn at Big Four.
But the combination of natural disaster, economic woes, financial shenanigans, and ultimately the coming of the automobile spelled the end for the railroad. Nevertheless, the line left an indelible mark on the region and its fascinating and colorful story is an important chapter in the state's history. Even today, the Monte Cristo area remains as mysterious and inviting as it was when the first prospectors combed its high peaks looking for that telltale glint of gold. . . .
The authors stand before one of the last remaining artifacts of the Everett and Monte Cristo Railway, the turntable beam at Monte Cristo. From the left are Phil Woodhouse, Bill Petersen and Daryl Jacobson. On the other side of this turntable, the railroad's designers placed the engine roundhouse for the line. After several savage winters, they realized their mistake and moved the loco shops to Everett where the winters are more mild. The turntable, however, continued to turn locomotive and gas cars until the line's demise in the 1930s. With a strong arm, and some resolve, it can still be turned today.

You will have to purchase the book or look in a library for it, in order to see their photo. And therein you will find maps, dozens of rare old photos of the railroad mines and Snohomish county, and the tale by this trio of this railroad that maybe should have never been. But as we travel back in time as we read the road, we are happy that it was.

---
Monte Cristo photos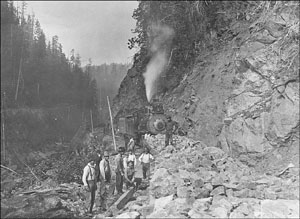 Click on the photo to see a full version of it.
---
As with the following captions, we quote the caption from the book itself plus any other background notes from Phil Woodhouse's memory. We thank him for sharing with us and spending so much time to provide provenance for the photos. This photo is from Page 22 "A construction crew in 1892 in Robe Canyon between tunnel 1 and tunnel 2. This photo looks down the tracks toward Granite Falls. These men were probably Italian immigrants. Notice that the rip-rap rock has been laid by hand on flatcars to be hauled to the worksite. The railroad did go in, and every subsequent year brought a Chinook [warm wind] in the fall or a heavy snow runoff in the spring, turning the "Stilly" into a furious torrent and damaging Photo courtesy of Phil Woodhouse collection.
Phil Woodhourse — Robe Canyon Construction Crew. I bought this at a second-hand store in Everett many years ago. It was first published in my book Monte Cristo in 1979. I have no other information except that the original is a contact print, and thus very sharp.

| | |
| --- | --- |
| | From page 27, "A section crew poses with its track gauge and handcar before the eastern portal of tunnel 1, the longest on the line. This end of the tunnel was bored into solid rock, but the other half was dug through loose rock and soil. At least twice in the life of the railroad, the timbers caught fire and caused half of the bore to collapse. The Stillaguamish river is beyond the lower left of the photo." Photo courtesy of the Phil Woodhouse collection. |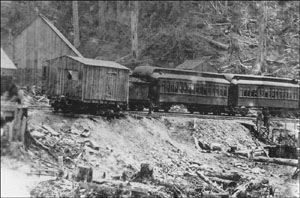 Click on photo for full version
---
From page 36, "A small portion of an 1894 photo of Monte Cristo. The original negative is 18 inches high by 36 inches wide. Locomotive 3 of the Everett and Monte Cristo Railway hides behind a "crummy" [logging and rail crews transportation car] while waiting to pull the daily passenger train to Everett. The building behind the crummy is the railway station, which was originally a sawmill erected by the mining companies to supply timer to their mines." Photo by Frank LaRoche.
Phil Woodhouse — The picture was discovered by a real estate agent who was doing a final clearing of objects from downtown Seattle buildings before they were demolished to make was for the I-5 freeway. This fellow, whose name I do not remember, was a member of the Granite Falls Historical Society, so happened to know the subject matter, and rescued the framed picture from oblivion. Walt Meglasson, a good friend of mine, was the Society president at the time, and was able to borrow the picture so we could do some detailed photographic copies of specific areas. This was long before electronic files, scans, etc. Therefore there is no scan of the entire picture. Even today it would take an engineering scanner to scan the entire surface of the 18x36-inch print. The prints that you see on pages 36 and 42 are two of these detailed photos. The print is an albumen print on artist's canvas, and is a contact print. It was taken by Frank LaRoche in 1894, and printed in Seattle by a man named Plummer. This was likely taken with a Cirkut camera, a type of camera that was just being introduced at the time. The film was in a vertical roll, the shutter a vertical slit, and the camera rotated about a vertical axis as the film was transported past the slit at the focal plane. Thus pictures up to 360 degrees and more could be made. Cirkut cameras are still around and still being used, and yes, one was made that took 18-inch tall film. The left-hand side of this photo was badly damaged, because it was found hanging in a kitchen over a stove. Therefore the right-hand side is the only part with any detail. [See this website for a further explanation of the Cirkut camera:].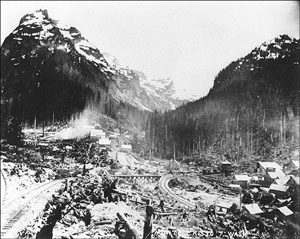 Click on photo for full version
---
Journal comment: Frank LaRoche (1853-1936) first gained fame in Seattle, arriving there from his native Pennsylvania right after the great Seattle fire in June 1889 while the ashes were still warm. He was already trained in the field and set up shop in the Kilgen block on 2nd Avenue. His studio, in addition to high-class portrait photography, specialized in scenic and industrial views of western Washington state. After photographing the Seattle waterfront, streets and buildings, and the homes of early Everett land speculation, he moved to ships, logging camps and the series that first brought him fame, of the American Indians. He ranged as far as California and most of the Western states and as far north as the Canadian Pacific Railway. During the Klondike gold rush from 1897-1899, he trouped along with miners in southeastern Alaska and the Yukon Territory photographing and took spectacular shots at the Chilkoot Pass. Back in 1892 he photographed Indians near Sedro-Woolley and he decided to move there permanently in about 1910. He retired in 1928 after setting up shop in Maurice Schneider's block where the former bowling alley stands today on Metcalf. He died in Sedro-Woolley on April 12, 1936. His son, with the same name, trained at his father's shop and then moved the business to Bremerton where he died in 1948.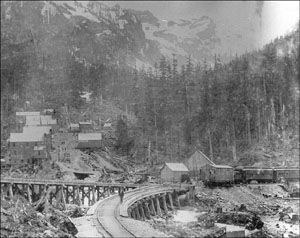 Click on photo for full version
---
From page 46-47, "This photo captures a feature usually missed by photographers of the time. On the far right, beyond the jumble of buildings, is the three-door engine house for the Everett and Monte Cristo Railway, which could service two locomotives at once. The center and left-hand doors led to the engine stalls, while the right-hand door was probably used by wagon traffic. (Smoke stains are visible above the center and left door, but not above the right door.) The builders of the railroad, who were easterners, miscalculated the mountain weather in Washington. The first few harsh winters convinced them that repairing and servicing cast-iron and steel locomotives in an unheated engine house was impossible. Within a few years, they built a new engine house in Everett at Pacific and Chestnut near the station." Courtesy of the Phil Woodhouse Collection. Edward L. Meyer photo.
Phil Woodhouse: I have no information on this picture except that it had to have been taken in 1893 or 1894. Meyer lived in Seattle, but I have no other information on him. We hope a reader can tell us more about the photographer. Click on the photo to see a full version of it.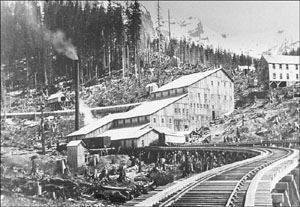 Click on photo for full version
---
From page 49, "The United Concentration Company's mill at Monte Cristo in the mid-1890s, shortly after the mill began operating. Smoke pouring from the stack shows that the fire was lit and the boiler was providing steam to power the 200-horsepower Corliss steam engine, which powered not only the mill but two DC electric dynamos that lit the mill and the upper end of town with incandescent lights. The dynamos also lit the interior of the covered surface tramway, along which mules hauled raw ore from the aerial tramway collector station. The surface tram is the long structure extending from the far side of the concentrator of the photo to the left. To the left of the smokestack is the lower aerial tramway terminal and collector station for the Comet Mine, located 2,700 feet of elevation above the site on the flank of Wilmans Peak. Photo courtesy of Phil Woodhouse collection. Herman Siewart photo.
From Rosemary Wilkin's book, A Broad Bold Ledge of Gold, Historical Facts of Monte Cristo, Washington. "There is little doubt in the writer's mind that this large 5-level concentrator would still be standing today but had it not been wantonly burned down in 1917 by one whose eyes, alight with greed for 'gold,' salvaged scrap iron from among the ruins."
Phil Woodhouse: Siewart was the official photographer for the Everett and Monte Cristo Railway in the early years. He took promotional pictures for the company that were used in brochures and other promos. He sold his studio, situated in Snohomish City, to George W. Kirk in 1899, and left the area. [We have been singularly unsuccessful in finding information about Mr. Siewart, so we hope that a reader will help about him and/or Mr. Kirk.]

| | |
| --- | --- |
| | From page 54, "In 1902, summer excursions on the Everett and Monte Cristo line were popular. At the rear of the right-hand train, flat cars equipped with railings and bench seats were sometimes coupled to the train to give travelers an unfettered view. This scene is at the switchback about 2/3 of a mile below Monte Cristo. Wilmans Peak forms the backdrop." Photo courtesy of The Coast magazine, George W. Kirk photo. Click on photo for full version |
This photo is from someone who read our original review of the railroad book and remembered a photo from his family collection. Steven Bullock wrote to us about an "image I scanned of an old photo I found in my things. It features my great-grandparents and their friends on Buck Creek by the Everett and Monte Cristo Rail Road in 1892. Do you have any record of a railroad employee named Burton Elliott Palmer? B.E. Palmer was my great grandfather and was born in 1867. I don't know who the other people were. A notation on the back reads that he was a 'chief engineer.' " We hope that a reader can answer this question and tell us more about Buck creek.
We have found some references to the East Buck creek campground that is popular for both hikers and horseback riders in the old Monte Cristo loop area. This website provides many details about trails in the area: "Trail Report: The Napeequa side of the Little Giant Pass trail is easy to lose in either up or down direction. The trail up the Napeequa Valley is through some grass fields and a few boggy sections. The trail on these rarely traveled areas is also easy to lose. The trail crosses the Napeequa near its fork, heading northbound. This area is tricky and difficult to follow. Probably this portion was never a built trail. However, with lots of investigation you can find a route through the brush all the way to the upper north fork valley. It continues to High Pass. The trail from High Pass to Buck Creek Pass is also abandoned, but in great shape. There is one area at High Pass with permanent steep, hard snow. Ice axe recommended."
And this website by Hiker Bob also tells more about Buck creek and trails in the area: "A unique forest hike of flower gardens leading into a high-walled valley east of Glacier Peak. Find a good variety of forest and meadows along the Chiwawa River and Buck Creek. A broad avalanche meadow makes a good day hike turn around."

---
Journal links, background reading and books
We now have a dozen Journal features about Monte Cristo, the Sauk-Suiattle river region and Sauk City. Instead of repeating all those source links on each website, along with references to books and back reading, we now have one central website with all the sources.

---
You can click the donation button to contribute to the upkeep of this site at a time when we may be forced to cut it back for lack of funds. You can also subscribe to our optional Subscribers-Paid Journal magazine online, which is about to enter its sixth year with exclusive stories, in-depth research and photos that are shared with our subscribers first. If you like what you read, t hank you in advance for whatever support you can provide.
---
Story posted on June 30, 2005, and last updated on May 1, 2006
Did you enjoy this story? Please consider subscribing to the optional Subscribers Edition.
That is how we fund this grand project.
Please report any broken links or files that do not open and we will send you the correct link. Thank you.

Return to our home page anytime
You can read the history websites about our prime sponsors:

Allelujah Business Systems/Copies/Mailbox, 133-B State St., Sedro-Woolley, 360 855-1157
Preserve your family keepsakes . . . allcopiersystems web page


Schooner Tavern/Cocktails at 621 Metcalf Street in downtown Sedro-Woolley, across from Hammer Square: www.schoonerwoolley.com web page . . . History of bar and building


Oliver Hammer Clothes Shop at 817 Metcalf Street in downtown Sedro-Woolley, 82 years.


Joy's Sedro-Woolley Bakery-Cafe at 823 Metcalf Street in downtown Sedro-Woolley, 82 years.


Check out Sedro-Woolley First for links to all stories and reasons to shop here first or make this your destination on your visit or vacation.


DelNagro Masonry Brick, block, stone — See our work at the new Hammer Heritage Square
See our website www.4bricklayers.com


Are you looking to buy or sell a historic property, business or residence? We may be able to assist. Email us for details.

| | |
| --- | --- |
| | Did you find what you were looking for? If not, please email us and tell us what you seek and we will put it on our list to research. The more details, the better. Tip: Put quotation marks around a specific name or item of two words or more, and then experiment with different combinations of the words without quote marks. |
Please sign our guestbook so our readers will know where you found out about us, or share something you know about the Skagit River or your memories or those of your family. Share your reactions or suggestions or comment on our Journal. Thank you for taking time out of your busy day to visit our site.



View My Guestbook
Sign My Guestbook


Remember, we welcome correction and criticism. Please click on the email slot at the right to report any problems with these pages or to suggest ideas for future stories. This is a completely free site. We fund it by providing an online magazine for paid subscribers. If you are not already a subscriber and you would like to help support our considerable research costs, you can subscribe for just $20.00 per year. As a paid subscriber, you will receive eight yearly issues plus many rare treats between times, including scans of photos and documents that illustrate local history, before they are shared with anyone else. You can go here for Subscription details and you can read the preview edition to see examples of our in-depth research. You may also order gift subscriptions for friends, family or clients who are interested in local history or students or military people who are away from home. Or you can email us for more details. Do you have scanned photos to share? Or you can mail us copies. See addresses to the right.


Email us at: journal@stumpranchonline.com

Mail copies/documents to Street address: Skagit River Journal, 810 Central Ave., Sedro-Woolley, WA, 98284.