Site founded September 1, 2000, passing 300,000 page views in January 2005
These home pages remain free of any charge. We need donations or subscriptions/gifts for students, military and family. Please pass on this website link to your family, relatives, friends and clients.

of History & Folklore
Subscribers Edition Stories & Photos
The most in-depth, comprehensive site about the Skagit.
Covers from British Columbia to Puget sound. Counties covered: Skagit, Whatcom, Island, San Juan. An evolving history dedicated to the principle of committing random acts of historical kindness

Noel V. Bourasaw, editor 810 Central Ave., Sedro-Woolley, Washington, 98284
Home of the Tarheel Stomp Mortimer Cook slept here & named the town Bug

John Henry and Anna Marie Breazeale
of Bay View and their daughter, Edna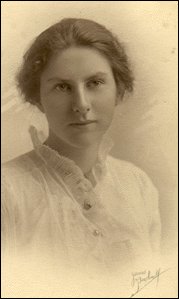 Edna at University of Washington
---
John Henry and Anna Maria Breazeale have only occasionally been profiled and when noted they are placed at Bayview as settlers there. But that is only part of their story. Earlier they were on the scene of the legendary Monte Cristo mines. When I recently read an excellent newsletter from the Padilla Bay National Estuarine Research Reserve, I was reminded again of this family who were very hardy pioneer stock. And their daughter, Edna, became a very important patron of Skagit valley environmentalists when she donated her family's old farmhouse to the state. The Reserve people now use it as an office and conference room, just north of Bay View State Park.
John Conrad, the memorialist for 25 years of the Skagit County Historical Association, told the upriver connection when he read the obituary of (Albert) Marcellus Breazeale at the 1968 Pioneers Picnic. We have his notes from that year:

Marcellus Breazeale, 80, of Bay View was raised as a child in the days before either radio or TV furnished the Western entertainment that youngsters today are provided with. However, most earlier day children listened to tales told by their parents of exciting events of history which often times were actually witnessed by their elders. Marcellus Breazeale's parents, John Henry & Anna Maria, thrifty hard-working immigrants from Germany [apparently incorrect, research being done], had settled in the mid-1880s near Webber's Falls on Indian land in Indian Territory, which was to later become the state of Oklahoma when united with the territory of that name in 1907. Marcellus was born on a newly developing bleak homestead in the raw Arkansas River valley in 1888. And as if to provide much excitement throughout the neighborhood, the next door neighbors were the Frost Starr family whose sister Belle was married to one of the Younger Brothers, famous bandits of those days. The entire horse-riding group frequently circulated unannounced through the home area, creating plenty of thrills, but local folks were never molested by the gang; they were after higher stakes.
The Breazeales remained thre until 1896 when they came west to Puget sound where Will (Bill) Marcellus Breazeale (namesake of deceased) lived at Bay View. As the mining activity from gold and silver around Monte Cristo was in full swing, the family later located there. The father helped build an ore concentrator. In 1897 a terrific flood over the entire Sauk & Stillaguamish valleys, worst in history, covered the area completely, washed out many roads & railroad grades, and drove most families out from their homes. Residents flooded out gathered necessary belongings & with families trudging along as best they could on trails walked downriver to find shelter. The Breazeales and children found the hotel at Silverton full but a sympathetic settler family nearby found lodging for them. The father later worked at Machias until railroads were restored back to Monte Cristo. Son Marcellus was taken to Bay View in 1901 where a better school was available and lived with his uncle until the folks came out the following year. His schooling was as usual in those days, grade school, then perhaps a year or more business college, then outside jobs after farm season. Marcellus worked at mining in B.C., also served in World War I. He learned to love his salt water life at Bay View and was happy to see the beauties of his home shores preserved from heavy industrial encroachment which had threatened the community at times before the days of zoning.

According to the county Funeral Home book, John Henry died in 1947 at age 81 and Anna Marie died in 1951 at age 92. Marcellus had two siblings. Fred died in 1973 at age 80. Apparently the family lived in Missouri before arriving here because Fred was born in that state in 1893 and Edna was also born there, in 1895. Her full name was Inez Edna Marie Breazeale and she grew up wandering through the stumps of the old growth trees that were logged on the Bay View homestead between 1900-10. The family was doing well enough by the teen years that she boarded away from home to attend the University of Washington where she graduated in 1917. At that point she began teaching, spending 43 years at it altogether, including 33 years teaching journalism and English at Roosevelt High School in Seattle.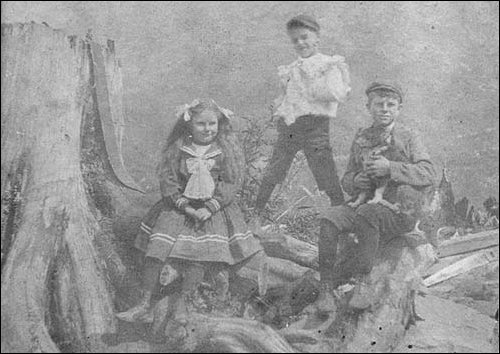 Edna, Fred and Marcellus at Monte Cristo, 1901
It is difficult to pin down just where all the related families settled around Bay View. Sometime after Fred and Marcellus returned from the Klondike gold rush with an indeterminate amount of cash, they may have bought property near their parents. Glen "Alex" Alexander, Education Coordinator for the Reserve, tells us that the Reserve's records about the origination of the property are incomplete. We are hoping that a family member or a neighbor can tell us about all the contiguous properties. On a 1925 Metsker's map, we can see that the state park was already in place. According to the webpage for the state parks, the original nucleus for the park was the home of Pat-The-Us, a Noo-Wha-Ah Indian chief and signer of the Point Elliot Treaty, and was originally used as a baseball field and racetrack by the community of Bay View. Additional parcels were acquired up until 1968.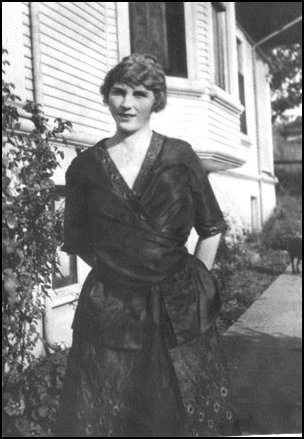 Minnie Breazeale Huey
---
The nucleus was donated to the state in 1925 by the Skagit County Agricultural Association with the understanding that it would become a state park. Apparently all three Breazeale siblings were determined to keep their homestead area pristine as opposed to March's Point across the bay, which had been covered by an oil refinery. The farm was about a mile north of where the Reserve's interpretive center stands today. On the 1925 map, the brothers owned a 20-acre piece in that area together and there was no record of land in the name of either John Henry Breazeale or William Marcellus Breazeale. Between the brothers' parcel and the park was a piece owned by Nicholas "Doc" McHenry. Doc apparently willed his piece to the brothers with the understanding that they would care for him in his old age. He died in 1943.
Edna liked to visit her brothers when she was teaching, and loved to walk the trails around the brothers' property and where their parents and relatives had lived. Eventually she moved back up with them after she retired from teaching. In a memory piece in the Winter 2002 Reserve newsletter, her niece, Kristi Phillips, remembers how she got butterflies every time she visited Auntie Edna's as a girl.

Our parents would take us in the spring and summer when the drive was pretty and the day was ours. By the time we reached that last curve, we couldn't wait to get out of the car. Edna was always eagerly waiting outside to greet us. . . .
I remember barn cats and kittens; eating sugar cubes out of he bowl; chasing field mice and grasshoppers; seeing a bald eagle from the living room; and teaching Edna to make origami frogs. I think of fires in the fireplace on sunny days, her bookcase, stories about our family, her chuckle and the deliberate way she spoke.


John and Fred 1911, all photos courtesy of Breazeale descendants


---

But what I most remember was her sense of wonder. People, stories, plants and animals fascinated her. She was full of curiosity and interest in everything, from what we were learning in school to how our mom's garden was doing. And her view of the future stretched farther than even we kids thought to look.

After Fred died in 1973, when Edna was 78, she arranged a life-tenancy for the property and donated the land to the state of Washington. Originally part of the Department of Game, the land was transferred to the Department of Ecology in the early 1980s. Ground was broken there in 1982 for the interpretive center that bears the family name. She spent her last years content with her gift to the community as she tended her garden, played the organ, and acted as community organizer and environmental proponent. She was especially happy in the mornings when she saw children and whole families hiking along the trails where she played as a child. She died at the farmhouse in 1987 at age 92.

---
Read about the Reserve and interpretive center here
---
Story posted on April 17, 2002, and updated with photos on Jan. 27, 2005
Did you enjoy this story? Please consider subscribing to the optional Subscribers Edition. That is how we fund this grand project.
Please report any broken links or files that do not open and we will send you the correct link. Thank you.

You can read about our prime sponsors:

Read the history websites of our sponsors and supporters, who help fund research of local history:
Heirloom Gardens Natural Foods at 805B Metcalf street, the original home of Oliver Hammer.
Oliver Hammer Clothes Shop at 817 Metcalf street in downtown Sedro-Woolley, 82 years.
Bus Jungquist Furniture at 829 Metcalf street in downtown Sedro-Woolley, 36 years.
Schooner Tavern/Cocktails at 621 Metcalf street in downtown Sedro-Woolley, across from Hammer Square.

---
Peace and quiet at the Alpine RV Park, just north of Marblemount on Hwy 20
Park your RV or pitch a tent by the Skagit river, just a short driver from Winthrop or Sedro-Woolley.

---
Would you like to buy a country church, pews, belfry, bell, pastor's quarters and all? Email us for details.
| | |
| --- | --- |
| | Did you find what you were looking for? If not, please email us and tell us what you seek and we will put it on our list to research. The more details, the better. |
Please sign our guestbook so our readers will know where you found out about us, or share something you know about the Skagit River or your memories or those of your family. Share your reactions or suggestions or comment on our Journal. Thank you for taking time out of your busy day to visit our site.


Sign Our Guestbook
View Our Guestbook

Remember, we welcome correction and criticism. Please click on the email slot at the right to report any problems with these pages or to suggest ideas for future stories. This is a completely free site. We fund it by providing an online magazine for paid subscribers. If you are not already a subscriber and you would like to help support our considerable research costs, you can subscribe for just $20.00 per year. As a paid subscriber, you will receive eight yearly issues plus many rare treats between times, including scans of photos and documents that illustrate local history, before they are shared with anyone else. You can go here for Subscription details and you can read the preview edition to see examples of our in-depth research. You may also order gift subscriptions for friends, family or clients who are interested in local history or students or military people who are away from home. Or you can email us for more details. Do you have scanned photos to share? Or you can mail us copies. See addresses to right.


Email us at: journal@stumpranchonline.com

Mail copies/documents to street address: Skagit River Journal, 810 Central Ave., Sedro-Woolley, WA, 98284.