Site founded Sept. 1, 2000, we will pass one million page views near Memorial Day, May 2006
These home pages remain free of any charge. We need donations or subscriptions/gifts for students, military and family. Please pass on this website link to your family, relatives, friends and clients.

of History & Folklore
Subscribers Edition Stories & Photos
The most in-depth, comprehensive site about the Skagit.
Covers from British Columbia to Puget Sound. Counties covered: Skagit, Whatcom, Island, San Juan, Snohomish & BC. An evolving history dedicated to committing random acts of historical kindness

Noel V. Bourasaw, editor 810 Central Ave., Sedro-Woolley, Washington, 98284
Home of the Tarheel Stomp Mortimer Cook slept here & named the town Bug

History of Brownsville and Bow
Transcribed from Illustrated History of Skagit and Snohomish Counties, 1906, page 236

The site of Bow, a thriving young village on the Great Northern, seven miles north of Burlington and on the eastern edge of the Samish region, was homesteaded by William J. Brown in 1869 [actually no earlier than 1871]. In 1899 the Great Northern railway placed a corps of surveyors in this region, who ultimately ran a line from Belleville via Brown's place to the extreme western point of Chuckanut mountain, thence up the shore to Bellingham. This survey was later adopted and in 1901 the railway company began building this "cut-off," finishing it the following year, and soon thereafter abandoning the old route over the mountain further east. [Ed. note: you can see the cut-off today as you drive north on old Hwy 99. The original train tracks went north through Belfast, also profiled in the Journal, and around Friday creek and Lake Samish to Fairhaven along the line of the former Fairhaven & Southern railway.]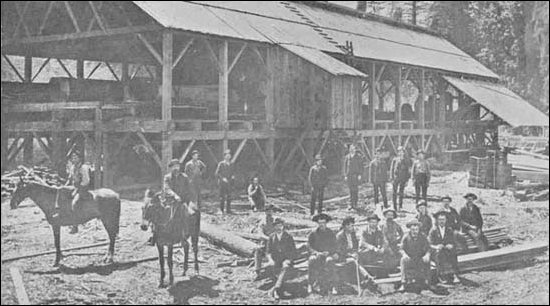 Albert S. Howard built this shingle mill near Bow in about 1885, a year after he moved to the territory. He later joined with logger Silas Butler to form the largest timber company in the area. Read about him in this story below. Photo courtesy of the book, Skagit Settlers, which is still for sale at the Historical Museum in LaConner.


To furnish the Samish district, recognized as one of the richest sections of the county, with a new station in place of the one abandoned, the company established Bow. It erected a station building in the fall of 1902, and appointed Henry Christianson, resident agent. From the establishment of this station the real existence of the village dates.
However, before the building of the railroad there had been a small settlement near Bow, known locally as Brownsville. It resulted from the building of a saw-mill on the Brown place in 1892 by the Howard-Butler Company [see the Silas Butler story], and the erection the same year of a school-house nearby. Several logging camps in the surrounding region contributed to the stability of the settlement, and gradually the number of ranchmen in the district increased. The post office did not come until July, 1901, or until after the railroad had been assured, and the service did not commence until just one year later, when E.E. Heusted [some sources spell the name Hustead] assumed the duties of postmaster. The post office and station were named Bow, at the suggestion of Mr. Brown, after the great Bow railroad station of London, England.
The same year the post office was opened, Ben Gardner built the Bow hotel, first known as the Gardner house. The next spring, McDougall & Brown built a saloon and that summer, W. Nelson Crenshaw established the Bow department store in a shake house. At that time, also, the Winner Shingle Company built a shingle mill on the Brown farm, thus giving the town proper its first industry.
By 1904, Mr. Brown concluded that the time was ripe for the formal institution of a town, so platted twelve acres of his ranch into the town site of Bow. E. E. Heusted opened a grocery store, a saloon was built, George McMillan erected a blacksmith shop and Shadel & Smith placed their meat market in service, all before the close of the year 1904.
Since the first of the present year [1906], Bow has added to its business establishments another general store, a public hall, a restaurant and a bicycle shop, besides securing two rural free delivery routes attached to the post office. As it is the only railroad station between Burlington and Whatcom county, naturally its shipping and traffic are of considerable magnitude. The town has connection by stage twice a day with Edison, which lies three miles west, almost on the bay.
A summary of the business houses of Bow would include the following: General stores, W. [Nelson] Crenshaw, W. H. Benson; grocery and post office, E. E. Heusted; hotel and livery stables, John Peterson; restaurant, Mrs. T. D. Welch; blacksmith shop, George McMillan; meat market, Shadel & Smith; barber shop, bicycle store, Christianson [possibly Henry Christianson family]; two saloons, also the shingle mill of the Winner Shingle Company, capacity eighty thousand a day, Alexander McGaskill, manager. Patrick McCoy's large logging camp lies only a mile south.
Aside from its strategic location as a business and shipping point, Bow has a rich tributary farming country, which, however, is not very extensively improved at the present time.


Albert S. Howard and Harriet Kalloch

When we studied the Kalloch family, we learned that Harriet Kalloch married Albert S. Howard at Edison in 1888. Harriet was the niece of the former mayor of San Francisco, the famous Isaac S. Kalloch, who accompanied her and other family members on a steamboat to Skagit County at Christmastime in 1883. Mr. Howard came to this area at the age of 23, by rail from North Carolina to Portland, Oregon., then by a small railroad line to Tacoma, then by boat to Seattle and to Edison after seeing an ad for a contract to get out shingle bolts there. He landed at Edison in 1884 and spent most of his life in the timber business as a logger and lumberman in the Bow-Edison area. They lived in Stanwood for several decades at the end of their lives. You can read more about Howard's early logging days in our story about Silas Butler.

---
Links, background reading and sources
Our portal site to the town of Bow, Washington, with links to all our photo features and other background sources for further reading.

Part Two, the Northwest Skagit Advocate, Oct. 10, 1908: early days of town of Bow and environs. This complete four-part transcription was initially shared with paid subscribers in Issue 34 of our optional Subscribers-Paid Journal magazine online

This site about Samish Island History is a veritable feast of well researched information about the whole Samish River watershed as well as the island itself. It features a history timeline, Indian points of view, wonderful photos and a full bibliography.

We hope that a reader will have more photos of Bow and its early settlers and the folks who stayed on to settle the area. We are also adding profiles of other towns in the area, so please send us information and scans of photos of your family's town. We especially want to find descendants of William J. Brown and Ben Gardner and other early pioneers. We especially want to see copies of early newspapers. We do not need your originals; photocopies will work just fine.

A list of all the stories about Blanchard, Fravel, Oyster Creek and Edward R. Murrow.

---
You can click the donation button to contribute to the upkeep of this site at a time when we may be forced to cut it back for lack of funds. You can also subscribe to our optional Subscribers-Paid Journal magazine online, which is about to enter its sixth year with exclusive stories, in-depth research and photos that are shared with our subscribers first. If you like what you read, t hank you in advance for whatever support you can provide.
---
Story posted on Dec. 25, 2003
Did you enjoy this story? Please consider subscribing to the optional Subscribers Edition.
That is how we fund this grand project.
Please report any broken links or files that do not open and we will send you the correct link. Thank you.

Return to our home page anytime
You can read the history websites about our prime sponsors:

Allelujah Business Systems/Copies/Mailbox, 133-B State St., Sedro-Woolley, 360 855-1157
Preserve your family keepsakes . . . allcopiersystems web page


Schooner Tavern/Cocktails at 621 Metcalf Street in downtown Sedro-Woolley, across from Hammer Square: www.schoonerwoolley.com web page . . . History of bar and building


Oliver Hammer Clothes Shop at 817 Metcalf Street in downtown Sedro-Woolley, 82 years.


Joy's Sedro-Woolley Bakery-Cafe at 823 Metcalf Street in downtown Sedro-Woolley, 82 years.


Check out Sedro-Woolley First for links to all stories and reasons to shop here first or make this your destination on your visit or vacation.


DelNagro Masonry Brick, block, stone — See our work at the new Hammer Heritage Square
See our website www.4bricklayers.com


Are you looking to buy or sell a historic property, business or residence? We may be able to assist. Email us for details.


Peace and quiet at the Alpine RV Park, just north of Marblemount on Hwy 20
Park your RV or pitch a tent by the Skagit river, just a short drive from Winthrop or Sedro-Woolley

| | |
| --- | --- |
| | Did you find what you were looking for? If not, please email us and tell us what you seek and we will put it on our list to research. The more details, the better. Tip: Put quotation marks around a specific name or item of two words or more, and then experiment with different combinations of the words without quote marks. |
Please sign our guestbook so our readers will know where you found out about us, or share something you know about the Skagit River or your memories or those of your family. Share your reactions or suggestions or comment on our Journal. Thank you for taking time out of your busy day to visit our site.



View My Guestbook
Sign My Guestbook


Remember, we welcome correction and criticism. Please click on the email slot at the right to report any problems with these pages or to suggest ideas for future stories. This is a completely free site. We fund it by providing an online magazine for paid subscribers. If you are not already a subscriber and you would like to help support our considerable research costs, you can subscribe for just $20.00 per year. As a paid subscriber, you will receive eight yearly issues plus many rare treats between times, including scans of photos and documents that illustrate local history, before they are shared with anyone else. You can go here for Subscription details and you can read the preview edition to see examples of our in-depth research. You may also order gift subscriptions for friends, family or clients who are interested in local history or students or military people who are away from home. Or you can email us for more details. Do you have scanned photos to share? Or you can mail us copies. See addresses to the right.


Email us at: journal@stumpranchonline.com

Mail copies/documents to Street address: Skagit River Journal, 810 Central Ave., Sedro-Woolley, WA, 98284.