Site founded September 1, 2000, we passed 3/4 million page views in December 2005
These home pages remain free of any charge. We need donations or subscriptions/gifts for students, military and family. Please pass on this website link to your family, relatives, friends and clients.

of History & Folklore
Free Home Page Stories & Photos
The most in-depth, comprehensive site about the Skagit
Covers from British Columbia to Puget Sound. Counties covered: Skagit, Whatcom, Island, San Juan, Snohomish & BC. An evolving history dedicated to committing random acts of historical kindness

Noel V. Bourasaw, editor 810 Central Ave., Sedro-Woolley, Washington, 98284
Home of the Tarheel Stomp Mortimer Cook slept here & named the town Bug

Ole J. Borseth, pioneer of Fir and Woolley
Updated Jan. 1, 2004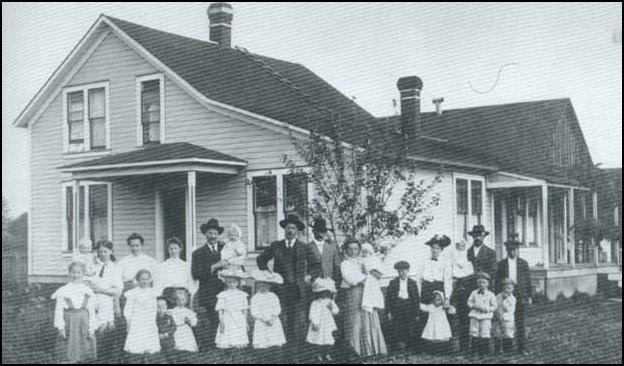 Photo of the Borseth family at their Fir home in 1908. From l. to r., front row: Mary and Clara Borseth, Martin Hegeberg, Gladys Borseth, Bertha and Jonetta Hegeberg, Olga Kvande, Mrs. Dora Kvande (wife of John) holding Berhard, Nels Borseth, Elma, Andrew and Henry Halvorsen. Back row: Mabel Borseth holding Albert, Dordi Borseth (wife of Ole), Mrs. Marit Hegeberg (wife of John), John Hegeberg holding Elmer, Ole J. Borseth, John Kvande. At end of row: Mrs. Martin Halvorsen, Martin Halvorsen holding William, and Ole A. Borseth. Courtesy of the Skagit Valley Herald's fine book, Skagit Collection, the first volume in their series, which is still for sale throughout Skagit county.
The only public legacy of Ole J. Borseth is the two-block-long street in western Sedro-Woolley that stretches from Harry Osborne park on the north to West State street on the south. With the help of his descendants and the Skagit Valley Genealogical Society, we have put together bits and pieces of his life that help illustrate how the Norwegian immigrants helped settle the Skagit Valley. Borseth is one of the most important in that group because of his intensive involvement in the settlement of both Woolley and Fir before the turn of the twentieth century.

---
Ole J. Borseth — Skagit River Journal research

Twenty years before Sedro-Woolley was born as the town of Sedro, families began settling the parts of present Skagit county nearest Puget Sound and the delta of the Skagit river. The name of Ole J. Borseth will be familiar to those who know the layout of Sedro-Woolley. A street west of the Northern Pacific tracks is named for him. The street runs north and south and at one time it extended for six blocks north of where it lays now. Those blocks are now part of Hwy 20, west of the old Skagit Steel plant. Prior to the 1950s that was still a gravel road.
He is one of those pioneers who has "fallen through the cracks," but his foresight led to P.A. Woolley's placement of his company town in 1890. In the book, Skagit Settlers, we learn that Borseth arrived in the Fir area in 1882, six years after Ole N. Lee and Peter Egtvet, the first permanent Norwegian settlers in Skagit county, settled the village of Cedardale, south of Mount Vernon. We are still curious as to whether Ole Borseth ever actually lived here on his claim in Woolley or whether it was just one of his many investments.
In the Sept. 24, 1953, edition of the Sedro-Woolley Courier-Times, which celebrated the centennial of Washington territory, we found a small item that gives more details of Borseth's original investment in the property that became the plat of the West Addition of Sedro-Woolley. A woman living on west Ferry street found an old title document that included the history of that section of land. A man named Christoffer bought the 160 acres north of Ferry in 1884 for $200. He sold the land to partners George Nelson and Ole Borseth for $500 in 1886. They sold the timber on the property to the Skagit Railway & Lumber Co. of Sterling for $700. A very new piece of information in the story is that they did not immediately sell to P.A. Woolley but instead they sold five acres of the piece in 1890 for $500 to a Mr. N.W. Carpenter. That was quite a profit since this was the same sum they originally paid for the entire quarter section. From this we can see Borseth's skill at land investment. During that time the Fairhaven & Southern railway obtained a right of way through the land. Although no details are given, the original land and other land south of Ferry was sold soon afterwards for $2,000 to P.A. Woolley for the "West Addition to the Town of Woolley." Another interesting tidbit is that the original quarter section of land included the later Gateway hotel property "and west to the present city limits," so the partners' land must have included the basic kernel of P.A. Woolley's company town. We hope that someone still has this original document.
Ed. note: Judith Oldham wrote to us in 2000: "I am still curious if the Elizabeth Rice Bozarth [who married D.E. Kimble], to whom you refer, was related to Ole Borseth, another Norwegian, who was one of the pioneers of the old town of Fir, southwest of MV on the Skagit." We hope that a descendant of either family can help us answer her question.

---
Ole J. Borseth obituary

Mount Vernon Herald, March 4, 1926 [transcribed by Dorothy Johnson]

One of the first pioneer residents to settle in the Fir district, Ole J. Borseth, passed away at the family residence yesterday afternoon following a long illness. He was 68 years old. Last December, after having suffered for about two months from abdominal trouble, Mr. Borseth submitted to an operation, from which he never full recovered.
Funeral services will be held Wednesday afternoon at 1:30 from the Fir Lutheran Church. Rev. O.E. Heimdahl will officiate at the service. Burial will be made at the Milltown Cemetery in the family plot, under the direction of undertaker Aaron Light.
Mr. Borseth, although of a quiet and unassuming nature, was a man of accomplishments and was recognized as one of the leading factors for progress and advancement in the community in which he settled in the early days. Born in Norway, he came to this country in 1882, first settling in Michigan. After working in the logging camps about seven months he came to Skagit county, settling at Fir, where he had since made his home.
Besides following the occupation of a farmer, Mr. Borseth dealt in real estate. He platted land at the town site of Woolley and dealt in land in a very successful manner. Besides his other occupations, Mr. Borseth conducted a store at Fir for about twelve years, selling out in 1902. He did much for the advancement of schools in his district, and at one time served as school director.
Fraternally, he was an Odd Fellow [IOOF], of which order he was a past grand. He was also a member of the Norwegian Lutheran church. Having been very successful in his business dealings, Mr. Borseth was able to retire from active duty about three years ago. He is survived by four sons and five daughters, John, Nels, Albert and Edgar of Fir, Mrs. Leonard Erikson, Mrs. Engwald Lange, Miss Gladys Borseth, all of Fir, Mrs. Ole Noste of Conway and Mrs. Albert Rygg of Parkland. Mrs. Borseth died more than three years ago. [Dordi (Forseth) Borseth was born on Feb. 18, 1967 and died on Sept. 7, 1922.]

---
Memories of granddaughter Dorothy Noste Johnson

My name is Dorothy Noste Johnson. Ole J. Borseth is my grandfather. As he passed away in 1926, I never knew him. I was born, Oct. 1927, to Ole C. and Clara Borseth Noste. That happy event took place in a maternity hospital that was located on South 3rd St. in Mount Vernon. I was then taken to our family home in Conway where I remained until my marriage in 1946. Since then I have lived in several different places in, or adjacent to, Mount Vernon. We have been on the hill in Mount Vernon for nearly 30 years.
Ole J. Borseth was born and raised in Oksendal Norway. He emigrated from there in 1882. He sojourned for a time in Michigan and arrived at Fir the same year. He then returned to his home in Norway in 1890 and then shepherded some others, including his betrothed, back to Washington State. Her name was Dordi Forseth. They were soon wed and eventually had 11 children, all born in Skagit County. Ten of them survived to adulthood. My mother Clara was the seventh one and was 86 when she passed away in 1987.
My father Ole C. Noste was born at Nauste ( Noste being a corruption of that place name), Norway in 1892. He and his mother, Maren, moved to Oksendal when he was four years old. He was schooled and remained there until he emigrated, arriving in Skagit County in 1911. The Borseth and Noste familyies intertwined in the Oksendal valley but Ole Noste was not to meet Clara until he came to Skagit County. He served, with distinction, in Europe with the U. S. Army In World War I. They were married at her older sister's house in Ballard in 1919. They returned to Conway where he embarked on a lifetime as a painting contractor. He was appointed postmaster at Conway in 1933 and retired from that position in 1961. They had four children; Margaret Louise, born July, 7, 1920; Dorothy Olivia, born Aug. 8, 1924 and died Nov. 5, 1926; Dorothy Helen, born Oct. 16, 1927; and Oliver Clifton born July 6, 1932.
My grandfather, Ole Borseth, was a captivating person, at least to me. So much so that I often am compelled to search even farther in the hopes of unearthing new information about him, and I usually find something. Once he was settled he maintained a residence at Fir for the rest of his life. His last and the biggest is still in the family. It is owned by his grandson Richard Larson and his wife May Wolden Larson. It is the first house north of the Fir-Conway Lutheran church. He is remembered mostly because of his buying and selling land in Skagit and Snohomish Counties, and in western Oregon. It seems that he bought and sold most of the land between Burlington and Sedro-Woolley, at one time or another. He and a partner George Nelson sold their timber claim to P.A. Woolley in 1889. The city of Woolley named Borseth Street after him. He also found time to enter into partnerships for the purpose of conducting other businesses and operated a general store at Fir for a number of years. He survived the passing of his wife in 1922 and was himself survived by nine of his eleven children when he died in 1926.
I have entered some copies of his dealings into a notebook along with other information concerning his life, including the obituary that was published at the time of his death, and I would be more than happy to share all of it with you.
Ed. note: thank you, Dorothy, we look forward to sharing more of the information.

---
Profile from Illustrated History of Skagit and Snohomish Counties, 1906,
pages 271 and 272


Ole J. Borseth of Fir is one of the solid, substantial business men of south Skagit county, who since coming here in 1882 has accumulated considerable of this world's goods in Skagit real estate operations and in other fortunate and well considered investments. Nominally, Mr. Borseth is a farmer at Fir, but his holdings there represent but a small part of his estimated wealth.
He was born in Christiansund, Norway, on May 7, 1857, the son of Johan J. and Marit (Jordal) Borseth, who died in their native land, the former in 1882, aged sixty-seven, and the latter in 1873, aged fifty-three. Four children survive, the subject of this sketch and Marit, both in the United States, and Magnhild and Brit, both in Norway. Ole Borseth lived at home and attended school until he was sixteen years old. He entered the military college at Christiania at the age of twenty-one and at the close of a three years' course he left the army, coming to the United States in 1882, settling in Michigan.
He remained there for seven months, working in lumber camps, and then came to Fir and worked in a logging camp for six years. He was of a speculative turn of mind and determined on dealing in real estate. He platted land at the town site of Woolley and dealt in land in a very successful manner. In 1890 Mr. Borseth spent three months in his old home in Norway and on his return bought a store at Fir, which he conducted with marked success until in 1902 he sold his stock and leased the store to C. F. Treat. While running the store he continued dealing in real estate at Sedro-Woolley and investing his capital judiciously. Early in 1905 he sold out his real estate holdings except twenty-five acres, which he still retains as a farm and home place.
In 1891 Mr. Borseth married Miss Dordi Furseth, a native of Christiansund, Norway, born February 18, 1867. Her parents, Ole and Brit (Oien) Furseth, yet reside on their old Norwegian homestead. Mrs. Borseth remained with her parents until 1890, when she came to the United States with Mr. Borseth on his return to Skagit county, and they were united in marriage at Fir. Of this union there are eight children, John Daniel, Bertha Malinda, Mabel Gudrun, Ole Alfred, Marit Sigfrid, Nils Berhard, Clara Dorthe and Gladys Olina.
In fraternal circles Mr. Borseth is an Odd Fellow, being now a past grand. The family attends the Lutheran church. While Mr. Borseth has been unusually successful in his speculative ventures and has built up quite a fortune, he is the last man to boast of his achievements or make unusual display of the same. On his twenty-five acre home he has a good dwelling, furnished in a comfortable manner and with every convenience afforded. Among his investments in recent years are three hundred and twenty acres of timber land in Oregon. If Mr. Borseth has a hobby it may be said to be the advancement of the effectiveness of the schools. He has served as school director, giving his time and energy to increase their efficiency. He was largely instrumental in having his home school at Fir graded and placed on its present footing in the schools of the county. Mr. Borseth is a quiet and unassuming man, though one of great energy and accomplishment, and is recognized as one of the leading factors for the progress and advancement in the community.

---
Research from the Skagit Valley Genealogical Society

These Borseth graves are in the Milltown Cemetery also known as the Fir-Conway Cemetery, which is located in the extreme southwest corner of Skagit County, about five miles north of Stanwood:
Johan B. J. 11 Dec 1874-19 Feb 1906; Nils J. 1878 -1934; Tore 1890-1910; Dorothea 14 Apr 1908-3 Feb 1923; Ole J. 7 May 1857-7 Mar 1926; Dordi 18 Feb 1867-7 Mar 1926; Ole Alfred 5 Dec 1895-5 Dec 1922; Nels B. 21 Jun 1899-2 Jan 1939; Albert S. 1906-1949.
Arnold K. Stewart, a Skagit county researcher, has compiled these Borseth family mortuary records that the Skagit County Genealogical Society collected and indexed. They show seven additional Borseth burials in the Fir Lutheran cemetery:
Alfred died 1949, Sigrud died 1949; Dordi O. died 1922; Nels Bernhard died 1939; Nels J. died 1934; Ole Alfred died 1922; Ole Johanson died 1926; Olivia Dorothea died 1923.
Diane Partington, the Society Genealogist, has access to the Mortuary Records for these persons. They usually show parents and spouses, birth and death dates, etc. There are two cemeteries within a fraction of a mile of one another in that area. One, on Milltown Road, is the Fir-Conway Lutheran Cemetery. The other directly south of the Fir-Conway Lutheran Cemetery on County Line Road is the Scandinavian Cemetery. There has been a great deal of confusion about these cemeteries because of the use of the word Milltown to loosely describe one or the other. (Explained by a Borseth researcher, William Snipes.)
Ed. note: this information was shared with us in 1999 by Judith Oldham, a descendant of D.E. Kimble, the famous pioneer of the south Mount Vernon area. We will soon be sharing an updated history of his family.

---
Dorothy Johnson's clarification of burial records

Your section concerning the Borseth burials in the Milltown cemetery can be confusing to any who might be familiar with only some of them. That section lists the graves of two separate Borseth families. One of those is headed by my grandparents, Ole J. Borseth (May 7, 1857-March 7, 1926) and Dordi (Forseth) Borseth (Feb. 18, 1967-Sept. 7, 1922). She bore eleven children, eight of whom are buried in the Milltown cemetery.
Those children are: Bertha (De. 3, 1892-March 12, 1981); Mabel (March 31, 1894-Aug. 23, 1958); Ole Alfred (Dec. 5, 1895-Dec. 5, 1922); Nels Bernhard (June 21, 1899-Jan. 2, 1939), Albert Sigrud (July 12, 1906-July 6, 1949); Clara (Jan. 1, 1901-Oct. 13, 1987); Dorothea (April 14, 1908-Feb. 3, 1923); and Edgar (Aug. 8, 1909-April 8, 1996).
The three other Borseths interred there are the offspring of Ole J. Borseth's brother Johan Borseth Brekken. Johan inherited the family farm upon the death of their father whereupon his younger brother, Ole J., emigrated here. Johan Brekken Borseth never came here but at least three of his offspring did and it is they who occupy the other Borseth graves in the same cemetery. The oldest of those is Johan B.J. Borseth (1874-1906). The initials B and J are not a part of either given or surnames. Rather, those initials were an abbreviation of his nickname, "Big John." The other two are Nils J. Borseth (1878-1934) and Tore Borseth (1890-1910).
There is a discrepancy between the total of all the Borseths listed herein (16) and the total of those listed on the website (17). In the latter, at least two were counted twice and there are more than omissions. In compiling this list I have referenced the book, Oksendal in Olden Days, authored by my great grandfather, O.G. Forseth, and other family records gathered by my mother, Clara Borseth Noste. I am confident my lists will withstand all scrutiny.
There are others in both families who are not accounted for in the above lists. The following three complete the eleven born in the Ole J. Borseth family. John (Aug. 8, 1891-??) disappeared from sight in the late 1920s, never to be seen again. Mary (Sept. 7, 1897-??) is buried with her husband, Farrand Childs, in San Diego. Gladys (Dec. 2, 1904-Oct. 13, 1970) is buried with her husband, Lawrence Larson, in the local Pleasant Ridge Cemetery.
One further clarification: the Washington state Department of Transportation does not replace street names when it designates those streets to become state highway routes. It only puts up the route number markers. The city of Sedro-Woolley was in error when it did not replace missing street signs west of the old Skagit Steel plant.

---
You can click the donation button to contribute to the upkeep of this site at a time when we may be forced to cut it back for lack of funds. You can also subscribe to our optional Subscribers-Paid Journal magazine online, which is about to enter its sixth year with exclusive stories, in-depth research and photos that are shared with our subscribers first. If you like what you read, thank you in advance for whatever support you can provide.
---
Story posted on July 30, 2003 and last updated on Feb. 26, 2004
Did you enjoy this story? Please consider subscribing to the optional Subscribers Edition.
That is how we fund this grand project.
Please report any broken links or files that do not open and we will send you the correct link. Thank you.

Return to our home page anytime
You can read the history websites about our prime sponsors:

Allelujah Business Systems/Copies/Mailbox, 133-B State St., Sedro-Woolley, 360 855-1157
Preserve your family keepsakes . . . allcopiersystems web page


Schooner Tavern/Cocktails at 621 Metcalf Street in downtown Sedro-Woolley, across from Hammer Square: www.schoonerwoolley.com web page . . . History of bar and building


Oliver Hammer Clothes Shop at 817 Metcalf Street in downtown Sedro-Woolley, 82 years.


Joy's Sedro-Woolley Bakery-Cafe at 823 Metcalf Street in downtown Sedro-Woolley, 82 years.


Check out Sedro-Woolley First for links to all stories and reasons to shop here first
or make this your destination on your visit or vacation.

---

DelNagro Masonry Brick, block, stone — See our work at the new Hammer Heritage Square
See our website www.4bricklayers.com

| | |
| --- | --- |
| | Did you find what you were looking for? If not, please email us and tell us what you seek and we will put it on our list to research. The more details, the better. Tip: Put quotation marks around a specific name or item of two words or more, and then experiment with different combinations of the words without quote marks. |
Please sign our guestbook so our readers will know where you found out about us, or share something you know about the Skagit River or your memories or those of your family. Share your reactions or suggestions or comment on our Journal. Thank you for taking time out of your busy day to visit our site.


Sign Our Guestbook
View Our Guestbook

Remember, we welcome correction and criticism. Please click on the email slot at the right to report any problems with these pages or to suggest ideas for future stories. This is a completely free site. We fund it by providing an online magazine for paid subscribers. If you are not already a subscriber and you would like to help support our considerable research costs, you can subscribe for just $20.00 per year. As a paid subscriber, you will receive eight yearly issues plus many rare treats between times, including scans of photos and documents that illustrate local history, before they are shared with anyone else. You can go here for Subscription details and you can read the preview edition to see examples of our in-depth research. You may also order gift subscriptions for friends, family or clients who are interested in local history or students or military people who are away from home. Or you can email us for more details. Do you have scanned photos to share? Or you can mail us copies. See addresses to the right.


Email us at: journal@stumpranchonline.com

Mail copies/documents to Street address: Skagit River Journal, 810 Central Ave., Sedro-Woolley, WA, 98284.