Site founded September 1, 2000, passed a half million page views in July 2005
These home pages remain free of any charge. We need donations or subscriptions/gifts for students, military and family. Please pass on this website link to your family, relatives, friends and clients.

of History & Folklore
Subscribers Edition Stories & Photos
The most in-depth, comprehensive site about the Skagit.
Covers from British Columbia to Puget sound. Counties covered: Skagit, Whatcom, Island, San Juan. An evolving history dedicated to the principle of committing random acts of historical kindness

Noel V. Bourasaw, editor 810 Central Ave., Sedro-Woolley, Washington, 98284
Home of the Tarheel Stomp Mortimer Cook slept here & named the town Bug

Jasper Gates: Mount Vernon pioneer
and the related Kimble and Bozarth families
By Noel V. Bourasaw, Skagit River Journal, ©2002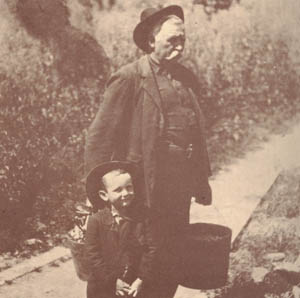 Jasper Gates and his grandson John Knox. He appears to be the inspiration for the "Monopoly" board game man. This photo is the model for the new Gates statue in Mount Vernon. Photo courtesy of the book, Skagit Settlers, which is still for sale at the LaConner Museum.

---
---
[Ed. note: This story is due to be entirely updated in the fall of 2005 with new research results. On Oct. 1, 2005, a statue of Jasper Gates and his grandson was placed at the corner of First and Gates streets in Mount Vernon, the site of Jasper's first cabin on his claim in the 1870s. Dick Fallis, the longtime Skagit county historian, spent several years promoting such a statue and raising the funds for it. You can read about the statue by sculptor Tracy Powell at this website.]
---
All available records indicate that Jasper Gates was the first to file a homestead on the original town site of Mount Vernon after scouting the area in 1869. His brother-in-law David E. Kimble was the first settler on the expanded site of present Mount Vernon. A family obituary notes that Kimble first staked his homestead on Jan. 9, 1869, having been the first of a group of settlers on Whidbey island to discover the site on the east bank of the Skagit river and its possibilities. As we will see below, Kimble played the key role in convincing Gates and others to settle inland near the Skagit and form a loose community there in 1870-71. Gates came to Washington Territory in 1869 with two other related families from Missouri but his father, Abel Gates, was originally from Massachusetts and they all descended from a long family line in the Brittany area on the Atlantic shore of France.
Abel Gates was a Yankee Doodle baby, born in the sailing town of New Bedford, Massachusetts, on July 4, 1787, while the founding fathers were crafting the U.S. constitution. In the War of 1812, he was a lieutenant in a rifle company that saw action in New Orleans against the British. After the war he started a family in Missouri where he eventually became a farmer. Jasper was the tenth of 15 children and was born on April 9, 1840. After he completed his education, probably grade school, he took over half interest of his father's farm. He married Clarinda Kimble on Oct. 6, 1860, and two years later he enlisted in the 27th Missouri Infantry during the Civil War. His unit was in many major battles, including Vicksburg, Grand Gulf, Jackson, Corinth, Pea Ridge, Chattanooga, Lookout Mountain, Missionary Ridge and Chickamauga. He also made the famous March to the Sea under General Sherman and he received a severe wound in action at Resaca, Georgia, that disabled him for some time.
After the war, he returned to Missouri and settled in Adair county with his wife. Her father died in New Jersey when she was a child, but her mother lived with them in Missouri and moved with them to Washington. Clarinda was the youngest of nine children; the oldest child was David Everett Kimble, who would also become a very early Skagit pioneer. David's third wife was Minerva Jane Bozarth; they married in Indiana on Dec. 25, 1862, where he ran a sawmill engine.


Across the plains to Washington territory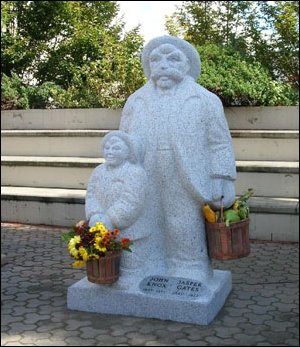 Mother Nature smiled on historian Dick Fallis on October 1, 2005, when she parted the clouds and stifled the rain as he dedicated the statue that honors Jasper Gates. Fallis bit down on this project as if he were a bulldog and persevered for more than a year to raise the funds necessary and excite people about the prospect of honoring the man who homesteaded what is now downtown Mount Vernon. The statue by Tracy Powell is based on the photo above.
---
Urban E. Bozarth is noted in many documents as a prominent early pioneer of Whidbey, but most sources state that he emigrated to Whidbey in 1852, which is at least two years too early. His full name was Urban E. Bozarth but is misspelled as Urvan in various documents; he usually signed as U.E. We have tracked down his relatives in Missouri and Kentucky and we now know details of his first trip west. His first wife died back in Missouri on an undetermined date by 1854. In the spring of that year, Urban headed West with his son Thomas, leaving his two young daughters with their grandfather, Andrew Bozarth, and Andrew's third wife, Priscilla Belle (Jackson). On June 1, Urban and Thomas, along with Urban's brother, Beverly, and his haft-brother Lycurgus, joined a wagon train that was camped along the Platte River not far from Fort Kearney (Nebraska). This wagon train included members of the Ebey family, old friends from Adair County. The Ebeys were headed for Whidbey Island, Washington Territory, where other family members had settled a few years before. Traveling with this group was Isaac's sister and a widow, Mary (Ebey) Wright, and her two children. A romance developed between Mary and Urban. He continued south to Oregon in search of gold but he returned permanently to Whidbey where he married Mary Ebey on Dec. 19, 1858. She was the sister of Col. Isaac Ebey, the famous pioneer who was beheaded in an attack by northern Indians in 1857.
We are indebted to Clear Lake historian Deanna Ramey Ammons for providing information about how the future Mount Vernon families congregated at Whidbey before venturing up the Skagit river. Sometime in 1868-69, Urban decided to go back to the Midwest and entice his relatives to join him out west. Instead of bringing them back by covered wagon, as he had traveled the decade before, he considered the new railroad route. On May 10, 1869, the Central Pacific and Union Pacific lines drove the golden spike at Promontory Summit to link up for a transcontinental line from the Midwest to California. The Union Pacific began its part of the route at Omaha, Nebraska. The Central Pacific built east from Sacramento. In June that year the San Francisco and Alameda railroad rushed construction of a line that would connect Sacramento with the San Francisco Bay. The first through train arrived at Alameda on the East Bay on Sept. 6, 1869. Eventually a ferry would carry entire trains across the bay. We date the families' travel after September because the family record shows that they traveled all the way to San Francisco by train and then boarded a sailing ship for the rest of their travel north.
In her interviews with descendants, Ammons discovered that Urban objected to the early version of the emigrant train because the second-class fare required families to ride in the same boxcars that held their furniture and livestock. They originally brought their goods overland from Illinois by wagon train and apparently boarded the Union Pacific at Omaha. Urban apparently had just enough money to arrange for the families to ride in a coach car. Minerva's granddaughter Irene Windish still lives near Sedro-Woolley. She told Ammons that her grandmother told her that money was really tight on the trip west and that she dressed as a gypsy at several towns where the train had a layover. She would read fortunes for cash and attained some fame when she predicted that a pregnant woman would deliver twins; sure enough, she did. By late that fall, the families of David Kimble and Jasper Gates were with Urban Bozarth at his farm where the Whidbey Island Naval Air Station now stands. The Illustrated History of Skagit County, published in 1906 [hereafter called the 1906 Book], dates David Kimble's move from Illinois to Whidbey Island as being in 1868, so he and his family may have moved out before the others. The 1906 Book notes: "The trip across the plains with his family in 1868 was filled with the usual dangers and hardships incident to such a trip. Arriving at Puget sound, Mr. Kimble immediately joined his wife's folk on Whidbey Island and resided nearby for several months." But in a 1906 letter to his family, Kimble wrote: "We left Illinois in 1869." Urban's daughter MaryEtta would follow still later with her husband Xavar Bartl [also spelled Xavier and Xaver, and Bartle in some records] sometime in 1872 after their third son was born in Illinois. Xavar Bartl also became an early Mount Vernon pioneer in the 1870s and he built a house where Sherman Anderson field was later located. Later, he and his son platted the town of Clear Lake.
In the best book of the Skagit County Historical series, Skagit Settlers, a descendant of one of the first Mount Vernon pioneer families, Ralph C. Hartson, gives us a glimpse of the journey west:

The completion of the railroad to California gave the impetus to the general trek to the Northwest corner of the country. It was on the dock at San Francisco that my grandfather's party became acquainted with another party from Missouri which was headed by Jasper Gates (who became my maternal grandfather). Passage was booked by the combined families on a sailing vessel for Puget Sound.

Whidbey families settle southwest of the Skagit river bend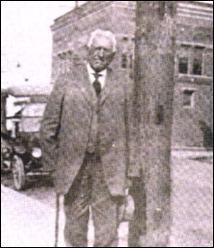 Jasper Gates in Mount Vernon not long before his death in 1923. Photo courtesy of Kathryn Curtis Martin, a Gates descendant.
---
Whidbey Island was just a temporary home for the immigrants, however, because they soon began searching for potential farm acreage inland in the part of Whatcom county that would eventually become Skagit county in 1883. Sternwheelers did not yet have regular routes up the south fork of the Skagit river, so some of the men hiked across Fir island and eventually found the "S"-shaped bends of the Skagit. David Kimble said that he rowed upriver in a canoe. After flowing generally southward from Sterling, the river turns west and forms a pronounced horseshoe-like bow west of the present I-5 freeway bridge and north of Avon. South of Avon, it flows southeast and forms another bow. In Chehachos All, another book in the Skagit County Historical series, we find that:

The Skagit River was blocked by log jams above and below the present site of Mt. Vernon. A party scouted the river in 1869: D.E. Kimble, Jasper Gates, Augustus Hartson, Charles Washburn, Isaac Lanning and William Gage selected a spot just below the lower jam. In Febuary 1870, they chartered the little sternwheeler Linnie for $50 to bring them, their families, and their household goods from Whidbey Island to their new homes. Joseph Dwelley and Jasper Gates took up claims where Mt Vernon now stands. This group is credited with making the first white settlement so far up the river, though Mr. Kimble reported that when he came there were 16 men with Indian wives already in the valley below them along the north and south forks.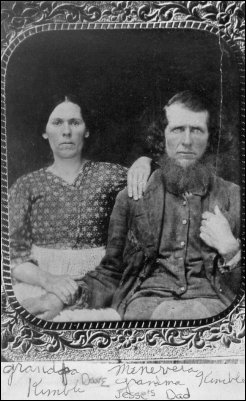 Minerva and David E. Kimble,
courtesy of descendant Judith Oldham
---
Even though Jasper initially homesteaded on the site of future of Mount Vernon, researcher Tom Robinson notes that he also farmed near his brother-in-law David Kimble who homesteaded southwest of the town at what was long known as Kimble's bend. Robinson has discovered that the Gates family rented land from John Wilbur in the years of 1870-73. Katie Wilbur was John's Indian wife. Years later, John married a white woman and when he died, the two wives disputed his legacy in what has long been known as the Case of the Wilbur Widows. Clarinda testified on behalf of the second wife. As we will see later, Jasper returned to that area 20 years later. Most of the original Whidbey families decided to build and farm south and west of the future town because of the logjams. The upper jam formed in a bottleneck west of Jasper's homestead between the two bows. The jams made the town land inaccessible until the lower one was cut through partially in 1876-77.
Jasper had to travel all the way to Olympia to file his initial pre-emption claim in 1869-70 because Whatcom county (the mother of Skagit county) still did not have a land office. We have very little record of the next seven years, but we do know that Jasper soon built a primitive shack on his homestead to fulfill the requirements for his homestead patent. That shack was erected where the National Bank of Commerce was later built at the northeast corner of First and Gates streets, the spot where a downtown park is located today.


Mount Vernon forms

Otto Klement, the pioneer who paddled across Puget sound to LaConner in 1873, is most identified with the upriver village of Lyman, but he played a large role in the early days of Mount Vernon. He says in his memoirs that he alerted town founders Harrison Clothier and Ed English to the potential of the land at the "S" bend. The complete story will be shared in a future story, but we will briefly show how the town fathers hooked up with Jasper Gates. A New York native, Clothier was well educated and taught school in Wisconsin and Minnesota during winters while farming during the summers. After traveling west to California, he came north to Washington territory in the summer of 1875. While in Seattle, he met LaConner pioneer Samuel Calhoun while the latter was in town to pick up supplies and they went back up north on Calhoun's schooner. He worked on Calhoun's farm on the LaConner flats that autumn but ventured south to teach in the Willamette valley area of Oregon that winter. In 1876 he visited Calhoun again and discovered that the Kimbles needed a teacher for the three-month school term in a shack on their property below the bend.
Sometime around the months he taught that term he discovered that one of his pupils from Wisconsin, Ed English, was working as a bookkeeper for George Savage's Fir island sawmill. English was ten years younger than Clothier and had a head for figures. Together they crafted a plan to launch a new town in honor of George Washington's birthday in February 1877 and they named it after Washington's resting place at Mount Vernon, Virginia. According to Klement, the partners bought five acres at the southern end of Jasper's homestead for $100 and erected a primitive store where they traded staples and tools to Indians in exchange for furs and hides that were a hot item in San Francisco and Eastern cities. The store was located just about where the Carnation creamery was later built on Division street, near the eastern entrance to the present-day bridge. About the same time, Jasper also sold another piece of his homestead further north to William Brice, who soon built the first permanent home on the townsite and leased land to two logging camps, one owned by another Whidbey pioneer, William Gage. Brice was Jasper's wife's stepfather. He married the widowed mother of Clarinda and David E. Kimble in 1865, and they were in the group of Whidbey settlers who arrived and made claims around future Mount Vernon on Feb. 23, 1870.
Clothier arranged for a post office in June 1877 and became the first postmaster. The government paid Jasper $1.50 to row his canoe up and down from Skagit City where picked up the post from the Fanny Lake mail boat from Seattle. The store partners added a stipend for Gage. D.E. Gage, William's brother, had a trading post at Skagit City. That arrangement apparently lasted until the lower logjam was cleared enough in 1878 so that initially the steamer Wenat and subsequently other sternwheelers could bring the mail up to the townsite.
As usual, the record for pioneer wives in Mount Vernon during that era is slim, but we do know that Clarinda Gates made quite a name for herself when she used her sewing machine to craft the U.S. flag that was flown on July 4, 1877, atop a cedar that was estimated to be more than 200 feet tall. That sewing machine was the only one in the area. The Gates family must have been short on cash six months later when upriver pioneer Wilhelmina von Pressentin arrived, because Clarinda sold the precious machine to Minnie before the newcomer took her family up to the wilds near Birdsview. We wish that someone had paid more attention to the activities and travails of those pioneer women who raised five or ten children in the wilderness. And we hope that descendants of pioneers will share letters, diaries and journals of those women. Their perspective is badly needed. Clarinda's daughter Martha provided a rare personal profile of her mother in the book, Skagit Settlers:

Mrs. Gates, and her mother, Mrs. Brice, were doctor and nurse for quite awhile. Mrs. Gates helped the newcomers to manage and taught them to be happy in the new land. Her chickens were much appreciated. Fish and clams can get monotonous as a steady diet. . . . Utsaladdy [now spelled Utsalady] in those days was an important place. It had mills and stores where the pioneers went for their needs — common things such as flour, salt and sugar. Green coffee was bought by the gunny sack, roasted and ground as needed. Everything came in bulk form. The clothing came by the bolt, usually calico, and all had a shirt or a new dress of the same material. Mother had sheep which she sheared, carded and made warm things for the family, including stockings.

Judith Oldham, David E. Kimble's great-great-granddaughter, provided a family tree that explained how Mrs. Brice was related to Clarinda and Jasper. Clarinda's mother was Nancy Snodgrass who was born in 1807 in Virginia and died in 1886 in Mt Vernon. Nancy's first husband was Aaron Kimble and after he died she married William Brice in 1855 in Missouri. Another descendant has indicated that William Brice was very possibly a doctor himself or at least a pharmacist, many of whom were awarded the title of doctor in the frontier states. We know that he built the first structure in Mount Vernon and leased out part of his land north of the Gates property. Two of the original logging camps were located on Brice property. Clarinda was the youngest of nine children by Aaron and was a baby when Aaron died in 1845. The link to the Kimble and Gates family trees is at the end of the story.


Jasper Gates and downtown Mount Vernon

One of the very big holes in downtown history is who owned land where. None of the sources make that clear and the sparse notes sometimes disagree. For instance, several sources note that Joseph Dwelley was the second to homestead land on the future townsite. But Dwelley did not arrive until months after Gates, and David Kimble homesteaded the property to the south of the Gates quarter section. Another Gates mystery still unsolved is the original location of the more substantial Jasper Gates house that is pictured on page 31 of Buildings of Skagit County, another book edited by the late Margaret Willis for the Skagit County Historical series. She says in the caption that it was originally built on the bank of the river and that its first site is now in midstream. The 1906 Book notes that when the partners formed the town in 1877, the shore was 40-50 feet further west than it was in 1906 and a small island was just offshore. After the upper logjam was cleared, the river current began eating into the eastern shore in 1880. We have a photo that shows the downtown in 1884 and you can clearly see pilings that had been driven into the new shoreline and a seawall was taking shape.

Mount Vernon waterfront, looking northeast, 1884. Photo courtesy of Lawrence Harnden Jr.

Researcher Tom Robinson insists that she was mistaken, however, about the river location, and we tend to agree. She may have confused the larger house with the initial cabin. The next record of larger house's location comes from the memory of the late John Boynton, who was sheriff for many years and had an excellent memory. Before he died, Boynton told Gates descendant Jim Nichols that he remembers it standing on the site of the present courthouse in 1922. Boynton recalled that it was jacked up and put onto log rollers that year and dragged up Lincoln Hill to its present location at 202 South Ninth Street, near the Skagit Valley hospital. Former judge Jack Deierlein, who now lives on Kincaid street in Mount Vernon, recalls the house being on Ninth as long as he can remember. There is another location story, however, because some pioneer told Willis that the house was moved because it was on the Third street site that Carl Blade wanted for his downtown Blade Chevrolet showroom in 1931. Hopefully a reader can help us unravel this mystery.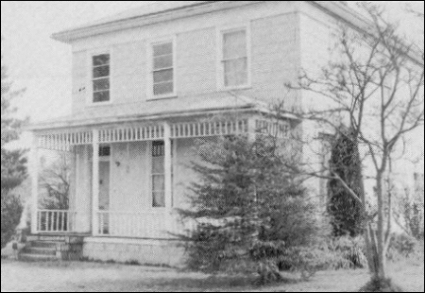 Jasper Gates house at 202 9th street on the hill above Mount Vernon. Photo taken in 1976, courtesy of the book, Buildings of Skagit County.

---

That location is not the only Gates mystery. We wonder why he would have built his house on property not his own. The courthouse site was originally part of the Kimble homestead, some of which was later sold in 1888 to Mount Vernon pioneer David F. Decatur. Another mystery has been solved with the help of researcher Tom Robinson. There is a reference in the 1906 Book to Gates being the "County Sheriff" from 1876-1880. We could not find such a record anyplace and Robinson pointed out that the sheriff in those years was G.W.L. Allen, who would later become famous as the founder of the town of Atlanta on Samish Island. We questioned why a homesteader in a rural area of the southern part of Whatcom county would have been elected sheriff at that time, but Robinson reminded us that the population of the Skagit part of the original Whatcom county was at least equal to the northern part. Could Gates have been the deputy for the southern portion of the county? The 1906 Book notes that Gates followed that term by serving as United States marshal from 1880-1884.


Gates brothers follow from Missouri

Meanwhile, shortly after Jasper homesteaded at future Mount Vernon, two of his brothers from Missouri followed him out here. John Burns Gates was nine years older than Jasper, born in 1831 while Abel Gates and his wife lived in Pike county, Missouri. In one of those famous Civil War opposing-sibling stories, he enlisted in the Confederate Army and rose to the rank of sergeant. He married Sarah Turner in South Carolina in the closing days of the war. They moved to Missouri after the war and followed Jasper out to Skagit county in 1871 when their daughter Edna was two years old. Although John took up land near Skagit City, at the fork of the Skagit, the 1906 Book notes that he spent much of his first five years at Whidbey Island, possibly at Urban Bozarth's old farm. Urban Bozarth died on the island back in 1870 but we do not know if that occurred before or after the families moved to their homesteads. Other members of the combined families possibly also went back to Whidbey off and on, but that is not addressed in any of the records.
John and Sarah had ten children and at least two of them had homes on both the mainland and Whidbey. During the time when John was rowing back and forth to Whidbey, he cleared 23 acres of land at his homestead and soon had quite an orchard and a rolling meadow on his farm. He died just a year before the 1906 Book was written. Sarah recalled for the interviewer:

She vividly remembers her early days on that ground, the woods alive with wild beasts, and recalls with distinctness the circumstances under which many of her domestic animals were carried off under her very eyes by the bears. She has lived to see the wilderness of trees turned into human habitations, the wild creatures disappear, and to note the work done by herself and her husband in effecting the transformation from forest to family fireside.

Thomas Gates, Jasper's younger brother by three years, moved to Washington in 1873 and took up land further south from his brothers on Dry Slough, which bisects Fir island and was sometimes called the third channel of the lower Skagit river.. Dry Slough flows north to south and is part of a multi-county program to restore fishing runs. By the time the project is completed, the channel will be restored to its natural condition, connecting with the river to the north and Skagit Bay on the south. Riparian vegetation will be restored and the plan is for chinook, chum, pink, sockeye, and coho salmon to swim upstream as they did in the very old days. One of Jasper's sisters also followed Jasper out to the valley. Mary Elizabeth Gates and her husband, Elcanah D. Hensley, came west from Schuyler County, Missouri, in 1880.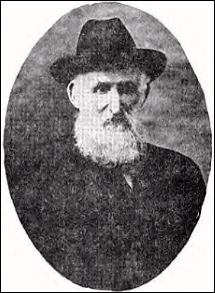 Thomas Gates [Martin photo]
---

Back in Missouri, Tom also joined the confederacy during the Civil War. His paid biography in the 1906 Book notes that his father, Abel, was one of the early settlers in Missouri and that his sons grew up in "the stirring times when that state was the battle ground of the slavery question, when the alignment of sentiment between the North and the South was first becoming drawn." Abel Gates died in Missouri on Nov. 2, 1870. Mrs. Mary Burns Gates was a widow for 18 years and died in Missouri after staying there with three sons who did not move to Washington. A natural question would be: did the opposing views about the War of Rebellion affect relations between the brothers? There is no record about that and obviously the three brothers did wind up settling within two miles of each other. The 1906 Book notes that Jasper was a lifelong member of the Grand Army of the Republic, a fraternal organization of Union veterans. There is one interesting hint about the brothers, however, in the way the Missouri Gates family is described in the 1906 Book. Jasper's paid biography says that there were four boys in the family, not six, and leaves out both John and Thomas. Thomas's paid biography mentions five sons and leaves out John. John's biography mentions all six. So, as the old adage advises: go figure.


The Gates family and relatives settle in Skagit Valley

Although Jasper Gates seems to have maintained his house in Mount Vernon proper for some years, the 1906 Book notes that he repaired to his second plot of land near his brother-in-law David Kimble in 1891. Researcher Tom Robinson has recently discovered an article from the June 10, 1884, Skagit News that announced that Jasper sold all his town lots by that time. At that point, he was not living in the town proper and did not plan to live there anytime soon. His daughter Martha says in Skagit Settlers that he bought a farm near Skagit City and that he had a big orchard there. The biography notes that his farm was two miles southwest of Mount Vernon:

He moved on his present property in 1891. Mr. and Mrs. Gates have seen frontier life in all of its phases, and have undergone many hardships which will never be recorded. . . . Reaping fair returns from his business undertakings, Mr. Gates now owns fifty-three acres of improved land, worth one hundred and fifty dollars, together with one hundred and fifteen acres of improved land, worth one hundred and fifty dollars, together with one hundred and fifteen acres of timber land in Missouri.

There are precious few other notes about Jasper's life and business dealings in either the contemporary or modern history sources. The 1906 Book notes that he was a key organizer and stockholder of the group that set up the first incorporated business in town, the Skagit Sawmill and Manufacturing Co., on April 16, 1887. The list of his fellow organizers reads like a Who's Who of early Mount Vernon business: H.F. Downs, Harrison Clothier, Ed English, Otto Klement, George Hartson, E.K. Matlock and Orrin Kincaid. David F. Decatur arrived from Boston the next spring and built the actual sawmill on property near the present fire station. Within months, Clothier and English bought out the sawmill and installed a partnership called Dunham and Collins as the operators. That business marked the beginning of Clothier's retirement from active business and the beginning of the English timber empire. He would go on to become the dominant timber man north of Weyerhauser, with substantial holdings and logging railroads in both Skagit and Snohomish counties.
The 1906 Book notes that Gates erected one of the four new brick buildings downtown in 1890. That was just a year before the July 13, 1891, fire that burned 15 business buildings and two homes in the "oldest business section." Perhaps the fire is what convinced him to move to his farm, but there is no note on whether his building burned or if his house was affected. A month later, Great Northern began laying railroad track over Kincaid street, which was described as the main thoroughfare at that time. Catherine Savage Pulsipher, who was born in LaConner in 1892, left a mysterious note from her childhood in the book, Skagit Settlers, that confuses us even further about where Jasper and family lived after 1891. We will share all her recollections in a future story, but for now it suffices that she explains her family — George and Georgetta Savage, shared a life-long friendship with the John Gates family. She describes a journey they made to the John Gates farm "back in the woods" when she was a child before the turn of the century. On the way back, she notes:

After our visit here, we were homeward bound, but stopped at the Jasper Gates' place after buying what supplies we needed. They lived in town. . . . Father and Jasper Gates had certain political deals to discuss so we passed there briefly. I think that diked district was then known as "Missouri Town."

So, did Catherine mean town as in Mount Vernon or as in Skagit City? The 1906 Book notes that Skagit City peaked in population and faded quickly as Mount Vernon developed after the mid-1880s. By 1906 there was only one store left, the one owned by the old pioneer, D.E. Gage. So, would she have called that a town or did she mean that Jasper Gates was still living in Mount Vernon at the turn of the century?
Back on June 6, 1891, a great reunion and picnic was staged near Skagit City because, as Chechacos All notes: "there was a feeling among the old times that the founding days were passing." The Skagit County Pioneer Association, a predecessor to today's Skagit County Historical Society, was formed for "the preservation of the data incident to the early settlement of Skagit county." While Sedro and the towns upriver were just beginning to form and Burlington was just a railroad crossing in the woods, those old timers felt a new era was dawning. Among the signatories were Jasper and Clarinda, their teenage daughter Mary, and John's wife, Sarah. David E. Kimble signed alone from his family, as did William Gage. The only other member of the Whidbey party there was Benjamin Augustus Hartson. His son George was an orator at the picnic and would soon become the reigning newspaper publisher.
Some descendants of these related families also earned their way into the history books and married members of the other pioneer families. Martha Jane Gates, Jasper's eighth child of twelve, married Griffith Hastie, the son of another pioneer, Tom Hastie, who crossed the plains by covered wagon in 1850 and settled in the Dry Slough area. She later married William Parker. Matilda Gates, born Sept. 13, 1864, as Jasper's third child, married George Edmund Hartson in 1879. Ralph Hartson, quoted above, was their son. Jasper's daughter Benita married Elmer Swanson whose parents moved to the tiny village of Conway in 1869 when he was one year old. Elmer worked on a log boom on Tom Moore slough near Conway when they married, helping dump logs at the north end of the slough and rafting them down to the boom. They lived at Milltown, which at one time had a dozen shingle mills, enough business to convince Great Northern to establish a small depot there in 1890 while tracks were laid north through Mount Vernon.
Tom Gates's most notable offspring was his son Ira, who was a mayor and city official of Concrete for 25 years until his death in 1950. He once told Skagit county memorialist John Conrad that his father had the first wagon in the county but no road to use it on. Family records show that Ira's father moved in 1909 to Conrad, Montana, but he returned to this area. Both Thomas [died 1917] and Martha are buried in the Pleasant Ridge Cemetery.
John Gates's most notable daughter, Mary, was two years old when her father moved the family here in 1871. Like Matilda Gates, she married at age 15. Her husband was Dr. William Thompson, who was in his second year of practice in Skagit county, having moved here from Missouri just as the county was splitting off from Whatcom. The Thompsons lived in Skagit City, and he ranged all over the western part of the county from LaConner to Mount Vernon. In those days before telephones, he was often summoned by a young boy of family who would guide him overland or row him by canoe to wherever someone was sick. When Mary Gates Thompson Eck died in 1952, John Conrad told their bittersweet story. William was once arrested for practicing in logging camps up in the woods without a license because his license had not yet arrived from Missouri. He died in 1902 after accidentally drinking poison. Their son Ned Thompson made history in early Mount Vernon when he teamed up with a partner named Davis in the original T&D card room on Myrtle Street. She became quite an eccentric character in the Day Creek area in her later years.
Clarinda Gates died on March 21, 1909. Jasper died on Nov. 29, 1923.

---
Ed. note: this is one of those collaborative stories that features information from several family members and researchers and the combination adds up to the first detailed look at Jasper Gates that we know of. We are indebted to the following. Judith Oldham is a great-great-granddaughter of David E. and Rebecca [Wortman] Kimble who has two terrific web pages in conjunction with the Bookstore Lady and Rootsweb: The David and Minerva Kimble story and Genealogy of David Everett Kimble and family. Dave Bartholomew is a Gates descendant who provided many helpful corrections. We have recently updated our old Kimble family website and it is split into five parts about the whole family, including the Kimball subgroup.
Kathryn Curtis Martin uses her website to trace her lineage all the way back to Abel Gates. You will also find some other interesting folks on her pages, as far flung as the Gregorys and Sanderses of Sedro-Woolley. Tom Robinson travels back and forth between Seattle and new digs in LaConner, researching history everywhere he goes. He represents the third-generation of Skagit county pioneer families, with ancestors in LaConner, Mount Vernon and the Prairie district north of Sedro-Woolley. With his help, we are reconstructing the location of buildings and homes in Mount Vernon from the very earliest days, although the paucity of details is causing us to lose even more hair. We especially want to thank Gates descendants Jeffry Parker and Dave Bartholomew for their corrections and additions. And for the advice of Jim Nichols and Theron Davis, also Gates descendants. If you are a descendant of any of these families and have corrections or additions to our initial draft of this history, please email us at the address below or use the regular mail. You can also read more information about the early settler families at this Journal website.

---
Story posted on Jan. 9, 2002, and updated on Dec. 15, 2004
Did you enjoy this story? Please consider subscribing to the optional Subscribers Edition. That is how we fund this grand project.
Please report any broken links or files that do not open and we will send you the correct link. Thank you.

Return to our home page anytime

You can read the history websites about our prime sponsors:


Allelujah Business Systems/Copies/Mailbox, 133-B State St., Sedro-Woolley, 360 855-1157
Preserve your family keepsakes . . . allcopiersystems web page


Schooner Tavern/Cocktails at 621 Metcalf street in downtown Sedro-Woolley, across from Hammer Square: www.schoonerwoolley.com web page . . . History of bar and building


Oliver Hammer Clothes Shop at 817 Metcalf street in downtown Sedro-Woolley, 82 years.


Joy's Sedro-Woolley Bakery-Cafe at 823 Metcalf street in downtown Sedro-Woolley, 82 years.


Check out Sedro-Woolley First for links to all stories and reasons to shop here first
or make this your destination on your visit or vacation.

---

Would you like to buy a country church, pews, belfry, pastor's quarters and all? Email us for details.

DelNagro Masonry Brick, block, stone — See our work at the new Hammer Heritage Square
See our website www.4bricklayers.com

| | |
| --- | --- |
| | Did you find what you were looking for? If not, please email us and tell us what you seek and we will put it on our list to research. The more details, the better. |
Please sign our guestbook so our readers will know where you found out about us, or share something you know about the Skagit River or your memories or those of your family. Share your reactions or suggestions or comment on our Journal. Thank you for taking time out of your busy day to visit our site.


Sign Our Guestbook
View Our Guestbook

Remember, we welcome correction and criticism. Please click on the email slot at the right to report any problems with these pages or to suggest ideas for future stories. This is a completely free site. We fund it by providing an online magazine for paid subscribers. If you are not already a subscriber and you would like to help support our considerable research costs, you can subscribe for just $20.00 per year. As a paid subscriber, you will receive eight yearly issues plus many rare treats between times, including scans of photos and documents that illustrate local history, before they are shared with anyone else. You can go here for Subscription details and you can read the preview edition to see examples of our in-depth research. You may also order gift subscriptions for friends, family or clients who are interested in local history or students or military people who are away from home. Or you can email us for more details. Do you have scanned photos to share? Or you can mail us copies. See addresses to right.


Email us at: journal@stumpranchonline.com

Mail copies/documents to street address: Skagit River Journal, 810 Central Ave., Sedro-Woolley, WA, 98284.