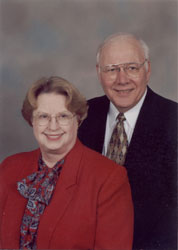 Lew and Ruth Boyd
December 2002.
---
Lewis W. Boyd, 76, of Battle Creek died Tuesday February 18, 2003 at Battle Creek Health System after a short illness.
Lew was born January 14, 1927 in Battle Creek, the son of John J. and Maggie M. (Simons) Boyd. He was a 1945 graduate of Battle Creek Central High School and received a B.A. in Business Administration from Western Michigan University. Lewis served with the U.S. Navy as a corpsman in Boston and Newport, RI. After leaving the service he was employed at Percy Jones General Hospital helping the soldiers with physical reconditioning. He also was employed by Oliver Aviation and the Kellogg Company. Lew was executive vice president and general manager of Battle Creek Equipment Company and he owned Boydco, a fiberglass manufacturing company.

John Boyd's final visit with family in Washington shortly before his untimely passing, 1950.
left to right: John Boyd, Maud Boyd Johnson, Lew Boyd.
---
He was currently employed as a licensed realtor with Stauffer Realty.
He was formerly married to Voleta P. "Becky" Hiatt. He married the former Ruth Anne (Perkins) Messecar March12, 1983. She survives. Also surviving are a son, Robert John (Sheila) Boyd of Kent City, MI, a daughter Tammy Ann (Rick) Christian of Battle Creek, stepsons, Glenn A. Messecar of El Mirage, AZ and Steven Edward Messecar of Battle Creek, eight grandchildren and two step-grandchildren.
He led the Lew Boyd Big Band from 1959 to 1984 and in recent years the Lew Boyd Band at Burnham Brook Center. He had been a member of Chapel Hill United Methodist Church since 1965 and had previously served as chairman of the church building committee and as a church board member. He was a former member of Maple United Methodist Church, past president of the Battle Creek Host Lions Club and a member of National Sporting Goods Association.
He loved all sports, especially University of Michigan Football, boating and being on the water, and traveling. He had formerly had a private pilot's license and still enjoyed flying with friends.
Friends may call today at the Farley-Estes & Dowdle Funeral Home where the family will receive friends 2:00-4:00 & 6:00-8:00 p.m. Funeral services will be held Chapel Hill United Methodist Church 1:30 p.m. Friday. Interment will be at Oak Hill Cemetery Memorial contributions may be made to Chapel Hill United Methodist Church, Burnham Brook Program Department, 200 W. Michigan, Battle Creek, MI 49017, Attn. Marda Hinkley or to a charity of one's choice. Personal remembrances may be made at www.farleyestesdowdle.com