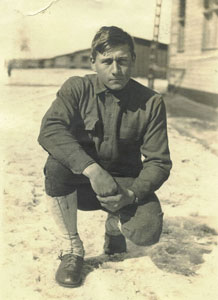 John J. Boyd, 59, of 37 Lathrop Ave, a veteran of the First World War, was taken ill while working at the Kellogg Co., and died shortly afterwards at 9:45 a.m. Saturday in a local hospital. Mr. Boyd had been a Kellogg employee since 1919. He was born in Big Lake, WA Jan 9, 1891, a son of Louis [sic] and Clara Boyd, and came to Battle Creek in 1919, less than a year after his discharge from the Army. He was married to Maggie M. Simons here on June 14, 1919.
He enlisted in the army in April, 1911, and saw service on the Mexican border before World War I, in which he served as a second lieutenant in the infantry. Mr. Boyd was active in the Maple Methodist church, serving on the church's official board. He also worked with the Boy Scout troop sponsored by the church.
Mr. Boyd is survived by his wife; a son, Lewis W. Boyd of 169 Redner Ave; eight sisters, Mrs. Grace Pape and Mrs. Mabel Steen of Concrete, WA; Mrs. Nellie Gilda of Bellingham, WA; Mrs. Margaret Conlin of Puyallup, WA; Mrs. Gertrude Jackman of Seattle, WA; Mrs John Johnson of Albuquerque, NM; Mrs. Georgian Knighten of Portland, OR, and Mrs Annie Hoyt, living in Wash. state; and three brothers, Archie Boyd of Seattle, WA; Norman Boyd of Rosburg, WA, and James Boyd of Portland, OR.