Site founded September 1, 2000, passing 300,000 page views in January 2005
These home pages remain free of any charge. We need donations or subscriptions/gifts for students, military and family. Please pass on this website link to your family, relatives, friends and clients.

of History & Folklore
Subscribers Edition Stories & Photos
The most in-depth, comprehensive site about the Skagit.
Covers from British Columbia to Puget sound. Counties covered: Skagit, Whatcom, Island, San Juan. An evolving history dedicated to the principle of committing random acts of historical kindness

Noel V. Bourasaw, editor 810 Central Ave., Sedro-Woolley, Washington, 98284
Home of the Tarheel Stomp Mortimer Cook slept here & named the town Bug

Sedro-Woolley Iron Works, Skagit Steel
and the McInyre family
An introduction by Noel V. Bourasaw, Skagit River Journal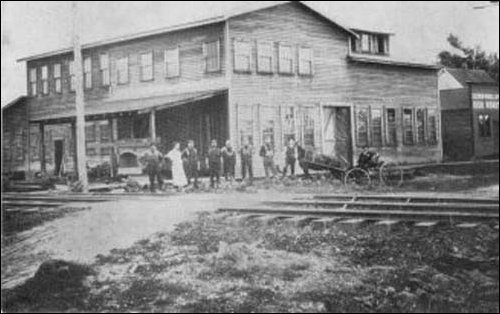 This is the original location of Sedro-Woolley Iron Works on the east side of Puget street, just south of the Seattle & Northern railroad tracks. We are looking southeast, where a manufactured home stands today. John Anderson began the business as a blacksmith in the backroom of the Fritsch Brothers Hardware store in old Woolley in 1901, as an adjunct to his larger Marysville repair shop. This photo was taken sometime in 1902 as the new plant on Puget soon became a repair shop for trains and lumber camps from here on upriver. After a fire in 1910, the plant was rebuilt west of Metcalf street near Gibson, on about the original location of P.A. Woolley's lumber camp. This photo is reproduced from the Aug. 8, 1961 Puget Sound Mail newspaper of LaConner, which is long out of print. It was loaned by Berniece Leaf.
We are able to identify some but not all men in the photo. From l. to r.: unknown boilermaker; pattern maker, unknown; Edward Clinchard, foundryman; John G. Anderson, founder, boilermaker and plant superintendent; Robert Naubert, machinist; David G. McIntyre, machinist; Benny Anderson, cupola tender and casting cleaner; Clay Gould, bookkeeper. Fred R. Faller, first president and general manager, is seated in the buggy.

For some time we have been researching the history of Skagit Steel & Iron Works, the most important industry ever located in Sedro-Woolley, if not Skagit county. Old timers used to say that the economy in this area in the first third of the twentieth century sat on a four-legged stool: Northern State Hospital, agriculture, the Cokedale mines and Skagit Steel. Although Skagit Steel started with an emphasis on rail repairs and logging equipment, the McIntyres adapted with the times, aligning with new technological changes. In fact, in a 1939 editorial in the Sedro-Woolley Courier-Times, publisher Frank Evans noted that most of the county had been clear-cut and that logging was already taking a backseat in industry. After the area around the early towns was logged off, agriculture took over from logging, and Skagit Steel provided equipment for the transition.
Over the last three years, Berniece Leaf has been sharing with us her extensive history of the McIntyre family and their role in Skagit Steel and the industry of Skagit county. She is the granddaughter of David G. McIntyre, the family patriarch, and her other grandfather is Joe Hoyt, whose mill was located in the Prairie area. She is also related through her grandmother, Annie Boyd Hoyt, to Lewis Alexander Boyd, the first schoolmaster of the upriver area. He is profiled elsewhere on the website.
Berniece gave us a copy of the article below, which is sort of a Rosetta stone to understanding the impact of Skagit Steel. It was printed in the February 1929 issue of Washingtonian magazine, just eight months before the stock market crash that led to the terrible Depression of the 1930s. Berniece insists that half of the credit for the McIntyre's success should go to her grandmother, Clara McIntyre, who was truly a partner for David in all his enterprises. Before Berniece, the chronicler of the family was Catherine McIntyre McClintock, who was the youngest child of David and Clara. She was a dear friend of my mother, Hazel Bourasaw, and shared with us not only the history of the McIntyre but also the dozens of biographies she wrote about local pioneers in the Courier-Times.
Finally, we must note the passing of Jack McIntyre on April 22, 2001. He was the last of the three sons of Sydney S. McIntyre, who continued as leaders of Skagit Steel after the death of their grandfather David and their father Sydney. He is survived by his sister Mary McIntyre Soldate, his wife Shirley and his children and many grandchildren, along with many nieces and nephews. The streets of Sedro-Woolley are dotted with historical displays of the company that Jack and his brothers donated. And after his passing, Jack's family announced their generous endowment of the planned county arts center. I enjoyed talking with Jack at Rotary luncheons over the years and he was very kind about sharing memories and material about Skagit Steel. He was very modest about his own considerable career successes and his family heritage. Few knew that he was awarded the Bronze Star for his photo-interpreting skills during the Korean War. We hope you will consider emailing memories of your own family's Skagit Steel memories or scans of any photos you may have. This section will grow over the next few months.

---
Father and son team up
to provide former lumber town with factory supplying loggers of wood with modern gear
By Jack Keller and E.A. Perdue, The Washingtonian Magazine, February 1929, "a state magazine of progress"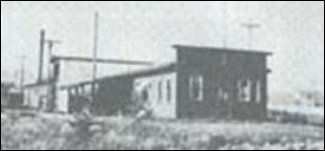 This photo from an undated post card shows the Sedro-Woolley Iron Works after it was built at the new location following the 1910 fire at the Puget street plant. The site was west of Metcalf on part of P.A. Woolley's original mill acreage. This was the office with the foundry behind it.
---
Pioneering in the manufacture of gasoline-driven logging equipment distinguishes Skagit Steel & Iron Works as the first producers of this type of machinery west of the Mississippi River. Romance, ever present along the pioneer's trail, is woven into the history of the growth and development of this factory now rated among the Big Five manufacturers of hoisting and transporting equipment on all the Pacific Coast.
What in 1902 was a small shop equipped with only a planer, a drill press, a lathe and a cupola, located in a single building, is now a factory that covers eight and one-half acres. The site is composed of eight buildings with 71,000 square feet of roofed floor space and connected with 2,300 feet of roofed floor space and connected with 2,300 feet of railroad spurs within the factory property limits.
Steady growth and expansion with the constant addition of up-to-date manufacturing facilities has resulted in a plant capable of turning out the widely known M.A.C. line of equipment, with marvelous ease and dispatch.


Established as machine shop

Sedro-Woolley Iron Works was founded in 1902 by John G. Anderson. Additional money for the promotion of this project was advanced by citizens who were interested in establishing Sedro-Woolley's first permanent industry, which really would be a home enterprise. With the first pound of steam developed in the boilers, this small concern began serving nearby lumbering industries as a general machine shop and iron foundry.
One building, 40 by 60 feet, housed the entire works including the machine shop, iron foundry and the patterns that were stored in the loft above. Four lots on Puget avenue were more than enough for the first factory site.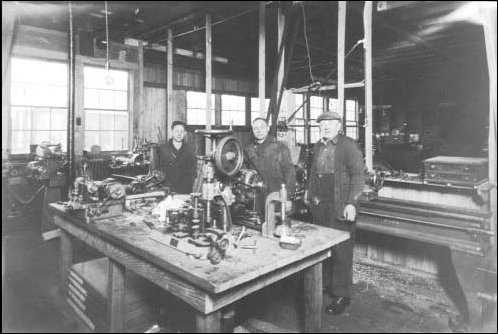 This marvelous photo of the interior of the Skagit Steel machine shop was taken in 1930. We hope that a reader can identify the men. Photo courtesy of Berniece Hoyt Leaf, granddaughter of David G. McIntyre.
---
Size, however, did not prevent the infant industry from tackling any and all jobs, and regardless of meager equipment, no work was turned away. What the shop lacked in facilities was more than offset by the energy and initiative of the personnel. On many occasions steam locomotives from logging operations were overhauled on the tracks outside the inadequate shop. And during the severe weather of several winters when snow covered the ground and the mercury dropped below zero, foreman and workmen dripped perspiration as they toiled in shirtsleeves to get jobs out on time.


Era of manufacturing opens

Through the factory's infancy and until 1906, 95 percent of the volume of business consisted of repair jobs and foundry work. The first approach to manufacturing occurred in 1907-09, when outside orders from the Halladie Machinery Co. were filled. Those contracts called for 5 1/2 inch by 8-inch double cylinder, single drum mining hoists and rotary pumps for customers in Alaska [including Benjamin D. Vandeveer, who was from Sedro-Woolley].
Sawmill equipment and later, iron castings were turned out for Superior Portland Cement Co. and Washington Portland Cement Co. as a further advance into the manufacturing field. Steadily expanding, with increasing business coming in form an ever-widening territory the little plant was beginning to prosper, when in 1912 it was demolished by fire.
Preparations for rebuilding were started immediately and the plant was reconstructed in [1910] on a one-block tract at Gibson and Eastern Avenues [just north of downtown Woolley and the triangle made by the tracks of the three railroads]. Originally in this group there were three buildings: machine shop 64 feet square; foundry, 100 feet by 30 feet; and a small office building aggregating 7,100 square feet of covered floor space.
Addition of their first steel furnace in 1914, which was the fifth to be installed on the entire Pacific Coast, considerably increased the volume of the plant's production.

David G. McIntyre spent years in the woods working with crews like this one by their steam donkey. When customers could not bring their heavy gear to the shop, he went out to the location. He drummed up business for the original Sedro-Woolley Iron Works and dreamed up new technology that his son Sydney S. McIntyre invented and patented. Photo courtesy of the late John Wicker.


---
---
Continued in ">part 2 of the 1929 article: Skagit Steel is born, 1914-29. And then read our exclusive profile of David G. McIntyre and his pioneer family
---
Story posted on April 20, 2003
Did you enjoy this story? Please consider subscribing to the optional Subscribers Edition. That is how we fund this grand project.
Please report any broken links or files that do not open and we will send you the correct link. Thank you.

---
You can read about our prime sponsors:

Read the history websites of our sponsors and supporters, who help fund research of local history:
Heirloom Gardens Natural Foods at 805B Metcalf street, the original home of Oliver Hammer.
Oliver Hammer Clothes Shop at 817 Metcalf street in downtown Sedro-Woolley, 82 years.
Bus Jungquist Furniture at 829 Metcalf street in downtown Sedro-Woolley, 36 years.
Schooner Tavern/Cocktails at 621 Metcalf street in downtown Sedro-Woolley, across from Hammer Square.

---
Peace and quiet at the Alpine RV Park, just north of Marblemount on Hwy 20
Park your RV or pitch a tent by the Skagit river, just a short driver from Winthrop or Sedro-Woolley.

---
Would you like to buy a country church, pews, belfry, bell, pastor's quarters and all? Email us for details.
| | |
| --- | --- |
| | Did you find what you were looking for? If not, please email us and tell us what you seek and we will put it on our list to research. The more details, the better. |
Please sign our guestbook so our readers will know where you found out about us, or share something you know about the Skagit River or your memories or those of your family. Share your reactions or suggestions or comment on our Journal. Thank you for taking time out of your busy day to visit our site.


Sign Our Guestbook
View Our Guestbook

Remember, we welcome correction and criticism. Please click on the email slot at the right to report any problems with these pages or to suggest ideas for future stories. This is a completely free site. We fund it by providing an online magazine for paid subscribers. If you are not already a subscriber and you would like to help support our considerable research costs, you can subscribe for just $20.00 per year. As a paid subscriber, you will receive eight yearly issues plus many rare treats between times, including scans of photos and documents that illustrate local history, before they are shared with anyone else. You can go here for Subscription details and you can read the preview edition to see examples of our in-depth research. You may also order gift subscriptions for friends, family or clients who are interested in local history or students or military people who are away from home. Or you can email us for more details. Do you have scanned photos to share? Or you can mail us copies. See addresses to right.


Email us at: journal@stumpranchonline.com

Mail copies/documents to street address: Skagit River Journal, 810 Central Ave., Sedro-Woolley, WA, 98284.