Site founded September 1, 2000, passing 300,000 page views in December 2004
These home pages remain free of any charge. We need donations or subscriptions/gifts for students, military and family. Please pass on this website link to your family, relatives, friends and clients.

of History & Folklore
Subscribers Edition Stories & Photos
The most in-depth, comprehensive site about the Skagit.
Covers from British Columbia to Puget sound. Counties covered: Skagit, Whatcom, Island, San Juan. An evolving history dedicated to the principle of committing random acts of historical kindness

Noel V. Bourasaw, editor 810 Central Ave., Sedro-Woolley, Washington, 98284
Home of the Tarheel Stomp Mortimer Cook slept here & named the town Bug

Sterling school, 1883-1940
By Noel V. Bourasaw, Skagit River Journal ©2002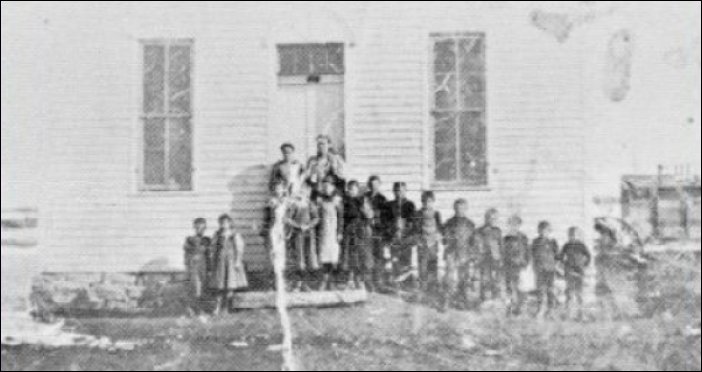 Do you recognize any of the students in this 1890 photo of Sterling School? Please email us if you do. This photo was originally supplied by Burlington pioneer Jess Knutzen and was featured in the fine 1975 Skagit County Historical Society book, Skagit Settlers, edited by Margaret Willis. You can buy copies of the book at the History Museum in LaConner.
As settlers began moving their families here to join them and after young couples married and began having children, the pressure to provide public schools mounted in small villages all over the new Skagit county in 1883. The very early settlers before 1883 sometimes chose to educate their children at home, in which case a wife or bride who was well educated or who had been a teacher was a godsend. An example is Dr. Georgianna Batey, who married pioneer David Batey in 1880 and joined him near Ball's Landing, the town that was renamed Sterling in the early '80s. Researcher Roger Peterson has found instances where she taught both her own children, those of other settlers and Indians in their home. Other settlers who were wealthier or not tied to their farms repaired to Mount Vernon for the three-month winter school session and then returned to their homesteads to cultivate and fell logs.
When Skagit County formed in November 1883 the first upriver school district formed, Number 17, covering the area from Sterling to Lyman. The first county superintendent of schools took a special census in early 1884 and when enough students were counted, he chose Sterling as the first location of a school since it was still the major upriver market center at that time before Mortimer Cook built his store at Sedro. The first session began in the spring of 1884 in a small, one-room, split-cedar shack, which was mounted on logs in case of high water. Located near the log store of Jesse B. Ball, the building previously served as a bunkhouse for Ball's logging camp. Eva Wallace was chosen as the first teacher but only completed a month and was then replaced by Lelia Turner for the three-month term. Their salary was $40 per month and they taught seven students. Typical subscriptions one month totaled $50.10.

Do you recognize any of the students in this 1884 photo of Sterling School? We like this photo because, even in its worn condition, you can see details of the faces. The teacher is either Eva Wallace or Lelia Turner, who replaced her after a month, but we cannot identify the adult men.
By the 1885 term, more people were settling near Mortimer Cook's new townsite and east of it, so that winter session was held in a new split-cedar, one-room house was built by George Wicker and others on the David Batey ranch near the future location of the Goodyear-Nelson mill. In November another election was held at the Batey homestead to form a new district, number 27. The school moved back to Sterling in a new school cabin for the 1886 Spring session. In the summer of 1886, the district was divided, with the eastern half from Skiyou to Lyman becoming the Wilson district. The Sterling school was conducted in a new log structure and records of the Boyd family indicate that R.O. Welts, future county superintendent, was their teacher that year. Since a large majority of the children lived in old-Sedro or due north of it, a new school was built on the Van Fleet homestead at the border with Wilson. The Sterling district continued its own grade school until 1940.

---
We hope that a reader will be able to share details about the Sterling School district , students, buildings and teachers for the period from 1883 to 1940.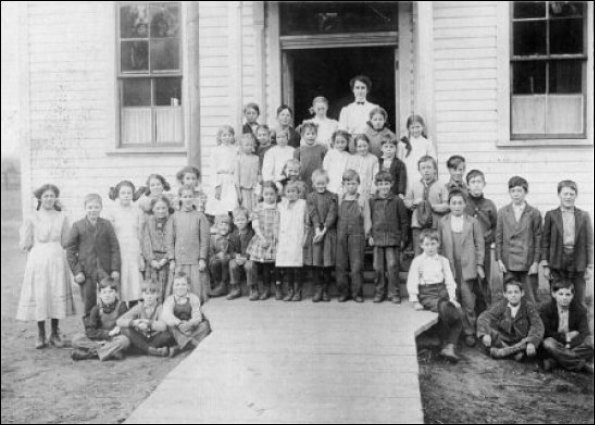 Sterling school, circa 1910. Children of Joe DeBay in the photo include: Rose DeBay, far left; Sam DeBay, seated second from right; Albert DeBay, standing to the left of Sam, hat to side. Can anyone identify the rest of the children? Photo courtesy of Allen Lyons and Marsha DeBay Lyons. Please email and help us identify these students. And ask at the Sedro-Woolley Museum for the story of how the school bell was saved from this last school at Sterling, which was closed in 1940.
---
Also see these features about Sterling and its settlers. Some are from our old website and the links will not work. Please return here for links. These stories that started on our old website in 2001 are being updated with new information from our research and from readers and will be completely updated, starting in May 2004, with your help.

Our updated, exclusive story of the town of Sterling and founder Jesse Beriah Ball, an example of our in-depth research, which was originally shared in our Subscribers Edition. Map from 1897 shows the original double horseshoe bend of the Skagit in 1897.

Read about Jesse Ball's early logging in Washington territory in the 1870s.

Early days of Sterling, the village at the river. We need your help. Can you add to our introductory list of families who settled at Sterling by the river or DeBay Island before 1929? This part is far from complete. We will add to this chapter as readers provide us more information.

Chapter 3: Joseph DeBay, the Italian immigrant who grew vegetables for the valley and then saw his farm turn into DeBay Island. We hope that readers will send us their own family memories and photos scans for stories of more early Sterling families.

Joseph DeBay, a photo page of the family of the Italian immigrant who grew vegetables for the valley and then saw his farm turn into DeBay Island. We hope that readers will send us their own family memories and photos scans for stories of more early Sterling families.

Chapter 5: Schools at Sterling from 1883-1940, with new information supplied by Jeanie Bond, a descendant of the Dreyer family of Sterling.

We have been researching Sterling, the earliest upriver town, for 12 years now, and we plan several more chapters about it. We hope that those of you who are descendants of Sterling families or who are researchers will share your family memories and discoveries with us. Copies of documents and scans of photos are fine. We do not need or ask for your originals, which should be kept as either family keepsakes or donated to museums or libraries that will both preserve them and make them available to researchers. Thanks for your help.

---
Story posted on Sept. 3, 2001, updated on March 19, 2004
Please report any broken links or files that do not open and we will send you the correct link. Thank you.

---
You can read about our prime sponsors:

Read the history websites of our sponsors and supporters, who help fund research of local history:
Heirloom Gardens Natural Foods at 805B Metcalf street, the original home of Oliver Hammer.
Oliver Hammer Clothes Shop at 817 Metcalf street in downtown Sedro-Woolley, 82 years.
Bus Jungquist Furniture at 829 Metcalf street in downtown Sedro-Woolley, 36 years.
Schooner Tavern/Cocktails at 621 Metcalf street in downtown Sedro-Woolley, across from Hammer Square.
Peace and quiet at the Alpine RV Park, just north of Marblemount on Hwy 20
Park your RV or pitch a tent by the Skagit river, just a short driver from Winthrop or Sedro-Woolley.
DelNagro Masonry Brick, block, stone — See our work at the new Hammer Heritage Square
See our website www.4bricklayers.com.

---
Would you like to buy a country church, pews, belfry, bell, pastor's quarters and all? Email us for details.
| | |
| --- | --- |
| | Did you find what you were looking for? If not, please email us and tell us what you seek and we will put it on our list to research. The more details, the better. |
Please sign our guestbook so our readers will know where you found out about us, or share something you know about the Skagit River or your memories or those of your family. Share your reactions or suggestions or comment on our Journal. Thank you for taking time out of your busy day to visit our site.


Sign Our Guestbook
View Our Guestbook

Remember, we welcome correction and criticism. Please click on the email slot at the right to report any problems with these pages or to suggest ideas for future stories. This is a completely free site. We fund it by providing an online magazine for paid subscribers. If you are not already a subscriber and you would like to help support our considerable research costs, you can subscribe for just $20.00 per year. As a paid subscriber, you will receive eight yearly issues plus many rare treats between times, including scans of photos and documents that illustrate local history, before they are shared with anyone else. You can go here for Subscription details and you can read the preview edition to see examples of our in-depth research. You may also order gift subscriptions for friends, family or clients who are interested in local history or students or military people who are away from home. Or you can email us for more details. Do you have scanned photos to share? Or you can mail us copies. See addresses to right.


Email us at: journal@stumpranchonline.com

Mail copies/documents to street address: Skagit River Journal, 810 Central Ave., Sedro-Woolley, WA, 98284.