Site founded September 1, 2000, passing 325,000 page views in February 2005
These home pages remain free of any charge. We need donations or subscriptions/gifts for students, military and family. Please pass on this website link to your family, relatives, friends and clients.

of History & Folklore
Subscribers Edition Stories & Photos
The most in-depth, comprehensive site about the Skagit.
Covers from British Columbia to Puget sound. Counties covered: Skagit, Whatcom, Island, San Juan. An evolving history dedicated to the principle of committing random acts of historical kindness

Noel V. Bourasaw, editor 810 Central Ave., Sedro-Woolley, Washington, 98284
Home of the Tarheel Stomp Mortimer Cook slept here & named the town Bug

Bill Newberg, Utopia boy made good, 1910-2003
When I was a kid growing up in the Utopia district, we all marveled that a guy like Bill Newberg could have grown up within a mile of us and gone on to become president first of Dodge and then Chrysler. At campfires the older guys would tell one exploit after another about him and we sometimes wondered if it could all be true. Then when I was in junior high, he came home to headline our 4th of July parade and accept the highest honor as an alumnus of the University of Washington. I had the privilege of getting to know Bill through his nephew Ed Hoyt when Bill was 90. In a long series of letters and phone calls, I discovered that the tales were all true and then some.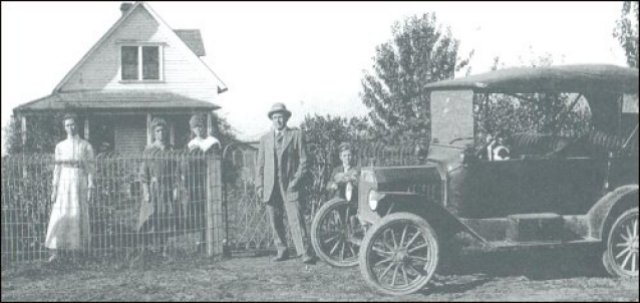 The Newberg family at their Utopia farm in 1917. From left to right: Anna, mother, age 44; Mary, 16, Gladys, 19; Charley, father, 51; Bill, age 7; rabbit, age 1; dog, age 2, in the 1915 Model T for which Charley traded a horse who knew his way home.


We chuckled over his bad timing of entering the UW just as the stock market crashed. And he told me about hunting near the Black Slough where I used to chase cattle, and how he used to go out on a raft with his father during the regular floods and yank cattle up on board to save them from the rising water. While thousands of others erected cardboard shacks in a Hooverville where the Mariners Stadium now stands, Bill sold cars and worked as an Alaskan longshoreman to put himself through college. Although he did many things to be proud of, he seemed to be most thrilled at participating in the heroic dash to build the engines for B-29s in World War II. He could proverbially sell refrigerators to Eskimos, but instead, sold them cars. He invited Robert Frost to dinner and heard his poetry one month and a month later, visited Roy Rogers and Lawrence Welk and drove the pace car at Indianapolis. What a marvelous man. Bill, you lived large.


Obituary, William C. Newberg Sr., unnamed Reno newspaper

William C. Newberg Sr., age 92, of Reno, Nevada, passed away Dec. 7, 2003, in Reno. He was born Dec. 17, 1910, to Charles and Anna Newberg of Sedro-Woolley, Washington.
Bill held a Master's in Mechanical Engineering. He was a retired automotive executive who moved to Reno from Detroit in 1974. He was a member of St. John's Presbyterian church and later Little Flower church. Bill was a life member of the Society of Automotive Engineers; a regional chairman of the Boy Scouts of America; a member of Reno's Prospectors Club, and the Retreads Motor Cycle Club. He was a frequent contributor to local civic and charitable organizations; he will be missed.
Bill was a beloved husband and father who is survived by wife Dorothy; daughter Judy (Tom) Bracken; sons, Bob (Lisa), Jim (Cynthia), and Bill (Kari); 5 grandchildren, 1 great grandson and a nephew.
Services will be on Dec. 12, 2003, at Ross, Burke and Knobel, 2155 Kietzke Lane, Reno. In lieu of flowers, please send donations to the Nevada Humane Society, 200 Kresge Lane, Sparks, Nevada 89431.


Obituary compiled by Bill's nephew Ed Hoyt of Prairie

William C. "Bill" Newberg passed away Dec. 3, 2003, in Reno, Nevada, at the age of 92. He was born Dec. 17, 1910, in Seattle to Charles J. and Anna E. Newberg.
In 1911 the Newberg family moved from Seattle to a forty-acre farm east of Sedro-Woolley. It was on this farm where Bill grew up; he then attended Utopia grade school and Sedro-Woolley Union High School, graduating in the class of 1929.
At the urging of his mother, he enrolled in the University of Washington in Seattle. As the family had very little money, he knew that he would have to work his way through school if he wanted to get an education, though he had saved some money working in the woods. Although the country was now in a deep depression, he was able to find part time jobs, which eventually got him through the University, graduating in the class of 1933 with a degree in mechanical engineering.
One of the many jobs Bill had while going to the University was buying and selling new and used cars and he soon acquired a love for the automobile industry. After graduating, and with the degree in his hand, he headed to the motor city of Detroit, Michigan, where he soon landed a job with Chrysler as a driver and mechanic in the road-testing department.
Later he went on to the Chrysler Institute of Engineering where he earned his masters degree in automotive engineering in 1935. This gave him the opportunity to learn not only the manufacturing side of the automobile industry, but also the sales and marketing side, which would greatly help him in the years to come as he moved up in the management ranks of the Chrysler Corporation. In 1939, Bill married Dorothy Beck of Grose Point, Michigan, who would become his shining star for the next 64 years.
When World War II broke out, Chrysler was asked by the government to be one of the prime contractors to build in Chicago the engines for the yet to be built B-29 Superfortress. Chrysler selected Bill to be the chief engineer. After the war, Chrysler promoted him to be vice president of the Airtemp Heating and Air Conditioning division.
Then in 1947 he was promoted to division president. During the late 1940s he also served as a consultant to the Atomic Energy Commission. In 1950 he went back to Detroit as vice president of the Dodge division of Chrysler. In 1951 he was promoted to division president. In 1954 he was honored to be chosen to drive the pace car at the Indianapolis 500 motor speedway. Then in 1956 he was given added responsibilities as group vice president for all Chrysler automotive divisions. And in 1958 he was promoted to executive vice president, then later to company president.
Bill was also instrumental in bringing Lawrence Welk to national television in the early 1950s and he was a good friend of Roy Rogers, Dale Evans and Danny Thomas, as Dodge sponsored their television programs. In 1956, he received the Most distinguished Alumnus of the Year award from the University of Washington.
In the 1960s, Bill retired from the automobile industry to pursue other interests. In 1974, he moved his family from Detroit, Michigan, to Reno, Nevada, where he resided until his death. Though he left the Sedro-Woolley area many years ago, he never lost his strong personal tires to his family, friends and to the community where he grew up.
Bill was preceded in death by his father and mother, Charles and Anna Newberg; sisters Gladys M. Day of Seattle and Mary A. Hoyt of Sedro-Woolley. Bill was a beloved husband, father and grandfather who is survived by his wife Dorothy of Reno; daughter Judy (Tom) Bracken of Cambridge, Massachusetts; sons Bob (Lisa), Jim (Cynthia) and Bill Jr. (Kari); five grandchildren, one great grandson, one niece, Viola Payette of Lynnwood, Washington, and one nephew, Ed Hoyt of Sedro-Woolley.

---
You can read the full biography of Bill Newberg, the boy from the Utopia area who graduated in 1929 and went on to help engineer the construction of B-29s in World War II and then ascended to the presidency of Dodge and Chrysler. Interview at age 92.Shared from Subscribers Edition, Issue 11

---
Story posted on Dec. 12, 2003
Did you enjoy this story? Please consider subscribing to the optional Subscribers Edition. That is how we fund this grand project.
Please report any broken links or files that do not open and we will send you the correct link. Thank you.

---
You can read about our prime sponsors:

Read the history websites of our sponsors and supporters, who help fund research of local history:
Heirloom Gardens Natural Foods at 805B Metcalf street, the original home of Oliver Hammer.
Oliver Hammer Clothes Shop at 817 Metcalf street in downtown Sedro-Woolley, 82 years.
Bus Jungquist Furniture at 829 Metcalf street in downtown Sedro-Woolley, 36 years.
Schooner Tavern/Cocktails at 621 Metcalf street in downtown Sedro-Woolley, across from Hammer Square.

---
Peace and quiet at the Alpine RV Park, just north of Marblemount on Hwy 20
Park your RV or pitch a tent by the Skagit river, just a short driver from Winthrop or Sedro-Woolley.

---
Would you like to buy a country church, pews, belfry, bell, pastor's quarters and all? Email us for details.
| | |
| --- | --- |
| | Did you find what you were looking for? If not, please email us and tell us what you seek and we will put it on our list to research. The more details, the better. |
Please sign our guestbook so our readers will know where you found out about us, or share something you know about the Skagit River or your memories or those of your family. Share your reactions or suggestions or comment on our Journal. Thank you for taking time out of your busy day to visit our site.


Sign Our Guestbook
View Our Guestbook

Remember, we welcome correction and criticism. Please click on the email slot at the right to report any problems with these pages or to suggest ideas for future stories. This is a completely free site. We fund it by providing an online magazine for paid subscribers. If you are not already a subscriber and you would like to help support our considerable research costs, you can subscribe for just $20.00 per year. As a paid subscriber, you will receive eight yearly issues plus many rare treats between times, including scans of photos and documents that illustrate local history, before they are shared with anyone else. You can go here for Subscription details and you can read the preview edition to see examples of our in-depth research. You may also order gift subscriptions for friends, family or clients who are interested in local history or students or military people who are away from home. Or you can email us for more details. Do you have scanned photos to share? Or you can mail us copies. See addresses to right.


Email us at: journal@stumpranchonline.com

Mail copies/documents to street address: Skagit River Journal, 810 Central Ave., Sedro-Woolley, WA, 98284.