Amos Bowman. Photo courtesy of Puget Sound Mail archives.

---
Amos Bowman, Dec. 15, 1839-June 18, 1894

By John Conrad, Puget Sound Mail newspaper, LaConner, Aug. 4, 1966

[Ed. note: this profile of Amos Bowman was featured in the annual Pioneer Picnic edition. We will feature full biographies of the Bowmans in the upcoming Anacortes series in the separate Subscribers Edition, Issue 34. John Conrad was the memorialist for the Skagit County Pioneers Association from 1949-73.]
When Amos Bowman came in Anacortes in 1875 the north side of Fidalgo island was practically a dense forest. He came to Anacortes directly [following] the results of the Canadian Pacific [railroad] explorations when it was [planned] that the road would take the course of the Fraser valley and Anacortes was the direct outlet and commercial terminus. Mr. Bowman bought 168 acres and [Bowman] at once started building a town. He built a wharf and a store, established a post office, newspaper and was instrumental in having, inside and outside, steamboat routes established from Port Townsend via Anacortes and the islands to Whatcom. He built warehouses for Swinomish grain and arranged for ocean steamers to stop at Anacortes docks. At this time he published a railroad map showing the future of Anacortes and western Washington. By 1882 he realized he would have to wait the coming of more people, and reentered the service of the Canadian government.
In 1888 he sensed it was time for progress to move forward again, returned to Anacortes, helped raise a subsidy for the building of a road from Anacortes 30 miles to the coal mines [near Woolley and Hamilton] and deeded 50 acres of land to the Oregon Improvement Company to aid the development of the city. In the winter of 1889-90 the railroad excitement became intense and population began to flock to the town, streets were laid out, wharves built, the land cleared, a station erected, and in a year and a half from the time the best restaurant was under a tent, there were — a number of good hotels (two of them were brick), one state bank and one national bank, several churches, a public grammar school and a high school in a $40,000 building, iron works, two saw mills, a sash and door factory, a brewery, six large ocean docks with terminal tracks, and electric lights, an electric motor line running the full length of the island, a fine opera house, a daily newspaper and a connection with the Northern Pacific, Union and Canadian Pacific Railroads. The people thought so much of Mr. Bowman's efforts (and those of his wife) that they named the city after his wife, Anne Curtis Bowman.



Anne Curtis Bowman, Jan. 28, 1846-April 7, 1906

Partly based on details from an unpublished manuscript by Eunice Darvill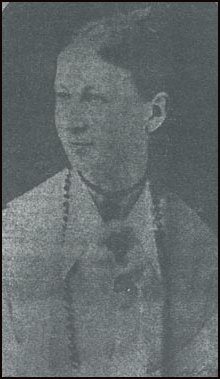 Annie Curtis Bowman. Photo courtesy of Puget Sound Mail archives.

---
Anne Bondfield Curtis was born on Jan. 28, 1846, in Belleville, New jersey, the second youngest of six children. Her parents were M. Mellville Curtis, mill owner, and Sophia Louisa Allsopp, daughter of Robert Allsopp, Commissary General and prominent landowner at Quebec, Canada. Around 1862, life changed greatly for all the Curtis children with the death of their father after a lingering illness, which diminished their financial resources.
In 1868, Annie traveled west with her mother and her sister Sallie, with whom she would remain close the ret of her life. They joined her older brother and sister. Brother Allen was a mining superintendent in Austin, Nevada. The younger sisters settled with sister Lucretia and her husband, William Carpenter, near Marysville, California. Annie soon met Amos Bowman there through her brother-in-law. Annie and Sallie later moved to Austin to join their brother but she returned in April 1871 to marry Amos Bowman in Smartsville, California. Soon after their marriage, Annie traveled back to the northeast with family and visited Amos's parents along with her own relatives. Those visits also included itinerary to Canada and Cap Sante near Quebec especially impressed her, a name that she tucked away for future reference.
After returning home to Amos at their San Francisco home, Annie gave birth to Wendell Cortez Bowman in 1873, so we can see the early favor of the Spanish Cortez name, possibly due to friendship with Spaniards on the sailing trip back east. He was followed by Clytie Lucretia in 1874. After work with the geological survey in California, Amos traveled to Seattle for another geological survey for railroad interests in Washington territory. While there, Amos combed through the archives of Northern Pacific and discovered the company's interest in Fidalgo island as a possible West Coast terminus. Annie joined Amos in time for Bondfield (Ben) to be born in Seattle on Dec. 4, 1876. In the following year they all moved to a small village named Ship Harbor on Fidalgo island. Annie quickly impressed the handful of families living around the island and they agreed with her husband who named a new town Anacortes, derived from her name and Cortez, which fit in with the original Spanish names for landmarks in the area. They named their new home Cap Sante from Annie's contact in Quebec.
Although Anacortes was largely wilderness and remote, the cosmopolitan and educated Annie set about to support her husband's plan for a future metropolis. They were soon joined by her sister Sallie, who married Dr. T.B. Childs. The honeymooners moved back to Austin, Nevada for a few years but later returned to Fidalgo. Annie's younger brother Melville also joined them in the late 1880s when Anacortes was planning for the railroad and boom times. Annie tended to the family during the 1880s when the local economy lagged and Amos was called away often for geological contracts south of the border and in British Columbia and when he traveled and researched with author Hubert Howe Bancroft.
Finally, after 12 years of patient waiting and preparation, the Bowmans' vision finally blossomed in 1889-91 as the Seattle & Northern railroad was built from Ship Harbor to Woolley and various railroad interests boomed Anacortes as a classic example of frontier railroad/real estate promotion. Original settlers made small fortunes from their original homesteads and dozens of substantial buildings and homes sprung up on more than two-dozen plats. But, as with Sedro and Woolley to the east, the railroad boom was brief. James J. Hill of the Great Northern railroad overtook Northern Pacific and built the main north-south rail line and S&N became a spur line. Then a depressed economy began setting in locally in 1892 and a full-blown nationwide depression dried up capital from 1893-96. But worse for Annie was the death of Amos on June 18, 1894, and his doubts in his own success in his last years. Annie's brothers proved to be better businessmen.
Annie could no longer live in Anacortes. She soon moved the children to Sumas, Washington, on the Canadian border, and although they returned for visits with family and friends, Anacortes — her namesake city, would never be home again. As if grief over Amos wasn't bad enough, Annie's son Ben attended the University of California at Berkeley to study mining engineering with his cousin Harold Childs and while there he contracted a spinal illness and Annie went to California to care for him. After Annie died from a heart attack in California in April 1906, with Sallie by her side, her body was returned to Anacortes and she was buried next to Amos.