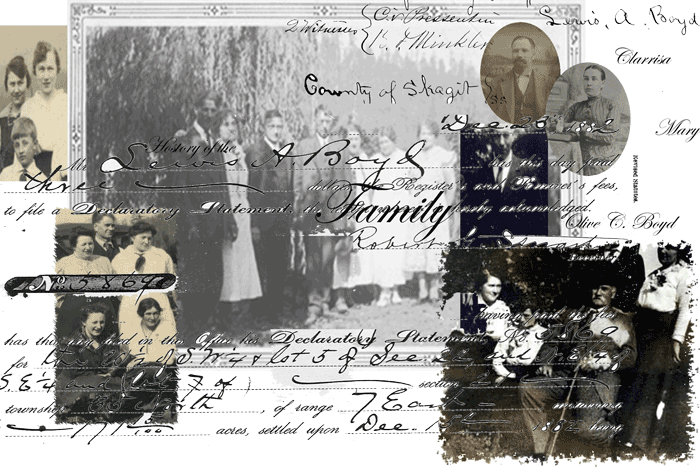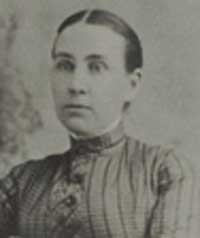 The Boyd Family History

The story of a pioneer family, from New York to Nebraska and on to Birdsview, Skagit County Washington Territory- written by Mabel Boyd Royal-Steen, edited by Lee Ware and arranged by Noel Bourasaw at the Skagit River Journal


The Boyd Story

written By Norman Boyd

---
PROLOGUE: THE EARLY LIFE AND MYSTERIES OF L.A. BOYD
By Dan Royal
---
THE BOYD & SAVAGE FAMILIES IN THE MID-WEST
The L.A. Boyd Family in Nebraska

The George Savage Family in Iowa
By Dan Royal
---
END NOTES 1890-1899
"Where Have All the Children Gone" By Dan Royal
Joe and Annie Laurie (Boyd) Hoyt, Chapter 1, including a history of the Boyd and Hoyt families back to colonial days, and the story of their Prairie mill. Just for fun, you'll read about the Battle of Bunker Hill, Paul Revere's Ride, Benedict Arnold and high school in Paris, along with round-the-world sailing trips and shipwrecks at sea. Shared from the Skagit River Journal archives of Subscribers Edition online.


EVA JANE BOYD

Remembrances By Her Granddaughter
Alcina Allen Harwood


John Boyd Joins the U.S. Army

Profile on the life of John J. Boyd
by Lee Ware
posted 25 May 2003


Boyd Family Reunions

posted Jan.2003


Profile of Norman Lewis Boyd 1884-1969

posted November 2002


The Boyd Family Scrapbook

a pictorial history and timeline of a pioneer family.

---
Links to the individual webpages for the 14 Boyd children below
Alcina Allen Harwood
1916-2005
I just recieved a call from the family of Alcina Harwood that their mother and grandmother passed away yesterday evening 26 November 2005. This is a heartbreaker for us here at our home as Alcina was a sweet and tender teacher, friend and (L.A. Boyd) family cousin, she also enjoyed being a great source of information on the family lore. She will be truly missed.

A few years ago Alcina shared this story about her grandmother, Eva Jane (Boyd) Hoyt.

"Mrs. Harwood was not only my mother's cousin, she was my First Grade Teacher! I just loved her! She was patient and so very kind. My mother named me Linda Jo Snell, but always called me "Jo" after her brother Joe Hoyt. When I first started School, things were very strict. Girls were required to wear dresses at all times, and teachers refused to call children anything but their proper names. My kindergarten Teacher called me "Linda". But, Alcina was kind enough to call me by the name I was comfortable with. She called me "Jo". It was a kindness that was very important to a young child, who had not been far from her mother's lap! After First grade, I had to endure 3 more years of using my proper name, until fate again intervened, and I had the good fortune to be assigned to Bernie Leaf's 5th grade classroom! I knew Bernie well, and she could not call me anything but "Jo-Jo"! " With gratitude, (Linda) Jo Cruse Note: Berniece (Hoyt) Leaf is another Boyd family cousin.

---
In Memorial: Lewis W. Boyd 1927-2003
Boyd Family and descendants have sadly lost another senior member in a relatively short period, following the passing of Norman Johnson. I fortunatly got to do a terrific telephone interview with Lew in the fall of 2001 which help shed some light on his life and the life of his father, John Boyd.
While older brother of John, James Boyd had one son, Frank. Frank sadly passed at the age of 54 in 1949, without leaving children. John turned out to be the only male in the L.A. Boyd family to leave us a direct line of male descendants. Lew Boyd's son Bob Boyd has 3 sons fortunatly to carry on a direct line of males.
Our condolances and affection to Lew Boyd's widow Ruth and family for the passing of their loved one.

Link to Lew's obituary
Archie Gordon
Boyd

James Torrey
Boyd

Annie Laurie
Boyd

Maggie
Boyd

Grace Clara
Boyd

Mary Olive
"Maud" Boyd

Gertrude"Gerty"
Boyd

Georgian
Lillian Boyd

Norman Lewis
Boyd

Thomas Jarvis
Boyd

Eleanor
"Nelli" Boyd

A printed newsletter free for all descendants of this Boyd family. If you are a descendant, please contact me here.
The Stump Ranch ®
STUMP RANCH PRESS, LLC
Dan Royal, Editor & Webmaster
4004 Montgomery Ct., Mount Vernon, WA 98274
360-826-6141
Mission Statement
and acknowledgments

Please e-mail us to say "Hi" so we can put you on an e-mail list for up-dates, if you're a Boyd or Savage descendant, a pioneer family from the Birdsview community & Skagit Co. We want to talk to anyone who loves the area and local history. Thanks!


E-mail
| | |
| --- | --- |
| Looking for something special on our site? Enter name, town or subject, then press "Find" | Site search Web search |
Please sign our guestbook so our readers will know where you found out about us, or share something you know about the Upper Skagit area or your memories or those of your family. Share your reactions or suggestions or comment on our website. Thank you for taking time out of your busy day to visit our site.



View My Guestbook
Sign My Guestbook

Return to The Stump Ranch Family & Community History
© 2004, 2003, 2002 The Stump Ranch